David Bowie 2002-10-12 New York ,Brooklyn, St.Anns Warehouse – Brooklyn –
Sound Quality Rating
101. Sunday.flac
102. Cactus.flac
103. Breaking Glass.flac
104. Fame.flac
105. Ashes To Ashes.flac
106. Slip Away.flac
107. China Girl.flac
108. 515 The Angels Have Gone.flac
109. Survice.flac
110. I've Been Waiting For You.flac
111. Rebel Rebel.flac
112. I'm Afraid Of Americans.flac
113. Life On Mars.flac
201. Look Back In Anger.flac
202. "Heroes".flac
203. Heathen.flac
204. Moonage Daydream.flac
205. Afraid.flac
206. Everyonde Says Hi.flac
207. Hallo Spaceboy.flac
208. Let's Dance.flac
209. Ziggy Stardust.flac
Bonus Audience Recording:
210. Stay.flac
211. Bewlay Brothers.flac
Label : IEM (In-Ear Monitor) Recording
Audio Source : Soundboard
Lineage : Unknown
Taping Gear : Unknown
Taper:
Recording Location: Unknown
Total running time : 2:06:09
Sound Quality : Excellent quality! Equals record or Radio/TV
Attendance : Unknown
Artwork : GJH Graphics
In 2002 Bowie toured to support the recently released CD "Heathen". At the end of the tour he wanted to keep the band together and working but did not want to travel. As a result he performed what is known as the Marathon Tour. Bowie performed in the five Burroughs of New York:
1) Oct 11 Staten Island, The Music Hall at Snug Harbour
2) Oct 12 Brooklyn, St. Anne's Warehouse
3) Oct 16 Queens, Queens College Golden Center
4) Oct 17 Bronx, Jimmy's Bronx Cafe
5) Oct 20 Manhattan, Beacon Theatre
Later he added two more show in the surrounding area.
6) Oct 21 Philadelphia, The Tower Theatre
7) Oct 23 Boston, Orpheum Theatre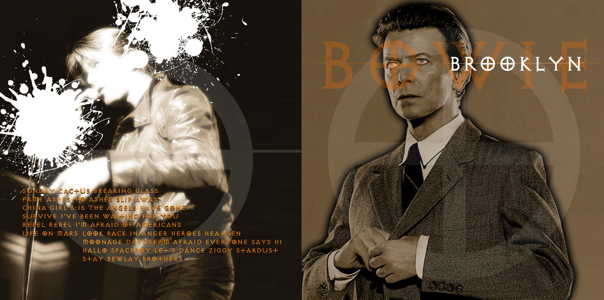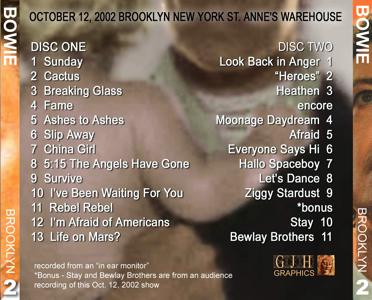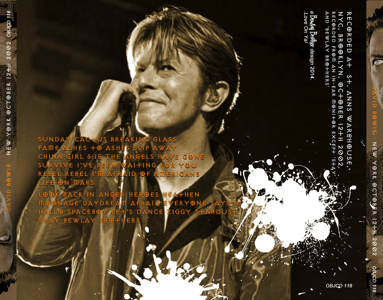 David Bowie Tour band 2002 Heathen Tour
The David Bowie Heathen Tour was a 2002 concert tour in support of the album, Heathen, and was also notable for the performances of all songs from the 1977 Low album.
Start date 11 June 2002
End date
23 October 2002
The Tour band
• David Bowie – vocals, acoustic guitar, harmonica
• Earl Slick – lead guitar
• Mark Plati – rhythm guitar, acoustic guitar, bass guitar, backing vocals
• Gail Ann Dorsey – bass guitar, rhythm guitar, clarinet, vocals
• Sterling Campbell – drums, percussion
• Mike Garson – keyboards, piano
• Catherine Russell – keyboards percussion backing vocals



(Visited 741 times, 1 visits today)