David Bowie 2002-10-02 London Hammersmith Odeon / Carlin Apollo – Back To Hammersmith –
– 101. INTRODUCTION !!!.flac
– 102. LIFE ON MARS.flac
– 103. ASHES TO ASHES.flac
– 104. LOOK BACK IN ANGER.flac
– 105. SURVIVE.flac
– 106. BREAKING GLASS.flac
– 107. CACTUS.flac
– 108. CHINA GIRL.flac
– 109. SLIP AWAY.flac
– 110. ABSOLUTE BEGINNERS.flac
– 111. ALABAMA SONG.flac
– 201. SPEED OF LIFE.flac
– 202. BE MY WIFE.flac
– 203. FAME.flac
– 204. I'M AFRAID OF AMERICANS.flac
– 205. 5-15 THE ANGELS HAVE GONE.flac
– 206. I'VE BEEN WAITING FOR YOU.flac
– 207. AFRAID.flac
– 208. FASHION.flac
– 209. REBEL REBEL.flac
– 210. "HEROES".flac
– 211. HEATHEN.flac
– 301. SUNDAY.flac
– 302. I WOULD BE YOUR SLAVE.flac
– 303. MOONAGE DAYDREAM.flac
– 304. CHANGES.flac
– 305. STARMAN.flac
– 306. A NEW CAREER IN A NEW TOWN.flac
– 307. EVERYONE SAYS 'HI'.flac
– 308. THE BEWLAY BROTHERS *.flac
– 309. SOUND IN VISION.flac
– 310. HALLO SPACEBOY.flac
– 311. LET'S DANCE.flac
– 312. ZIGGY STARDUST.flac
Label : No label
Audio Source : Audience recording
Lineage : Unknown
Taping Gear : Unknown
Taper: Unknown
Recording Location: Unknown
Total running time : 2:45:43
Sound Quality :
Attendance : Unknown
Artwork : Yes
Note * : Denotes first time performed on tour.
33 songs !!
Announcing Ashes To Ashes:"the First Cowboy song tonight"
Absolute beginners had a great duet with Gail Ann Dorsey. At the end they danced on stage and Bowie Gave her a kiss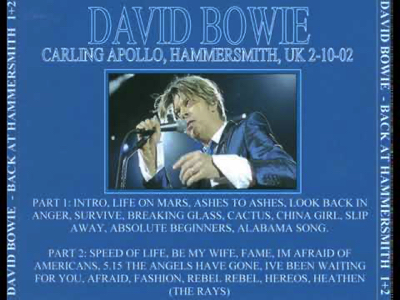 David Bowie Tour band 2002 Heathen Tour
The David Bowie Heathen Tour was a 2002 concert tour in support of the album, Heathen, and was also notable for the performances of all songs from the 1977 Low album.
Start date 11 June 2002
End date
23 October 2002
The Tour band
• David Bowie – vocals, acoustic guitar, harmonica
• Earl Slick – lead guitar
• Mark Plati – rhythm guitar, acoustic guitar, bass guitar, backing vocals
• Gail Ann Dorsey – bass guitar, rhythm guitar, clarinet, vocals
• Sterling Campbell – drums, percussion
• Mike Garson – keyboards, piano
• Catherine Russell – keyboards percussion backing vocals



.
(Visited 789 times, 1 visits today)