David Bowie 1997-07-17 San Sebastián ,Velodromo De Anoeta – San Sebastián 97 –  
Sound Quality Rating
101. Quicksand.flac
102. The Man Who Sold The World.flac
103. The Jean Genie.flac
104. I'm Afraid Of Americans.flac
105. Battle For Britain (The Letter).flac
106. Fashion.flac
107. Seven Years In Tibet.flac
108. Fame.flac
109. Looking For Satellites.flac
110. Under Pressure.flac
201. The Hearts Filthy Lesson.flac
202. Scary Monsters (And Super Creeps).flac
203. Hallo Spaceboy.flac
204. Little Wonder.flac
205. encore applause.flac
ENCORE
206. Dead Man Walking.flac
207. White Light White Heat.flac
208. O Superman.flac
209. Stay.flac
Label : No label
Audio Source : Audience recording
Lineage : Unknown
Taping Gear : Unknown
Taper: Unknown
Recording Location: Unknown
Total running time : 1:40:53
Sound Quality : very good. Equals record or radio/TV apart from a slight noise and some dullness.
Attendance : Unknown
Artwork : By Moon
Bowie played in San Sebastian in July 1997 in Anoeta Velodrome not finished filling: only 5,000 people attended that concert.
The musician arrived in the evening from Zaragoza, where he acted the day before, made a brief soundcheck and rested until the time of the concert.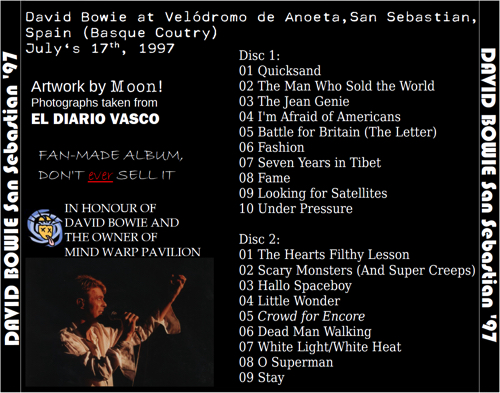 It was an intense recital, that their local fans remember powerful ( "an overview of the whole of his career") although there were those who felt "frustrated" because that Bowie took the stage, aesthetics with marbellí dot (see photo the left of Lusa partner), had little to do with the idealized on your turntable. Rock timekeepers certified that the San Sebastian concert lasted a quarter of an hour less than in Zaragoza. And that hurts the ñoñostiarra corazoncito, huh?
But the funny thing was the post-concert party alleged that then also became urban legend and now, fifteen years later, relativize their own players.
Phoned Isabel Azkarate, the great photographer. Tell me the mythical donostiarra party !, Bowie ask. "But it was something very discreet!" Answers. "The musician was a friend of the painter Julian Schnabel. After the concert Bowie wanted to go to the town of Julian in Igeldo to see his latest works. We were a group of friends, among whom was Juan Cruz Unzurrunzaga, we took some pictures and take something, maybe it was Txakoli ".
A few 'divine' donostiarras cultureta attended that party. But Bowie retired early to follow his 'tour': the next morning flew from Hondarribia to Madrid and from there to London. He left behind a Saint Sebastian where rumors about a 'secret party in Igeldo' that, according to the memory of those who lived, was not that great … What a pity: the glam long passed again by the Easo recoleta.
  Years later, in 2001, in one of the 'promotion guateques' the Film Festival San Sebastian rode Schnabel's house in Manhattan, Bowie and his wife Iman came to support the Zinemaldi. "Of course I remember San Sebastian, would love to return" say that Bowie said in that old factory Manhattan reconverted house Schnabel (pictured, singer with his wife Iman, the painter himself and Mikel Olaciregui, then director the San Sebastian festival).
Yes, the album out in March, after a decade of silence. Bowismo militants optimism and trust that will tour. And say a concert in San Sebastian close the circle.
Been you at that concert in Anoeta in 1997? Tell us, come. And so we saga time until the record …
 
 
  
David Bowie Tour band 1997 Earthling Tour
Superb Bowie Performance From The Earthling Tour. David Bowie's 20th studio album was originally released in February 1997 on Arista Records. Earthling showcased an electronica-influenced sound partly inspired by the industrial and drum and bass culture of the 1990s. It was the first album Bowie self-produced since 1974's Diamond Dogs.
The Earthling Tour started on 7 June 1997 at Flughafen Blankensee in Lübeck, Germany, continuing through Europe and North America before reaching a conclusion in Buenos Aires, Argentina on 7 November 1997. On August 14, '97, Bowie performed at Hungary's Student Island Festival in Budapest, where he put on a quite extraordinary show, accompanied as he was by Reeves Gabrels on guitar, Gail Ann Dorsey on bass, Zack Alford on drums and Mike Garson on keyboards. Playing just a few tracks from the new record plus a fine selection of back catalogue gems, the entire show was broadcast, both across Eastern Europe and indeed in the US too on selected FM stations. Previously unreleased this remarkable gig is now available on this priceless CD for the first time..
The Tour band
• David Bowie: vocals
• Reeves Gabrels: guitar, backing vocals
• Gail Ann Dorsey: bass guitar, vocals
• Zachary Alford: drums
• Mike Garson: keyboards, backing vocals
• Mike Garson: keyboards,
 
 
  
(Visited 490 times, 1 visits today)