David Bowie 1997-09-16 San Francisco ,The Garfield Theatre – Look Back In Warfield –  
Sound Quality Rating
01. Intro – house music.flac
02. Quicksand.flac
03. Waiting For The Man.flac
04. Always Crashing In The Same Car.flac
05. The Jean Genie.flac
06. Panic In Detroit.flac
07. I'm Afraid Of Americans.flac
08. Look Back In Anger.flac
09. Seven Years In Tibet.flac
10. Band introductions 1.flac
11. Battle For Britain (The Letter).flac
12. The Man Who Sold The World.flac
13. Fashion.flac
14. The Voyeur Of Utter Destruction (as Beauty).flac
15. Looking For Satellites.flac
16. Telling Lies.flac
17. Under Pressure.flac
18. The Heart's Filthy Lesson.flac
19. Hallo Spaceboy.flac
20. Scary Monsters (and Super Creeps).flac
21. Little Wonder.flac
22. Encore applause ~ chat.flac
23. Dead Man Walking (acoustic).flac
24. Band introductions 2.flac
25. I'm Deranged (Moby Mix).flac
26. Is It Any Wonder.flac
27. V2 Schneider.flac
28. White Light White Heat.flac
29. O' Superman.flac
30. All The Young Dudes.flac
31. Moonage Daydream.flac
32. Outro – house music.flac
Label : No label
Audio Source : Audience recording
Lineage : Unknown
Taping Gear : Unknown
Taper: Unknown
Recording Location: Unknown
Total running time : 2:35:15
Sound Quality : Good. Equals record or radio/TV apart from a slight noise and some dullness.
Attendance : Unknown
Artwork : Yes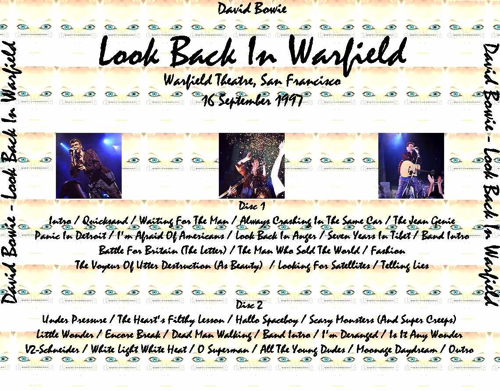 David Bowie Tour band 1997 Earthling Tour
Superb Bowie Performance From The Earthling Tour. David Bowie's 20th studio album was originally released in February 1997 on Arista Records. Earthling showcased an electronica-influenced sound partly inspired by the industrial and drum and bass culture of the 1990s. It was the first album Bowie self-produced since 1974's Diamond Dogs.
The Earthling Tour started on 7 June 1997 at Flughafen Blankensee in Lübeck, Germany, continuing through Europe and North America before reaching a conclusion in Buenos Aires, Argentina on 7 November 1997. On August 14, '97, Bowie performed at Hungary's Student Island Festival in Budapest, where he put on a quite extraordinary show, accompanied as he was by Reeves Gabrels on guitar, Gail Ann Dorsey on bass, Zack Alford on drums and Mike Garson on keyboards. Playing just a few tracks from the new record plus a fine selection of back catalogue gems, the entire show was broadcast, both across Eastern Europe and indeed in the US too on selected FM stations. Previously unreleased this remarkable gig is now available on this priceless CD for the first time..
The Tour band
• David Bowie: vocals
• Reeves Gabrels: guitar, backing vocals
• Gail Ann Dorsey: bass guitar, vocals
• Zachary Alford: drums
• Mike Garson: keyboards, backing vocals
• Mike Garson: keyboards,
 
 
  
997-09-10 04:00:00 PDT SAN FRANCISCO —
IF YOU have tickets to the David Bowie concerts next week, don't sell them for whatever the scalpers offer. If you don't have tickets, offer big money. Bowie's concert Tuesday night at the Warfield is right up there with the top shows of the year. The chameleon can rock.
Featuring a lot of tunes from Bowie's latest album,
"Earthling," the event was just as loaded with Bowie standards. With guitarist Reeves Gabrels laying down some of the meanest, muddiest, most feedback-laden work since Carlos Alomar of "Heroes" fame, the band rocked through some of Bowie's hits with panache to spare. The question going into the show was whether Bowie, he of the quick-change personality, was going to try to become Electro-Bowie, capitalizing on the current Chemical Brothers, loop-driven Euro Hip style. Certainly
"Earthling" is a bit too techno market-driven, but it still rocks, a kind of "Heroes" for the '90s. It's phenomenal that a 50-year-old man can still command center stage, as lithe and limber as Bowie, who was in extremely fine voice in the early stages of his current tour.
Taking the stage in a white tunic over white trousers, holding just an acoustic guitar, Bowie led off the show with "Quicksand," before bringing the band out for a raucous, if somewhat misguided, "Waiting For the Man." As much as Bowie may be connected to the hip with Lou Reed, he didn't quite pull off the old Velvet Underground song, one of surprisingly many Reed-influenced tunes of the show.
Bowie's misses didn't much matter, as they weren't anywhere near clunkers. Not being the best at a tune doesn't translate to not being good. And it mattered less when Bowie immediately followed up with a blues intro to
"Jean Genie" that he and Gabrels soon took to a full-out barn burner.
Bowie could sell out much larger venues such as the Shoreline Amphitheatre without a moment's notice. Seeing him at the Warfield, with its 3,300-person capacity, may be a once-in-a-lifetime treat. You get to watch his face as he laughs through "Fashion," striking poses with self-irony that would be lost if projected on a large video screen. You get to watch him doing his little, shake your hips, mini-Bowie-dances that still catch the eye no matter how much gibberish is projected onto the large canvas screen behind the stage.
What seemed most evident about Tuesday's show was that Bowie was having a whole lot of fun. He has confidence in his band, which, along with Gabrels, included bassist and vocalist Gail Dorsey, drummer Zachary Alford and keyboard player Mike Garson – the same crew that staffed the "Earthling" record.
So what did the fun boy play? Well, I could run off the entire set list of his 22-song, two-hour concert, but some of you unscrupulous types out there might use it for wagering purposes, and we can't have that in this anti-gambling state. It is safe to say that, should you attend the Warfield shows on either the 15th or 16th of this month, it's quite likely that you might hear such killer Bowie songs as "Fame," "Stay," "Scary Monsters," "Look Back in Anger" and "Panic in Detroit."
It may have been the last tune, performed about five songs into the mix, that really let the crowd know that this was a Bowie show, not some kind of Bowie incarnation. The king of personality changes – through the whole Ziggy Stardust, Alladin Sane, Thin White Duke, Whatever I Am Now phases – often lost the music in the image. Tuesday, the music took center stage, with Bowie comfortably astride it.
There were poignant moments as well, as when bassist Dorsey, a fine vocalist, was forced to assume the Freddy Mercury part in "Under Pressure," the song Bowie performed so well with the late Queen singer. There is only one Freddy Mercury, rest his soul, and you could have had damn Pavarotti out there trying to sing those lines and it still wouldn't have worked.
Still, as the song says, "Love dares you to care for the people on the edge of the night." If Bowie has not taught us anything else, in his resplendent, ambi-sexual persona and his wonderfully prolific career, that should be enough.<
(Visited 382 times, 1 visits today)