David Bowie 1997-06-02 London ,Hanover Grand – Famous Fame – (TRY-OUT Concert) (DAT Master)  
Sound Quality Rating
Set 1
101. Quicksand [Fades in – tape problem] – Band Introduction.flac
102. V2-Schneider.flac
103. Battle For Britain (The Letter) .flac
104. Scary Monsters (and Super Creeps) .flac
105. I'm Afraid Of Americans .flac
106. Seven Years In Tibet .flac
107. Fashion.flac
108. Outside.flac
109. Little Wonder.flac
110. Looking For Satellites.flac
111. The Last Thing You Should Do.flac
112. O Superman.flac
113. Hallo Spaceboy.flac
214. The Jean Genie.flac
215. Queen Bitch.flac
216. Fame (Fades in due to tape flip – battery change).flac
217. Stay.flac
Set 2
218. David's intro – I'm Deranged.flac
219. Pallas Athena.flac
220. V2-Schneider.flac
221. Dead man Walking.flac
222. O Superman .flac
223. The Last Thing You Should Do.flac
225. Is It Any Wonder.flac
Label : Wardour – 235
Audio Source : Audience recording
Lineage : DAT Tape Master
Taping Gear : Sony Portable DAT Recorder
Taper: Unknown
Recording Location: Unknown
Total running time : 2:46:00
Sound Quality : Noise ,dull ,but still good listened to
Attendance : 720
Artwork : Yes
Note: Two problems on tape first 'Quicksand' fades in due to a tape problem & 'Fame' fades in due to a battery change.
This was the first of the "secret" rehearsal gigs that sold out in moments.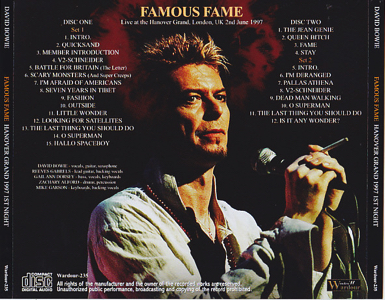 The complete first "secret" club gig in London, a few days before the official Earthling Tour premiere.
This night the show was split into two sets, one "normal" and one "drum'n'bass" set.
The audience is very good during the first "normal" set, but looses interest during the second set.
This was the reason to choose the drum 'n' bass set as the opening set for all the remaining club gigs. A wise decision! The sound quality of this audience recording is good/excellent.
 
 
  
 David Bowie Tour band 1997 Earthling Tour
Superb Bowie Performance From The Earthling Tour. David Bowie's 20th studio album was originally released in February 1997 on Arista Records. Earthling showcased an electronica-influenced sound partly inspired by the industrial and drum and bass culture of the 1990s. It was the first album Bowie self-produced since 1974's Diamond Dogs.
The Earthling Tour started on 7 June 1997 at Flughafen Blankensee in Lübeck, Germany, continuing through Europe and North America before reaching a conclusion in Buenos Aires, Argentina on 7 November 1997. On August 14, '97, Bowie performed at Hungary's Student Island Festival in Budapest, where he put on a quite extraordinary show, accompanied as he was by Reeves Gabrels on guitar, Gail Ann Dorsey on bass, Zack Alford on drums and Mike Garson on keyboards. Playing just a few tracks from the new record plus a fine selection of back catalogue gems, the entire show was broadcast, both across Eastern Europe and indeed in the US too on selected FM stations. Previously unreleased this remarkable gig is now available on this priceless CD for the first time..
The Tour band
• David Bowie: vocals
• Reeves Gabrels: guitar, backing vocals
• Gail Ann Dorsey: bass guitar, vocals
• Zachary Alford: drums
• Mike Garson: keyboards, backing vocals
• Mike Garson: keyboards,
 
 
  Bowie 97 edit webPublished on June 26th, 2014 | by Martin Aston
David Bowie – Live 1997
In 1997, I reviewed David Bowie's live show at London's Hanover Grand for Q Magazine, where Bowie launched his drum'n'bass hope-you-like-my-new-direction.
Bowie 97 webAs with any "intimate" showcase by a Major Rock Icon, a palpable buzz surrounds the 720-capacity Hanover Grand this evening, not least because it's the smallest UK show that David Bowie has played since Ziggy Stardust first donned platform shoes 26 years ago, but also thanks to talk of last-minute give-aways to the ticketly deprived.
Once far removed from his "roots", Bowie is now getting to be a dab hand at this diminutive-scaled lark. While making Earthling last autumn, he slotted in an American East Coast club tour; tonight's event was preceded by a three-hour-plus extravaganza at the 300-capacity Dublin Factory, Bowie's first chance to fully test-drive the Earthling's dizbusting drum'n'bass approach in a live setting. The crowd (fellow South Londoner-in-exile Gary Oldman and drum'n'bass king Goldie included: Noel Gallagher will attend tomorrow night's performance) shuffle impatiently while Bjork percussionist and Asian techno pioneer, Talvin Singh, Djs, adding live tablas to an already disorientating jazz-techno blend that sets the evening's musical agenda (titled, with Bowie's usual staginess, Fatal Fame).
As Singh retreats, the main attraction takes over. To the left of the stage stand long-time guitarist Reeves Gabrels and back-in-the-fold keyboardist Mike Garson. On the other side are the "next generation": shaven-headed bassist Gail Ann Dorsey and shock-haired drummer Zac Alford. And there's Dazzling Dave, 50 years old but flame-haired and bristle-chinned, wearing a red turtleneck (the Union Jacket of the last two years has thankfully been retired), black strides, strumming the opening chords to Quicksand (from Hunky Dory). At the line "I'm destiny", the singer raises his eye aloft, in mock self-deprecation, and grins wider still. Ground control to Major Icon: you have lift-off…
"It's a different kind of performance, the club show," Bowie tells Q during a break in rehearsals two days before the show. "It's far more laid-back in a way,a lot more casual, because you don't have broadcast as big." Despite some "gimme your hands!" communion with the front row that occasionally threatens to swallow Bowie whole, he's undeniably "at ease" at the Grand. During Battle of Britain, he attempts a dance that's sub-Two tone skank before thinking better of it. Then there are token gestures to the art of mime, most noticeably in Fame, when Bowie "fakes" the kind of despair that, in years past, would have been taken for granted. "I suppose I'm self-satisfied these days, "he admits. "I like what I'm doing on all fronts and the more personal side of my life is very together. (Scrunching his face) Yeah, it's 'orrible, I get so bored having to tell people!"
Having followed Quicksand with a rearranged V2 Schneider (on which he parps away on sax), the band launch into a prolonged nine-song strike from the "difficult" 1. Outside and Earthling albums interspersed with similarly visceral treatments of Scary Monsters And Super Creeps and Fashion. There's a fascination tug-of-war going on: the heavy presence of DAT tapes handling the stun-gun electronics while Dorsey and Alford's thrashy playing ensures that the songs take on an altogether rockier hue. On Hello Spaceboy, Bowie's music has never sounded more brutal, and Gabrels, though dispassionate of face, deploys his guitar as an incendiary weapon. ("Part of my function in the band is to be the loose cannon," he explains afterwards.) At several points, Bowie steps back and watches his charges, clearly revelling in their muscular din.
"Honestly, it would be a sin not playing live when I've got a band like this," Bowie had enthused earlier. "They're the best group I've had in twenty years, right up there with the Spiders in terms of cohesive musicianship and attitude. And they surprise everyone."
It should be noted that Bowie held Tin Machine in similarly high regard too. As far as surprises go, opening with the long-lost Quicksand is only trumped by a cover of Laurie Anderson's O Superman. "I'm doing it for Gail because I thought it would suit her," Bowie reasons. "And it does. She sings the shit out of it."
O Superman provides some much-needed breathing space amid all the drum'n'bombast. Further compensation lies in a few old chestnuts – despite Bowie's well-documented aversion to wheeling them out. He cheerily confesses to remaining "Pretty much didactic about what I want to play," and dismisses outright the rumour of an Alladin Sane "revue" at next month's Phoenix festival. "That was never my intention. It might be a lot of fun for the audience but not for me particularly."
To make the point, Bowie introduces Little Wonder as "one from way, way back". But almost as a peace offering, the set closes with barely tweaked renditions of Jean Genie, Queen Bitch, a hybridised Fame (borrowing Dr. Dre's keyboard parts from the rapper's 1996 cover) and Stay. Either the band are shagged out or they haven't mastered the latter's chugging momentum, because it's pretty ragged. But the man waving a crutch in the air doesn't care: he's been standing five feet from David Bowie for 90 minutes, and in his book, that doesn't happen every day.
Bowie pre-empts screams for an encore by announcing before Stay that the band will return after 20 minutes for 50-minute "dance" set, including revised versions of V2 Schneider, O Superman and Fame (re-titled Is It Any Wonder). With Dorsey concentrating on keyboards and Alford on drum pads, it's a bit "hope you like our new direction," and a slowly dwindling crowd stand non-plussed and rooted to the spot, more fatigued than mesmerised. Of the genuine drum'n'bass luminaries present, opinions of Bowie's efforts are mixed, with DJ Rap taking the purist's stance: "There were some nice music bits, but for me it lacked rhythm and soul. Maybe he needs to work with some people in the scene, and study the form a bit more."
Goldie, however, waxes more supportive: "I still think that Bowie can go a bit further with this music, but it's up to him to experiment. He should take it somewhere it hasn't been before, outside the realm of linear drum'n'bass, so that no-one can judge it."
After London, comes a hovel, in Hamburg, before the band embarks on a whopping 32-date European festival jaunt. "We basically haven't stopped working since July 1995," Gabrels informs Q later. "David's a little tornado of activity wherever he goes."
Dorian Gray would be envious of this man's stay-young regime
.
(Visited 339 times, 1 visits today)