David Bowie 1995 Outside Tour Rehearsals – Outside Mix – (100PCB) – SQ 9,5
Sound Quality Rating
01. The Leek Soldiers (Outside outtake).flac
02. Boys Keep Swinging.flac
03. I'm Deranged.flac
04. Breaking Glass.flac
05. Andy Warhol.flac
06. Scary Monsters.flac
07. Look Back In Anger.flac
08. The Voyeur Of Utter Destruction (As Beauty).flac
09. The Hearts Filthy Lesson.flac
10. We Prick You.flac
11. I'd Rather Be Chrome (Outside outtake).flac
12. DJ.flac
13. My Death.lac
Label : No label > MWP Entertainment / 100PBC / BETTY07
Audio Source : Soundboard recording
Lineage : Unknown
Taping Gear : Unknown
Taper: Unknown
Recording Location: Unknown
Total running time : 1:01:42
Sound Quality : Excellent quality! Equals record or radio
Attendance : Unknown
Artwork : Yes
Note : All tracks are Outside Tour rehearsals except tracks 1 & 11 (Outside outtake)
Party mix taken from Outside tour rehearsals and studio sessions. Ex SBD stereo.
"To live outside the law you have to be honest." (Bob Dylan)
So we're gonna take 100PCB's word for it that this mixtape came about when he was asked to provide music for an after-concert Bowie party at Wembley in 2003. "This is the said mix. It never got past the first track at the party as not many guessed what the hell it was haha," 100PCB told whoever he shared this tape with.
His source is the tour rehearsals from 1995 for the 1.Outside tour. Two tracks are from the earlier Leon sessions. More info from Wikipedia:
"Outside was originally conceived in March 1994, based on a three and a half hour jam session between David Bowie, Brian Eno and the other musicians involved in the project. Bowie wanted to release the raw versions of the jams as a double album titled 'Leon', but was unable to find a record label willing to distribute something that was so uncommercial. A number of original tracks from this jam session have leaked on the Internet and are called by fans the Outside Outtakes."
1.Outside did okay; No. 8 on the UK charts; No. 21 on the US charts. But there were no takers for Bowie's subsequent sequels 2. Contamination and 3. Afrikaan.
Fans hoping for some pop songs among 1.Outside's gritty rock rhythms had to wade through the album's conceit – a soap opera about an Art Police who determines what's art and what's trash amidst the murder and mutilation of citizens.
Of the three singles from 1.Outside, only The Hearts Filthy Lesson makes it to this mixtape. Wisely, other Bowie titles are included with Boys Keep Swinging and a great, dark version of Andy Warhol. We can't imagine this being a rousing party tape. It's more like afterhours music, closing nicely with My Death. The Bowie catalog remains safe, deep and rich. You won't be disappointed with this mixtape.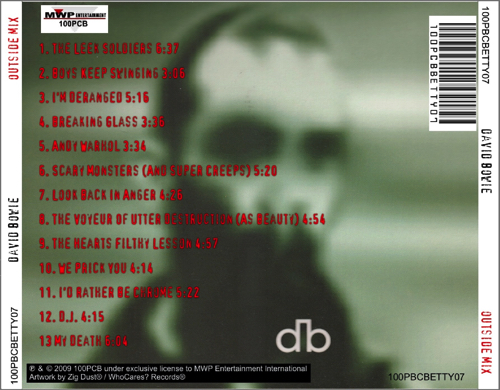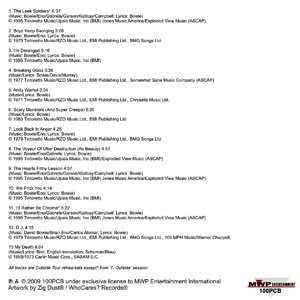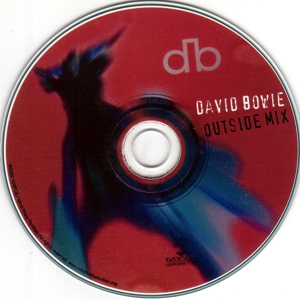 Two Outside outtakes and 11 tracks from the Outside tour rehearsals – all in excellent sound quality and neatly segued together (in a good way not a 'Stars On 45' way.) Venue(s) for the tour rehearsal tracks not known I'm afraid – any further info welcome.
It's 100% soundboard, quite superb. Can't tell whether the rehearsals tracks are from the tour rehearsals (Hartford CT 11-13/9/95) or the subsequent Elstree/Wembley rehearsals (8-13/11/95) but the whole thing is absolutely blistering.
David Bowie Tour band 1995-1996 – Outside Tour
The Outside Tour was a tour by English rock musician David Bowie, opening on 14 September 1995 at Meadows Music Theatre – Hartford, Connecticut. Support during the US leg of the tour was provided by Nine Inch Nails, who segued their set with Bowie's to form a continuous show. Prick opened the first date of the tour. Morrissey was the support act for the European leg, but withdrew from the tour after nine dates. On selected dates Reeves Gabrels performed songs from his album, The Sacred Squall of Now in addition to performing with Nine Inch Nails and David Bowie. The opening of the concert tour preceded the release of the 1. Outside album which was released on 25 September 1995.
• David Bowie – vocals
• Reeves Gabrels – guitar
• Carlos Alomar – guitar, backing vocals
• Gail Ann Dorsey – bass guitar, vocals
• Zack Alford – drums
• Mike Garson – piano
• Peter Schwartz – synthesizer, musical director
• George Simms – backing vocals, keyboards
(Visited 2,133 times, 1 visits today)