David Bowie 1996-07-09 Rome ,Live Link Festival ,Curva Sud Stadio Olimpico – Live Rome 1996 – (Mono, edited ,FM Broadcast – Italian chatter not included) .
Sound Quality Rating
01. Look Back In Anger.flac
02. Scary Monsters.flac
03. The Hearts Filthy Lesson.flac
04. Outside.flac
05. Aladdin Sane.flac
06. The Voyeur Of Utter Destruction.flac
07. The Man Who Sold The World.flac
08. Hallo Spaceboy.flac
09. Breaking Glass.flac
10. Telling Lies.flac
11. Jump (They Say).flac
12. Under Pressure.flac
13. "Heroes".flac
Label : No label
Audio Source : Mono FM Broadcast (Rai Radio 2)
Lineage : Unknown
Taping Gear : Unknown
Taper: Unknown
Recording Location: Unknown
Total running time : 0:52:39
Sound Quality : very good. Equals record or radio/TV apart from a slight noise and some dullness.
Attendance : 5000
Artwork : Yes
Note: Italian chatter not included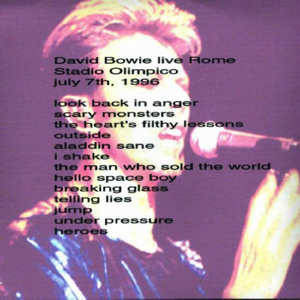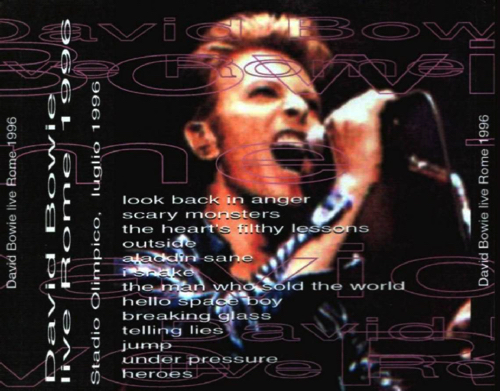 REVIEW : Max1334
About the gig… It was a hot day in Rome. the 2 days festival was great. I was in the first row for the whole festival, and in the early evening I have shake my hand to Reeves Gabriels who walked in front of us. Carmen Consoli, an italian singer and composer, have the "balls" to open the day with a short set, she was on acoustic guitars and vocals, and another girl on cello. Very brave for a teen girl! Then Joe Satriani…. a great techical skill, but a little bit boring for me. Ustmamo was an italian indie band, never been son much into them (I preferred Marlene Kuntz instead). Then an electro band, Moloko. Honestly I have never heard of them before or after… Black Grape (the band of 2 ex members of Happy Mondays) have many issues with the audience, and for what I remember, their show was less than good. Then Mr Bowie. I have liked a lot the stage effects and his new "persona", I was really into his new album and even if I'd love to hear more oldies, I have fully enjoyed the show, until…. well… until something went wrong, and he have leave the stadium. Maybe few people in attendance for him (we were 4 thousand people, no more no less)? Anyway, a great show, BUT disappointing because of the short lenght and NO encores… The day after I was again there. Bad Religion, Paradise Lost, Slayer, Sepultura, Iggy Pop, Sex Pistols. Again in front row. Another amazing night, but it was another story….
 
David Bowie Tour band 1996 – Outside Summer Festivals Tour & East Coast Ballroom Tour
Outside Summer Festivals Tour was a concert tour by David Bowie. Following on from the Outside Tour which ended in February 1996, the tour opened at Nippon Budokan in Tokyo, Japan on 4 June 1996. With a slimmed-down tour band from the previous tour, this tour visited to Japan, Russia and a string of performances on the European Summer festivals circuit.
Personeel
• David Bowie: vocals
• Reeves Gabrels: guitar, backing vocals
• Gail Ann Dorsey: bass guitar, vocals
• Zachary Alford: drums
• Mike Garson: keyboards, backing vocals
 
 
 
(Visited 853 times, 1 visits today)