David Bowie 1995-10-07 Raleigh ,Walnut Creek Amphitheatre – Hallo Raleigh! – (Bofinken Remaster) .
Sound Quality Rating
David & with Nine Inch Nails set
01. Subterraneans.flac
02. Scary Monsters.flac
03. Reptile.flac
04. Hallo Spaceboy.flac
05. Hurt.flac
David Bowie set
06. Look Back In Anger.flac
07. I'm Deranged.flac
08. The Heart's Filthy Lesson.flac
09. The Voyeur of Utter Destruction (As Beauty).flac
10. I Have Not Been to Oxford Town.flac
11. Outside.flac
12. Andy Warhol.flac
13. Breaking Glass.flac
14. The Man Who Sold the World.flac
15. We Prick You.flac
16. Joe the Lion.flac
17. A Small Plot of Land.flac
18. Nite Flights.flac
19. Band Introductions.flac
20. Under Pressure.flac
21. Teenage Wildlife.lac
Label : No label > Edited by Dosben
Audio Source : Audience recording
Lineage : Unknown recording, but sounds like a Master -> CDR -> DAE copy with gaps -> Remaster
Taping Gear : Unknown
Taper: Unknown
Recording Location: Unknown
Total running time : 1:41:50
Sound Quality : Much noise ,dull ,but still good listened to
Attendance : Unknown
Artwork : JTB Artwork
Remaster : Bofinken
Bowie Says " Wish You A merry Christmas and a happy new year.God Bless"
The sound is not good at all, but probably the master would be better if someone outs there have it.
I have compared this concert to all Outside shows with the same setlist, and I can hear that this is different than all other shows from the tour when comparing the presentation of Reeves Gabrels after "The Voyeur".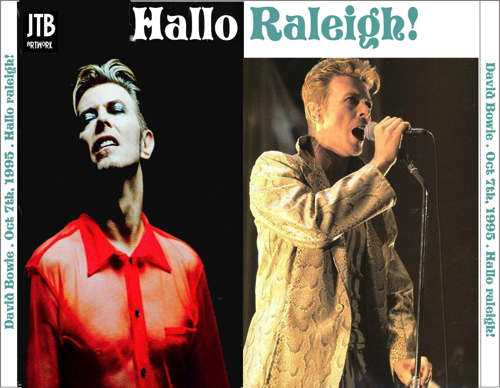 David Bowie Tour band 1995-1996 – Outside Tour
The Outside Tour was a tour by English rock musician David Bowie, opening on 14 September 1995 at Meadows Music Theatre – Hartford, Connecticut. Support during the US leg of the tour was provided by Nine Inch Nails, who segued their set with Bowie's to form a continuous show. Prick opened the first date of the tour. Morrissey was the support act for the European leg, but withdrew from the tour after nine dates. On selected dates Reeves Gabrels performed songs from his album, The Sacred Squall of Now in addition to performing with Nine Inch Nails and David Bowie. The opening of the concert tour preceded the release of the 1. Outside album which was released on 25 September 1995.
• David Bowie – vocals
• Reeves Gabrels – guitar
• Carlos Alomar – guitar, backing vocals
• Gail Ann Dorsey – bass guitar, vocals
• Zack Alford – drums
• Mike Garson – piano
• Peter Schwartz – synthesizer, musical director
• George Simms – backing vocals, keyboards
 
 
 
.
(Visited 274 times, 1 visits today)