David Bowie 1995-12-03 Sheffield ,Sheffield Arena – 1.Sheffield – .
Sound Quality Rating
101. A Small Plot of Land.flac
102. Look Back In Anger.flac
103. The Heart's Filthy Lesson.flac
104. Scary Monsters.flac
105. The Voyeur of Utter Destruction (As Beauty).flac
106. I Have Not Been to Oxford Town.flac
107. Outside.flac
108. Andy Warhol.flac
109. The Man Who Sold the World.flac
110. The Motel.flac
111. DJ.flac
212. Strangers When We Meet.flac
213. Hallo Spaceboy.flac
214. Jump They Say.flac
215. Breaking Glass.flac
216. We Prick You.flac
217. Nite Flights.flac
218. Band Introductions.flac
219. Boys Keep Swinging.flac
220. Teenage Wildlife.flac
221. Under Pressure.flac
222. Moonage Daydream.flac
Label : No label
Audio Source : Audience recording
Lineage : Unknown
Taping Gear : Unknown
Taper: Unknown
Recording Location: Unknown
Total running time : 1:43:16
Sound Quality : very good. Equals record or radio/TV apart from a slight noise and some dullness.
Attendance : 11.500
Artwork : By Nathan Adler 2017
David was very talkative and in a very good mood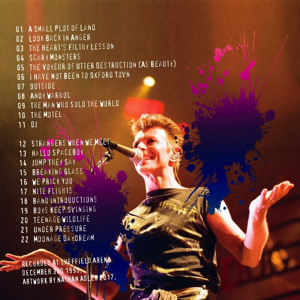 David Bowie Tour band 1995-1996 – Outside Tour
The Outside Tour was a tour by English rock musician David Bowie, opening on 14 September 1995 at Meadows Music Theatre – Hartford, Connecticut. Support during the US leg of the tour was provided by Nine Inch Nails, who segued their set with Bowie's to form a continuous show. Prick opened the first date of the tour. Morrissey was the support act for the European leg, but withdrew from the tour after nine dates. On selected dates Reeves Gabrels performed songs from his album, The Sacred Squall of Now in addition to performing with Nine Inch Nails and David Bowie. The opening of the concert tour preceded the release of the 1. Outside album which was released on 25 September 1995.
• David Bowie – vocals
• Reeves Gabrels – guitar
• Carlos Alomar – guitar, backing vocals
• Gail Ann Dorsey – bass guitar, vocals
• Zack Alford – drums
• Mike Garson – piano
• Peter Schwartz – synthesizer, musical director
• George Simms – backing vocals, keyboards



David Live: A short history of David Bowie in concert
If you discount all of those earlier performances with The Lower Third and The Buzz, his involvement with Lindsay Kemp in 1968 as part of Pierrot In Turquoise, the subsequent support slots with T. Rex and Humble Pie, those solo shows in 1971 (which also included his headlining at Glastonbury Fayre), plus numerous other rehearsals and warm-ups in the interim and then date his entire concert history from the 10th of February 1972 at the Toby Jug in Tolworth, London on that official opening night of the inaugural Ziggy Stardust tour, the man who fell to earth as David Bowie has probably undertaken a total of 14 tours; provided, that is, you also choose to disregard his joining Iggy on stage in 1977 for the duration of Mr Pop's The Idiot jaunt and the two Tin Machine treks in '89 and '91 respectively. Those fourteen tours have seen him perform at a plethora of concert halls, ballrooms, pavilions, theatres, amphitheatres, sports stadia and outdoor festivals across all seven continents, amassing a grand total of one thousand and twenty five shows in the process. Of all of those possible concerts I have somehow managed to catch only three.
Whilst still living back home in East Kilbride, and on reflection rather inexplicably, the draw of Focus, King Crimson, Wishbone Ash and even Mott The Hoople towards the Glasgow Apollo proved to be far greater than those three Bowie shows in 1973 on what was to be the final Ziggy Stardust tour. Still, and by that time having relocated to the North East of England, there was always the chance to catch him at Newcastle City Hall five years later on the second Isolar tour. "We've got five years, that's all we've got" as yet another half decade elapsed without seeing him before he again resurfaced in Scotland, this time on the Serious Moonlight tour at Murrayfield Stadium. But yet another opportunity just slipped on by, as did those three Glass Spider shows in football grounds in the north of England two years later.
But then it finally happened on the 3rd of December 1995. By the time that the Outside tour juggernaut rolled into Sheffield, Morrissey had already been posted missing somewhere in the northern lights of old Aberdeen, leaving support duties on that particular date to The Big. To make matters even worse, Sheffield Arena, like all arenas is a vast, cavernous, cold and soulless building much better suited for Ideal Home exhibitions or classic motor shows than being the place in which you will first experience David live. And when further account is taken of the fact that the album from which the tour has taken its name – and despite this "nonlinear Gothic drama hypercycle" having seen Bowie reunited with the master technician and Berlin trilogy cohort Brian Eno – can often feel as if you are lost in some incoherent post-industrialised wasteland, the omens are not especially good. But, and despite almost half of the evening's 21 song salute being culled from that record and you having felt trapped in what had otherwise been a claustrophobic, emotionally detached period of time, there were some moments of sheer and utter blinding brilliance. On Scott Walker's Nite Flights Bowie was suddenly once more transformed into the man who had changed the face and vision of popular music, injecting this minor Walker Brothers hit with a strange, swirling hypnotic drug the ingredients of which surely do not exist in either this or any other world. The ensuing Boys Keep Swinging still possessed every single inch of its original wanton, louche swagger and then with Bowie cast in an eerie silhouette and when that timeless explosive riff promptly opened the door for his effortless croon – "I'm an alligator, I'm a mama-papa coming for you" – it really was 1972 all over again.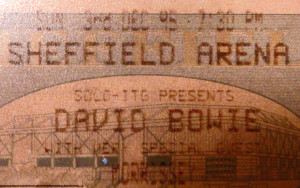 Having waited more than twenty two years to catch David Bowie in concert, little did I know that night as we drove away from the Steel City in rather stunned silence that in just under twenty two months I would be seeing him once more. This time it was to be in the 2,300 capacity Town & Country (now the O2 Academy), a grade I listed Gothic building located on Cookridge Street in the city centre of Leeds. Wednesday the 6th of August 1997, it was; a balmy evening outside, sweltering inside; the sense of expectancy, especially once you had fully absorbed the fact that very soon you would be stood less than 15 feet away from the great man, palpable. Reeves Gabrels on guitar, Gail Ann Dorsey on bass, Zachary Alford on drums and the seemingly perennial Mike Garson on keyboards were already on stage as this ethereal vision appeared to float into view from stage left. Dressed in a brilliant white shirt slashed to the navel, improbably blonde, bronzed and handsome, wreathed in beatific smiles and strumming the opening chords to Quicksand on an acoustic guitar, this really was the man who fell to earth. For all the world this surely was David Bowie stood before us, but it could equally have been some alien from outer space such was the otherworldliness of this being and its presence. In many respects what ensued barely mattered, as this experience could surely never be repeated or bettered. But Quicksand was followed, naturally, by The Man Who Sold The World. And Queen Bitch was then followed by The Jean Genie in what was, and probably still is, the strongest fusillade of four songs to ever open any show. The rest of the performance was dominated by songs from Earthling, the album that the tour was there to promote. I'm Afraid Of Americans was edgy, sinister and paranoid whilst the melody of Hallo Spaceboy was still rattling around in my brain for days afterwards such was the all-consuming power of its thunderous groove. But the entire evening still remains to this very day completely consumed by that grand entrance.
By the time of the Heathen tour five years later, Bowie was for many running on creative memory and a greatest hits-heavy set at Manchester's Old Trafford Cricket Ground on the 10th of July 2002 merely appeared to confirm this. Whilst it would be entirely wrong to suggest he was by now sitting in the career easy-chair equivalent of Vegas-period Elvis or Sinatra at the Sands, this performance was undoubtedly clear evidence of a man who was at one with his world and with seemingly nothing left to prove. But there again Bowie's greatest hits are in another universe to anybody else's, so to see and hear him perform Heroes, Ashes to Ashes and then to end his set with Ziggy Stardust itself is probably more than anyone could ever wish for in one lifetime.
Less than two years later at Das Hurricane Festival in Scheeßel in Germany, and as the remainder of that Reality tour was to be cancelled due to him having undergone emergency heart surgery for a blocked artery, David Bowie performed what up until now has proved to be his last live show. Producer Tony Visconti recently suggested that Bowie was now finished with public performances but despite this assertion some bookmakers are still laying odds of 2-1 that he will appear at this year's Glastonbury festival, and perhaps even more incredibly that he will duet with Mick Jagger on the Pyramid Stage to Dancing In The Street. Neither would seem like a sound investment to me. But as we stand on the verge of The Next Day hitting stores or their virtual equivalent, he has shown us that he is not dead, creatively or otherwise, so maybe, just maybe I will be afforded the opportunity of a fourth David Bowie show.
(Visited 832 times, 1 visits today)