David Bowie 1990-07-07 Saratoga ,Performing Arts Center – Saratoga 90 – (Teddy Ballgame DAT Master) .
Sound Quality Rating very good. Equals record or radio apart from a slight noise and some dullness.
01. Space Oddity.flac
02. Rebel Rebel.flac
03. Changes.flac
04. Ashes To Ashes.flac
05. Life On Mars.flac
06. Pretty Pink Rose.flac
07. Stay.flac
08. Blue Jean.flac
09. Let's Dance.flac
10. Ziggy Stardust.flac
11. China Girl.flac
12. Station To Station.flac
13. Young Americans.flac
14. Suffragette City.flac
15. Fame.flac
16. "Heroes".flac
17. White Light – White Heat.flac
18. Baby What You Want Me To Do – The Jean Genie.flac
19. Waiting For The Man.flac
20. Gloria.flac
Label : No label
Audio Source : Audience recording
Lineage : DAT Master
Taping Gear : Unknown
Taper: Teddy Ballgame
Recording Location: Unknown
Total running time : 1:41:12
Sound Quality :
Attendance : Unknown
Artwork : Selfmade
David Bowie was in concert at the Saratoga Performing Arts Center on July 7, 1990. The following is a review published after the concert in the Times Union by Michael Eck:
It was the most breathlessly awaited show of the summer.
And like the best things in life it was worth waiting for. Make no mistake about it, David Bowie's phenomenal retrospective concert Saturday night at the Saratoga Performing Arts Center was one of the best things in life – the kind of performance that could breathe life into a tired soul.
Bowie, his band, and his art, transcended.
The multi-media show – which Bowie claims will be the last live public performances of his past material – has been hailed and written about for months now, but no amount of pre-press could prepare fans for what they experienced on Saturday.
Bowie has always been one of rock's true artists, merging the conceits of music, theater, literature and visuals into a pulsating, fascinating body of work.
On this "Sound and Vision" tour he has even outdone himself.
Multiple screens and video effects worked integrally with onstage action. While his band, led by guitarist extraordinaire Adrian Belew, thundered behind him Bowie, ever the cracked actor, sang duets with his own 20-foot projected image, danced with an androgynous look-alike, and cast a mighty shadow throughout the amphitheater.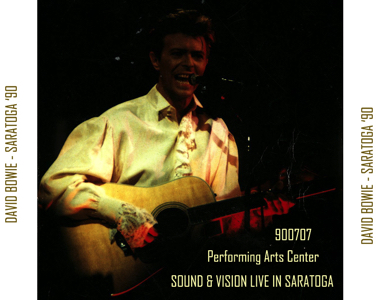 MTV be damned, Bowie has brought the first completely successful merger of video and stage together.
With some artists the music is the bottom line. With Bowie the vision has always gone hand in hand with the sound.
Anyhow, the sound Saturday night was louder than the beating of a thousand hearts. It must be a strange place for Bowie to be right now – giddy with the excitement of casting off old characters, but also realizing he is singing these songs for the last time.
His projected face as he closed his set with "Heroes" said all that in the flicker of an eye.
He finished with a rocking blast of encores that segued his own "Jean Genie" with the Velvet Undergound's "White Light, White Heat" and "Waiting for My Man" and Van Morrison's "Gloria."
"Station to Station," introduced and capped off with simply wicked solos from Belew, was rock 'n' roll on its purest edge – so striking that it will forever remain the image I carry of Bowie in my mind.
In the past year or so the Who got back together to rehash their past, the Stones patched it up and followed suit, McCartney dragged out the Beatles catalog … Saturday night Bowie took his past in his hands and gloriously threw it all away while we watched.
Those other tours were history shaking with age, Saturday's was history shaking with life. It was simply one of the greatest spectacles I have ever witnessed.
Thank you David.
We'll be with you as you "turn and face the strange."
Stay in touch.
David Bowie Tour band 1990 – Sound+Vision Tour
Bowie specifically chose a smaller band for the tour, saying in a contemporary interview that "It's a much smaller sound. It's not quite as orchestrated as any of the other tours. The plus of that is that there is a certain kind of drive and tightness that you get with that embryonic line-up, where everybody is totally reliant on the other two or three guys, so everybody gives a lot more"
• David Bowie – vocals, guitar, saxophone[
• Adrian Belew – guitar, backing vocals, music director
• Erdal Kızılçay – bass guitar, backing vocals
• Rick Fox – keyboards, backing vocals
• Michael Hodges – drums
[real3dflipbook id="3″]

.
.
(Visited 603 times, 1 visits today)