David Bowie 1990-03-06 Montreal ,The Forum – Montreal 1990 – (Wardour 277).
Sound Quality Rating
101. Space Oddity.flac
102. Changes .flac
103. TVC 15.flac
104. Rebel Rebel.flac
105. Golden Years.flac
106. Be My Wife.flac
107. Ashes To Ashes.flac
108. John, I'm Only Dancing.flac
109. Queen Bitch.flac
110. Fashion.flac
111. Life On Mars.flac
112. Blue Jean.flac
113. Stay.flac
114. Ziggy Stardust.flac
215. Sound And Vision.flac
216. Station To Station.flac
217. Alabama Song.flac
218. Young Americans.flac
219. Panic In Detroit.flac
220. Suffragette City.flac
221. "Heroes".flac
222. The Jean Genie.flac
223. Pretty Pink Rose.flac
224. Modern Love.flac
225. Rock And Roll Suicide.flac
Label : Wardour 277 – (2018 Release)
Audio Source : Stereo Soundboard
Lineage : Unknown
Taping Gear : Unknown
Taper: Unknown
Recording Location: Unknown
Total running time : 1:49:56
Sound Quality : very good. Equals record or radio apart from a slight noise and some dullness.
Attendance : Unknown
Artwork : Yes
We've got something special going on here with the Montreal Forum. On the SERIOUS MOONLIGHT TOUR in 1983 db played 2 nights there on July 12 & 13, 1983. I just gave you complete soundboards of those 2 shows. The July 13, 1983 show is one of the most widely released db unofficial recordings.
Then we move to the GLASS SPIDER TOUR in 1987. db played 1 night at the Montreal Forum on August 30, 1987. That show has been OFFICIALLY released. It became official in terrible "official" quality when the Glass Spider DVD was finally released a few years ago. The video is from Australia but the bonus CDs were this Montreal show. Fortunatly, the show was remastered & sounds A LOT better in the recent "Loving the Alien 1983-1988" box set.
Then we move to the SOUND + VISION TOUR in 1990. db played the 2nd night of the tour there for 1 performance on March 6, 1990. That is now presented to you here in another soundboard recording. It's great to have such an early show to hear things a bit rough around the edges. Songs like Golden Years, Panic in Detroit, Alabama Song, John I'm Only Dancing & Panic In Detroit were dropped or just rarely played as the tour progressed. It's also great to have db's voice still intact before he started yelling through most shows.
It could be cool if we found the other Montreal Forum shows in soundboard quality: June 14 1974, February 25 1976, May 3 1978
The Montreal Forum was shut down in 1996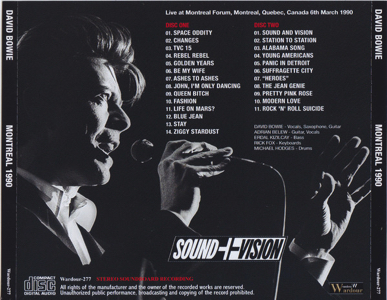 David Bowie Tour band 1990 – Sound+Vision Tour
Bowie specifically chose a smaller band for the tour, saying in a contemporary interview that "It's a much smaller sound. It's not quite as orchestrated as any of the other tours. The plus of that is that there is a certain kind of drive and tightness that you get with that embryonic line-up, where everybody is totally reliant on the other two or three guys, so everybody gives a lot more"
• David Bowie – vocals, guitar, saxophone[
• Adrian Belew – guitar, backing vocals, music director
• Erdal Kızılçay – bass guitar, backing vocals
• Rick Fox – keyboards, backing vocals
• Michael Hodges – drums
[real3dflipbook id="3″]

.
(Visited 237 times, 1 visits today)