David Bowie 1990-04-13 Milan ,Palatrussardi (Off master LDB) –
Sound Quality Rating
01. Intro – Ode to Joy – Space Oddity .flac
02. Changes .flac
03. TVC 15 .flac
04. Rebel Rebel .flac
05. Be My Wife .flac
06. Ashes To Ashes.flac
07. Queen Bitch .flac
08. Fashion.flac
09. Life On Mars? .flac
10. Blue Jean.flac
11. Let's Dance.flac
12. Stay .flac
13. China Girl.flac
14. Sound And Vision.flac
15. Ziggy Stardust.flac
16. Station To Station.flac
17. Young Americans.flac
18. Suffragette City.flac
19. Fame 90.flac
20. "Heroes".flac
Encore:
21. Pretty Pink Rose.flac
22. Jean Genie.flac
23. Modern Love.flac
24. Raistereodue interview: Roma, Rai studios – April 17, 1990 FM .flac
Label : No label > LDB Master Series #004
Audio Source : Audience recording
Lineage : off master Tape
Taping Gear : Sony TCS-310 (embedded microphone)
Taper: LDB
Recording Location: Unknown
Total running time : 1:59:12
Sound Quality : Noise ,dull ,but still good listened to
Attendance : 7.000
Artwork : Yes
PS: This is not sourced from the video from the same concert.
Note from the taper LDB
Hi there! You had master, special and vintage series as well over the last 15 years. Now I want to move forward and propose
you with something new. The idea from this came a few weeks ago when I was listening to one of my masters which I had digitised
a long time back. Honestly, it sounded not very good to me: lots of hiss, very little dynamics and so much bass. Honestly I did
not remember that on my original tape. And when I put the master in my cassette player, it sounded nice and fresh as I remembered.
When I first started to digitize my tapes, back in the late 90's, I was using a Philips CD-recorder which offered no editing
capabilities: I was basically transferring the sound as it was. Then, with the advent of laptops and advanced softwares, I could do
some improvements but 20 years ago technology was still basic. Today audio cards are much better and editing a lot easier and advanced.
So I took some of my masters and 1st copies tapes and transferred once again to digital and then using some more advanced features then
compared with those transferts I did long back and the difference was pretty big.
So here is a brand new series: LDB Master Series 2020. I will be taking some of my masters (some of them were already relesed in the Master
Series, some others will be completely uncirculated) and 1st generation copies and proceed to a brand new tranfer and sound improvement.
These will be part of this series only if a good improvement is shown as there is no point in duplicating efforts.
Hope you will like this. Welcome to LDB Master Series 2020!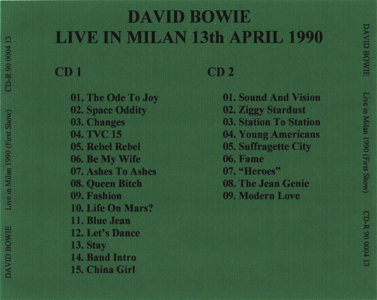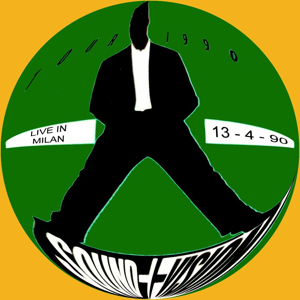 Lineage: RAI Radio 2 broadcast > Sanyo FMT-3510L FM tuner > Master Tape > TEAC Tape Deck AD-RW900 > Creative Sound Blaster Z >
HD > SoundForge Pro 13.0 > CD Wave > FLAC Frontend (level 6)
Another one that needed some treatment from my master tape that is now 30 years old. Tapes are TDK AR so obviously not the best possible
choice but I do not remember why I chose these. In 1990 I still did not have a Sony Professional recorder but I was taping with a
Sony TCS-310 with embedded microphones. I would use a Sony Pro for the first time the following year to record a Tin Machine gig in Milan.
The TCS-310 was ok and had a very nice feature which allowed you to change tape side without physically flip the tape.
That could save you those 4-5 seconds during applauses and give you a chance not to miss a note. That was
partially true during this Bowie gig because right after Blue Jean the following tracks started immediately. Apart from this, I managed
to record the show without major issues.
When I took back my master and digitized it, I noted that it could be improved a bit. Left and right channels were unbalanced and this was
fixed. The tape was running some 2% slower and I corrected it too. It also sounded a bit too thinny, so some dynamics was added. Now it
sounds pretty good to my ears. Did not need to de-noise or de-hiss it.
As far as the title of this recording goes, this is taken from the guy who is shouting it at the beginning of TVC 15. It would be too long to
explain why is he shouting this and why this in french (despite the concert took place in Italy) so keep it as it is 🙂
David Bowie Tour band 1990 – Sound+Vision Tour
Bowie specifically chose a smaller band for the tour, saying in a contemporary interview that "It's a much smaller sound. It's not quite as orchestrated as any of the other tours. The plus of that is that there is a certain kind of drive and tightness that you get with that embryonic line-up, where everybody is totally reliant on the other two or three guys, so everybody gives a lot more"
• David Bowie – vocals, guitar, saxophone[
• Adrian Belew – guitar, backing vocals, music director
• Erdal Kızılçay – bass guitar, backing vocals
• Rick Fox – keyboards, backing vocals
• Michael Hodges – drums
[real3dflipbook id="3″]

.
(Visited 88 times, 1 visits today)