David Bowie 1987-07-11 Dublin ,Slane Castle – Your Soothing Hand –
Sound Quality Rating
101. Guitar Intro.flac
102. Up The Hill Backwards (1).flac
103. Glass Spider.flac
104. Up The Hill Backwards (2).flac
105. Day-In Day-Out.flac
106. Bang Bang.flac
107. Absolute Beginners.flac
108. Loving The Alien.flac
109. Crowd Announcement.flac
110. China Girl.flac
111. Fashion.flac
112. Scary Monsters.flac
113. All The Madmen.flac
114. Never Let Me Down.flac
201. Big Brother.flac
202. Chant Of The Ever-Circling Skeletal Family.flac
203. 87 And Cry.flac
204. "Heroes".flac
205. Time Will Crawl.flac
206. Band Introductions.flac
207. Young Americans.flac
208. Beat Of Your Drum.flac
209. The Jean Genie.flac
210. Sons Of The Silent Age.flac
211. Dancing With The Big Boys.flac
212. White Light White Heat.flac
213. Let's Dance.flac
214. Fame.flac
Encore:
215. Time.flac
216. Blue Jean.flac
217. Modern Love.flac
Label : From The Hunky Geordie Tapes – HUG010CD
Audio Source : audience
Lineage : TDK SA 90 and MaxellSLII C90 tapes (believed first gen)
Taper: ???
Recording Location: ???
Total running time : 2:08:55
Sound Quality : noise ,dull ,but still good listened to
Attendance : 55.000
Artwork : By Steve23yh
Review: Joe Breen
There is little danger of David Bowie's first concert in Ireland going down in his or our memory as an outstanding occasion. Yet the casual atmosphere which hung over Slane Castle's natural amphitheatre on Saturday was not totally the fault of him or his much maligned "Glass Spider" show. For almost two and a half hours they put on a very credible and entertaining performance – certainly much more exciting than many had forecast – but ultimately it must be judged a failure because it didn't manage to capture the imagination of the bulk of the audience .
When Bowie closed the show with "Fame", his American number one from his "Young Americans " period, the end was not greeted with rapturous acclaim , as could have been expected, but by half-hearted applause. Even the encores failed to stir the lethargic audience who only offered token support for songs like "Modern Love".
Bowie is an old enough hand in this business to realise that there are few gains to be made in forcing people to eat bread when what they want is cake, especially when, like him , you have plenty of sweet slices at your disposal.
Invariably, the old songs pleased the audience most, and there were none better received than "Jean Genie", his paean to his friend, Iggy Pop. This was one of the few occasions when the audience and the concert threatened to come alive, but soon enough we were back to languid applause.
Perhaps the sparks didn't fly because it was a night-time show played in the day light when the lighting effects were worthless, or perhaps the problem stemmed from Bowie's insistence on mixing the old with the new.
Finally, the question must be asked about Slane itself. Are there any rock legends left who can fill the vast venue with both people and excitement? The reported presence of Mark Knopfler there on Saturday maybe hints at the possibility of Dire Straits taking on the challenge. Time will tell.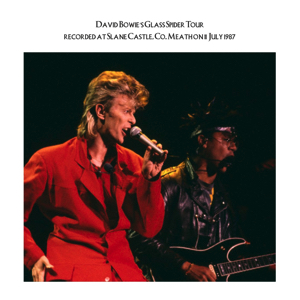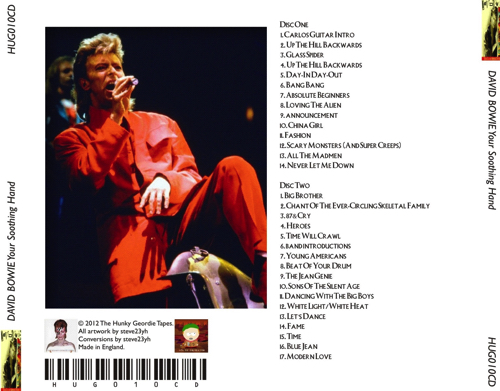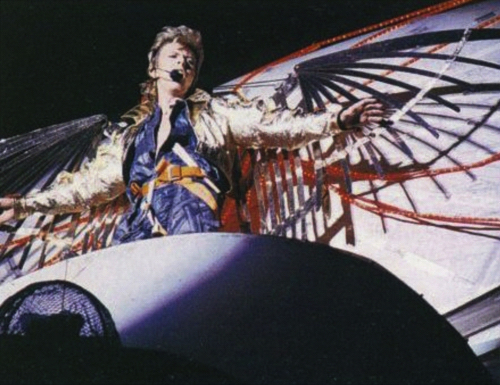 .
David Bowie Tour band 1987 – The Glass Spider Tour
• David Bowie – vocals, guitar
• Peter Frampton – guitar, vocals
• Carlos Alomar – guitar, backing vocals, music director
• Carmine Rojas – bass guitar
• Alan Childs – drums
• Erdal Kızılçay – keyboards, trumpet, congas, violin, backing vocals
• Richard Cottle – keyboards, saxophone, tambourine, backing vocals
Tour dancers
• Melissa Hurley
• Constance Marie
• Spazz Attack (Craig Allen Rothwell)
• Viktor Manoel
• Stephen Nichols
• Toni Basil (choreography)
Tour design
• Allen Branton – Lighting design
• Mark Ravitz – Set design
• Christine Strand – Video director
| | |
| --- | --- |
| [real3dflipbook id="5″] | [real3dflipbook id="6″] |
| David Bowie The Glass Spider Tour Boek part 1 | David Bowie The Glass Spider Tour Boek part 2 |
.
==========================
Fix notes:
The big issue with this tape is that it was running slow, dropping pitch by slightly over a semitone. Speed corrected by a factor of 106% – reducing overall time by 7:43.
One done, this was still quite a messy tape. Gaps were removed from between tracks 13 & 14 on disc 1, and tracks 8 & 9 on disc 2, without any loss of music
Gaps were removed from between tracks 8 & 9 on disc 1 and tracks 3 & 4 and 13 & 14 with some loss of the beginning of the second song in each case.
There were repairs found between tracks 10 & 11 on disc 1 and tracks 14 & 15 on disc 2, but I allowed these to stand as they were.
The join between 87 & Cry and Heroes, however, was very untidy. The start of Heroes is clipped and in addition, there is then a sequence of a number of pauses, with some tape wobble. I have left these as they appeared, but the first minute or so of Heroes is untidy.
Once all done, it's not a bad listen, with disc 2 slightly better quality than disc 1 IMHO.
.
(Visited 667 times, 1 visits today)