David Bowie 1987-10-07 Houston ,The Summit – We'll Have A Hot Time –
Sound Quality Rating
101. Purple Haze.flac
102. Carlos's Guitar Intro.flac
103. Up The Hill Backwards.flac
104. Glass Spider.flac
105. Up The Hill Backwards.flac
106. Day In Day Out.flac
107. Bang Bang.flac
108. Absolute Beginners.flac
109. Loving The Alien.flac
110. China Girl.flac
111. Rebel Rebel.flac
112. Fashion.flac
113. Scary Monsters.flac
114. All The Madmen.flac
115. Never Let Me Down.flac
116. Big Brother-fixed.flac
117. Chant Of The Ever Circling Skeletal Family.flac
118. 87 & Cry.flac
201. "Heroes".flac
202. Sons Of The Silent Age.flac
203. Time Will Crawl.flac
204. Band introductions.flac
205. Young Americans.flac
206. Beat Of Your Drum.flac
207. The Jean Genie.flac
208. Let's Dance.flac
209. Fame.flac
Encore:
210. Time.flac
211. Blue Jean.flac
212. Modern Love.Flac
Label : From The Hunky Geordie Tapes – HUG264CD
Audio Source : Audience recording
Lineage : TDK SA90 x2
Taping Gear : Unknown
Taper: Unknown
Recording Location: Unknown
Total running time : 2:07:56
Sound Quality : noise ,dull ,but still good listened to
Attendance : 16.500
Artwork : By Steve23yh
Great version of Jean Genie .For one reason or another at the beginning of the song Bowie shouts :"Oh.church."
PICTURES David Bowie's 1987 visit to the Summit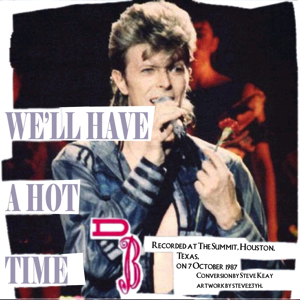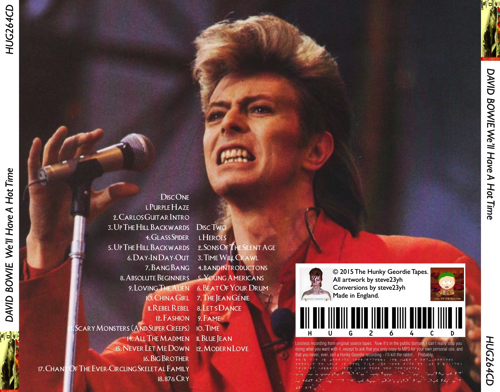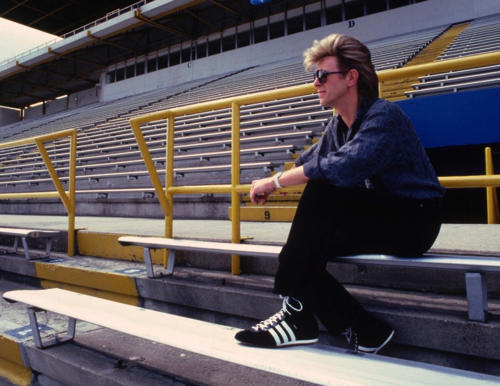 Look back at David Bowie's 1987 visit to the Summit
Enigmatic singer and icon David Bowie, who died Sunday at the age of 69, brought his over-the-top "Glass Spider" tour to The Summit (now known as Lakewood Church) in 1987. The two shows, on Oct. 7 and 8, featured Peter Frampton on lead guitar and were "a colorful, bombastic, nonstop, thrill-a-minute carnival of sight and sound," according to Houston Post pop music editor Bob Claypool, who reviewed Bowie's tour stop for the Houston Post.
The set is worth a review all by itself – it's a dense conglomeration of risers, scaffolding and metallic density that goes way beyond hi-tech to something approaching junkyard thrown-together. However, unlike most such menageries, every piece of this one works and seems to have some purpose. Dancers cavort on various levels while this crack band blitzes and while, yes, the Quintessential Ever-Young Dude sings and rocks out front.
Bowie is in top form, musically and theatrically – whether descending from the top of the set at the show's opening, or singing "Glass Spider" into a telephone, or being given oxygen from a tank strapped to the back of a ballerina in "Never Let Me Down, " or simply strutting with a guitar in "Young Americans.".
Claypool goes on to say that Bowie touched on every moment of his career with the set list: "Semi-obscurities" "Loving the Alien" and "All the Madmen" joined "Fame," "Fashion," "Scary Monsters," "Let's Dance," "'87 and Cry," "Day In-Day Out," "Beat of Your Drum," "Jean Genie" and "Sons of the Silent Age."
The band was tight throughout, and both Frampton and Alomar contributed some blistering solos. And Bowie, ever the card and humorist onstage, couldn't resist a bit of "should I throw myself out in the crowd" maneuvering at the opening of Iggy Pop's "Bang Bang." It was an ironic, funny move, and it fit perfectly.
The concert was more of a head-scratcher to Houston Chronicle's Michael Spies, who called it "a visually diverting, thematically disconcerting blend of Las Vegas and Robert Wilson, of Solid Gold dancing and avant-garde ideas pilfered from all over the map."
His current show, the first since 1983, combines the regular-guy sincerity of his "Let's Dance" album with his former put-on sensibility. The giant spider stage set was both rock as spectacle and slightly campy. The dancers went through everything from a mock wedding to their deaths just before intermission (actually an extended drum solo that gave Bowie a breather). The most seductively female dancer turns out to be…male.
[…]
If you got Bowie figured out after this show, you're a lot further into him than I'll ever be. If you were bored, you only had to wait a few seconds.
So what did the Houston fans think? Post entertainment writer Tim Carman called them "a motley collection of colorful individuals – reflecting all the stages in David Bowie's career that he meticulously re-produced on stage during the first of his two shows in Houston." Here's an excerpt from his write-up in the Houston Post:
"It's bizarre, " said 28-year-old Tina Norgan of Texas City. "The choreography is strange. It's like freeform dancing on stage . . . But it's real good."
Her friend, Cathy Heyer, 28, of Houston, agreed. "It's like a live video."
Bowie has always been a theatrical performer and the Glass Spider show was no different. The singer, however, occasionally pulled himself away from the strict scripting of the show to address the audience or blow the women a kiss or just smile.
"Hey, Houston. You know, this isn't the right thing to do . . ." Bowie exclaimed before reaching over to touch the hands of his fans. It was probably a calculated moment, but the gesture reflected Bowie's friendly personality and his respect for his fans.
Carman said many in the crowd wore baggy, straight-edge designer suits and sculpted their hair to emulate the singer. And he cited the diversity of the crowd as "great and unusual" for a British rock band. But not everyone walked away from The Summit happy.
"I think it's kind of disappointing, " said 30-year-old Mike Seltzer, who said he has seen Bowie eight times. "It's not as good a mix of songs as it was before."
Lee Ann Ludwick, a 27-year-old, agreed. "I have heard only three old songs and I'm not real thrilled with his new music."
Julie Kopecky, 22, differed with her friend. "I loved the show. The sound is great . . . and he's great."
For the most part, however, Bowie's fans were satisfied with the performance, especially when he offered the familiar "Rebel, Rebel" or "Fame." But the pop star probably hit closest to home on one of his newer songs:
"I'll never let you down," cried the man in the bright red suit as he knelt on his knees in front of a capacity crowd
David Bowie Tour band 1987 – The Glass Spider Tour
• David Bowie – vocals, guitar
• Peter Frampton – guitar, vocals
• Carlos Alomar – guitar, backing vocals, music director
• Carmine Rojas – bass guitar
• Alan Childs – drums
• Erdal Kızılçay – keyboards, trumpet, congas, violin, backing vocals
• Richard Cottle – keyboards, saxophone, tambourine, backing vocals
Tour dancers
• Melissa Hurley
• Constance Marie
• Spazz Attack (Craig Allen Rothwell)
• Viktor Manoel
• Stephen Nichols
• Toni Basil (choreography)
Tour design
• Allen Branton – Lighting design
• Mark Ravitz – Set design
• Christine Strand – Video director
| | |
| --- | --- |
| [real3dflipbook id="5″] | [real3dflipbook id="6″] |
| David Bowie The Glass Spider Tour Boek part 1 | David Bowie The Glass Spider Tour Boek part 2 |
.
.
======================
Notes
Light dehiss with iZotope RX2 denoiser
Tiny gap in crowd noise between Heroes and Sons Of The Silent Age @ 4:54. Removed, seamless.
Gap in the introduction to Fame @ 15 seconds – misses the namecheck for John Lennon.
Encore break gap in crowd noise between Fame and Time – simply removed – clean.
Sector Boundary Errors fixed with TLH.
.
(Visited 353 times, 1 visits today)