David Bowie 1987-09-10 Milwaukee ,Marcus Ampitheatre – Milwaukee 870910 –
Sound Quality Rating
01. Intro.flac
02. Purple Haze.flac
03. Up The Hill Backwards.flac
04. Up The Hil Backwards.flac
05. Glass Spider.flac06 Day In Day out.flac
07. Bang Bang.flac
08. Absolute Beginners.flac
09. Loving The Alien.flac
10. China Girl.flac
11. Rebel Rebel .flac
12. Fashion.flac
13. Scary Monsters (And Super Creeps).flac
14. All The Madmen.flac
15. Never Let Me Down.flac
16. Big Brother .flac
17. 87 & Cry.flac
18 "Heroes".flac
19. Sons Of The silent Age.flac
20. Time Will Crawl.flac/Users/diedrichstreuper/stack
21. Band Introduction.flac
22. Young Americans.flac
23. Beat Of Your Drum.flac
24. The Genie Genie.flac
25. Let's Dance .flac
26. Fame.flac
Encore:
27. Time.flac
28. I wanna Be Your Dog.flac
29. Blue Jean.flac
30. Modern love.lac
Label : No label
Audio Source : Audience recording
Lineage : Unknown
Taping Gear : Unknown
Taper: Unknown
Recording Location: Unknown
Total running time : 2:14:13
Sound Quality : noise ,dull ,but still good listened to
Attendance : Unknown
Artwork : By JTB Artwork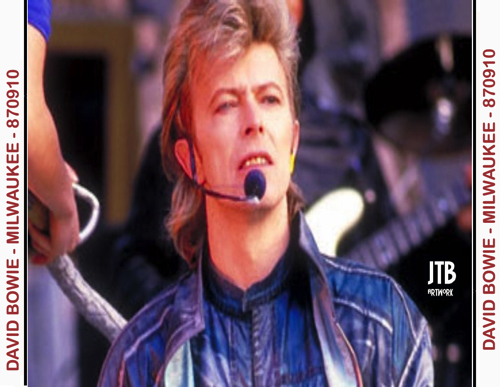 Remembering David Bowie in Milwaukee, from concerts to recording sessions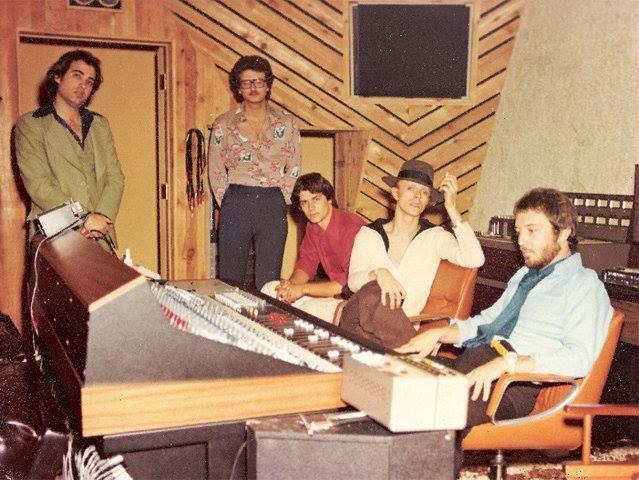 Courtesy of Dean Francis Halonen
David Bowie (second from right) spent three nights in October 1974 at Star Studio in Milwaukee to record overdubs for a "Ziggy Stardust" concert film.
A Martin 12-string acoustic guitar, a bucket with vodka and orange juice, and nothing to eat but plain George Webb's double bacon cheeseburgers with mustard.
Those were the demands of David Bowie when he spent three nights recording at Milwaukee's Star Studio on 37th St. and National Ave. in October 1974 during his Diamond Dogs tour.
"It was an interesting series of nights, that's for sure, " Milwaukee native Dean Francis Halonen, now based in Tampa, Fla., told the Milwaukee Journal Sentinel Monday after learning that Bowie died Sunday following a little-known battle with cancer. Halonen's late older brother Sam co-owned Star, where the Exchange Recording Complex stands today. Dean Halonen was 17 and an assistant at the studio during the Bowie sessions, which were overdubs for a TV rebroadcast of the D.A. Pennebaker concert movie "Ziggy Stardust and the Spiders From Mars," filmed in London the year prior.
"Bowie played at the Milwaukee Arena on Oct. 13, and as I recall it, we got a phone call a week or so ahead of time from his promoter agency," Halonen said. "The recording was apparently iffy and David didn't want them to promote that show with the tracks. But they had a deadline to get it done, and we were the only studio in the city at the time you could call state of the art."
Halonen recalls Bowie — along with a 12-person entourage — starting work at Star on Oct. 12. In total, they spent about 18 to 20 hours in the studio, including late nights and very early mornings, wrapping around 7 or 8 a.m. on that last day.
"He was very smart, he was very articulate, very friendly and very funny," Halonen said. "He pretty much dominated everything. He had an aura that commanded the room."
And the Star team made sure they did Bowie's bidding to his specifications, including rerecording over a guitar track laid down by future two-time Rock and Roll Hall of Famer Jeff Beck. (Earl Slick provided the new version at Star.)
In addition to guitar parts, most of the overdubs were vocal tracks for Bowie and his backing singers, Halonen said. They also used a Hammond B-3 organ and Rhodes piano in studio, and rented the Martin from a local guitarist for $200.
During the recordings, Bowie drank "an awful lot" of the supplied vodka and orange juice from paper Dixie cups, Halonen said. And Bowie smoked several Gitantes filtre cigarettes. "Somewhere in my archives I have a pack and a couple of the butts," Halonen said.
The Halonens were close friends with someone who worked at French restaurant Chez Paul, and said they could arrange for Bowie and his crew to have a private dinner there. But Bowie preferred the burgers, suggesting that nice meals "ruined everything" and while on tour "he only wanted to eat road food," Halonen said.
"I look back at it as one of my best memories," Halonen said.
BOWIE IN MILWAUKEE
Whether he was the headlining act or providing musical accompaniment for his friends, David Bowie made it to Milwaukee for at least 8 shows.
Oct. 13, 1974: Bowie makes his Milwaukee debut during his Diamond Dogs Tour before a sellout crowd of 12,000 at the Milwaukee Arena. Milwaukee Sentinel reviewer Ron Legro wrote that "Bowie displayed a stare that could melt titanium, a moody set of postures that sometimes were remindful of a kung fu position and at other times of a page out of a mail-order catalog, and a creative tension that grew as the concert moved on."
Feb. 20, 1976: Bowie returns to the Arena during his Isolar tour for a less glamorous appearance. Damien Jaques, reviewing for The Milwaukee Journal, wrote: "Bowie is proving that less is more. The times have changed and rock should cast aside the overblown productions, the ostentatious extravaganzas that have become routine for the most ordinary band."
April 1, 1977: When Bowie comes to Milwaukee in 1977, it's not as the headliner. Instead, Bowie plays keyboards and sings backing vocals for friend Iggy Pop during his Idiot World Tour stop at the Oriental Theatre.
April 24, 1978: Returning to the Arena during his Isolar II tour, Bowie's chameleon-like performance style had morphed yet again. The Journal's Jaques found his show played directly to the audience. "The taut style of the previous Bowies who have been to Milwaukee was replaced by seemingly effortless performance."
Sept. 10-11, 1987: Bowie rolled into his two-night stay for his Glass Spider tour at the Marcus Amphitheater in style. Flanked by 150 entourage members, and with Peter Frampton and longtime Bowie guitarist Carlos Alomar on stage, this show would take four days to set up and a day to tear down. Critics, however, were not receptive to Bowie's return to a more glamorous life. Sentinel reviewer Jon F. Eiche wrote: "The irony of all the distractions and non-sequiturs is that Bowie possesses an unusual voice that he uses to great expressive effect. Thursday it ranged from the artificially sweetened high tones of 'Never Let Me Down' to his more familiar low groans in 'China Girl.'"
June 13, 1990: Again at the Marcus Amphitheater, Bowie's Sound + Vision tour stop would divide critics. Dave Tianen of the Sentinel found Bowie's music to be a secondary prop to his videos. Dave Luhrssen, a freelancer for the Journal, disagreed: "It was a cinematic experience, where motion and stasis, light and shadow, fantasy and reality blended into three-dimensional live video."
May 19, 2004: Bowie heads to the Milwaukee Theatre during his final tour, the Reality Tour. Tianen, reviewing for the Milwaukee Journal Sentinel, praised the longevity of Bowie's work as well as his continued energy as an entertainer. "This David Bowie seems more approachable, more human, more willing to engage an audience in personal terms."
.
David Bowie Tour band 1987 – The Glass Spider Tour
• David Bowie – vocals, guitar
• Peter Frampton – guitar, vocals
• Carlos Alomar – guitar, backing vocals, music director
• Carmine Rojas – bass guitar
• Alan Childs – drums
• Erdal Kızılçay – keyboards, trumpet, congas, violin, backing vocals
• Richard Cottle – keyboards, saxophone, tambourine, backing vocals
Tour dancers
• Melissa Hurley
• Constance Marie
• Spazz Attack (Craig Allen Rothwell)
• Viktor Manoel
• Stephen Nichols
• Toni Basil (choreography)
Tour design
• Allen Branton – Lighting design
• Mark Ravitz – Set design
• Christine Strand – Video director
| | |
| --- | --- |
| [real3dflipbook id="5″] | [real3dflipbook id="6″] |
| David Bowie The Glass Spider Tour Boek part 1 | David Bowie The Glass Spider Tour Boek part 2 |
.
(Visited 281 times, 1 visits today)