David Bowie 1987-08-03 East Rutherford ,Giants Stadium – East Rutherford 870803 –
Sound Quality Rating
01 – Fans Intro.flac
02 – Purple Haze Intro.flac
03 – Guitar Intro.flac
04 – Up The Hill Backwards.flac
05 – Glass Spider.flac
06 – Up The Hill Backwards Reprise.flac
07 – Day In Day Out.flac
08 – Bang Bang.flac
09 – Absolute Beginners.flac
10 – Loving The Alien.flac
11 – China Girl.flac
12 – Rebel Rebel.flac
13 – Fashion.flac
14 – Scary Monsters.flac
15 – All The Madmen.flac
16 – Never Let Me Down.flac
17 – Big Brother.flac
18 – 87 And Cry.flac
19 – "Heroes".flac
20 – Sons Of The Silent Age.flac
21 – Time Will Crawl.flac
22 – Band Introduction.flac
23 – Young Americans.flac
24 – Beat Of Your Drum.flac
25 – Let's Dance.flac
26 – Fame.flac
27 – Encore Break.flac
28 – Time.flac
29 – Blue Jean.flac
30 – Modern Love.flac
Label : No label
Audio Source : Audience recording
Lineage : off master tape
Taper: ???
Recording Location: Recorded in front of the speaker stacks
Total running time : 2:07:32
Sound Quality : noise ,dull ,but still good listened to
Attendance : 7.000
Artwork : JRB Artwork
Remaster : Yes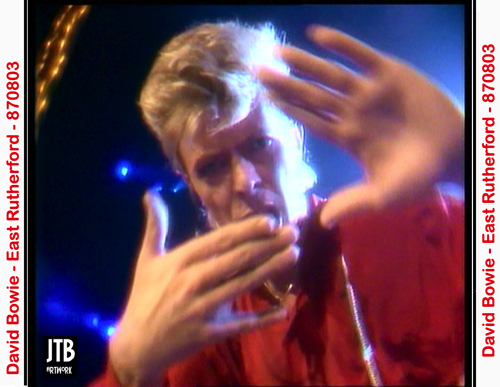 ========================
Notes:
Given a bass boost and a slight speed tweak, based on age of the master tape. Recorded by a friend in front of the speaker stacks. I rarely see either the show from this night or August 2nd offered, so I worked on my recording of the 3rd to get it out there.
This is a very decent recording considering the unit used, and with some tweaking I think it's a pleasurable listen. The taper missed a few songs the night of the show and these are marked with an asterisk, I found a difference source over the years and "plugged them" so the recording is complete.
Being a Giants Stadium show I have always expected to see alternate sources of this gig, but never have! So there you have it.
I was in the front row center for this performance, and it was like bliss, the place was general admission on the field and it took some serious strategy to get sitauated in the right spot, including showing up early, lining up, then running the 100 yards plus across the field to where people sat until security allowed "the grand rush." Lisa Lisa and Cult Jam and Squeeze opened up. LLCJ were basically booed off the stage, and Squeeze was well received. I will never forget looking back and seeing the stadium full of people from the perspective of being in the front row center. Blackout.
David Bowie Tour band 1987 – The Glass Spider Tour
• David Bowie – vocals, guitar
• Peter Frampton – guitar, vocals
• Carlos Alomar – guitar, backing vocals, music director
• Carmine Rojas – bass guitar
• Alan Childs – drums
• Erdal Kızılçay – keyboards, trumpet, congas, violin, backing vocals
• Richard Cottle – keyboards, saxophone, tambourine, backing vocals
Tour dancers
• Melissa Hurley
• Constance Marie
• Spazz Attack (Craig Allen Rothwell)
• Viktor Manoel
• Stephen Nichols
• Toni Basil (choreography)
Tour design
• Allen Branton – Lighting design
• Mark Ravitz – Set design
• Christine Strand – Video director
| | |
| --- | --- |
| [real3dflipbook id="5″] | [real3dflipbook id="6″] |
| David Bowie The Glass Spider Tour Boek part 1 | David Bowie The Glass Spider Tour Boek part 2 |
.
(Visited 642 times, 1 visits today)