David Bowie 1987-08-03 East Rutherford ,Giants Stadium – East Rutherford 870803 –
Sound Quality Rating
01 – Fans Intro.flac
02 – Purple Haze Intro.flac
03 – Guitar Intro.flac
04 – Up The Hill Backwards.flac
05 – Glass Spider.flac
06 – Up The Hill Backwards Reprise.flac
07 – Day In Day Out.flac
08 – Bang Bang.flac
09 – Absolute Beginners.flac
10 – Loving The Alien.flac
11 – China Girl.flac
12 – Rebel Rebel.flac
13 – Fashion.flac
14 – Scary Monsters.flac
15 – All The Madmen.flac
16 – Never Let Me Down.flac
17 – Big Brother.flac
18 – 87 And Cry.flac
19 – "Heroes".flac
20 – Sons Of The Silent Age.flac
21 – Time Will Crawl.flac
22 – Band Introduction.flac
23 – Young Americans.flac
24 – Beat Of Your Drum.flac
25 – Let's Dance.flac
26 – Fame.flac
27 – Encore Break.flac
28 – Time.flac
29 – Blue Jean.flac
30 – Modern Love.flac
Label : No label
Audio Source : Audience recording
Lineage : off master tape
Taper: ???
Recording Location: Recorded in front of the speaker stacks
Total running time : 2:07:32
Sound Quality : noise ,dull ,but still good listened to
Attendance : 7.000
Artwork : JRB Artwork
Remaster : Yes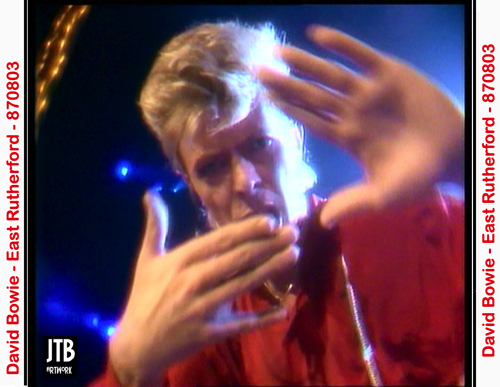 ========================
Notes:
Given a bass boost and a slight speed tweak, based on age of the master tape. Recorded by a friend in front of the speaker stacks. I rarely see either the show from this night or August 2nd offered, so I worked on my recording of the 3rd to get it out there.
This is a very decent recording considering the unit used, and with some tweaking I think it's a pleasurable listen. The taper missed a few songs the night of the show and these are marked with an asterisk, I found a difference source over the years and "plugged them" so the recording is complete.
Being a Giants Stadium show I have always expected to see alternate sources of this gig, but never have! So there you have it.
I was in the front row center for this performance, and it was like bliss, the place was general admission on the field and it took some serious strategy to get sitauated in the right spot, including showing up early, lining up, then running the 100 yards plus across the field to where people sat until security allowed "the grand rush." Lisa Lisa and Cult Jam and Squeeze opened up. LLCJ were basically booed off the stage, and Squeeze was well received. I will never forget looking back and seeing the stadium full of people from the perspective of being in the front row center. Blackout.
David Bowie Tour band 1987 – The Glass Spider Tour
• David Bowie – vocals, guitar
• Peter Frampton – guitar, vocals
• Carlos Alomar – guitar, backing vocals, music director
• Carmine Rojas – bass guitar
• Alan Childs – drums
• Erdal Kızılçay – keyboards, trumpet, congas, violin, backing vocals
• Richard Cottle – keyboards, saxophone, tambourine, backing vocals
Tour dancers
• Melissa Hurley
• Constance Marie
• Spazz Attack (Craig Allen Rothwell)
• Viktor Manoel
• Stephen Nichols
• Toni Basil (choreography)
Tour design
• Allen Branton – Lighting design
• Mark Ravitz – Set design
• Christine Strand – Video director
FLASHBACK: David Bowie's 1987 'Glass Spider' Tour Was 'Colorful, Vulgar, Dreamlike'
David Bowie was a consummate entertainer, and his enthusiasm for his live stage shows came through in this ET flashback, as the rockstar prepared to launch his 1987 Glass Spider Tour.
"I try and do something I want to go and see really, that's the essence of whatever I do," Bowie told ET at the time. "This particular tour, for instance, I've really tried to put together all the elements, everything that I've been fascinated [with] in theater and rock, ever since the beginning of my career."
WATCH: David Bowie Dies at 69: Stars Share Touching Tributes
The worldwide tour, in support of Bowie's album Never Let Me Down, was a massive stage production, which included appearances by guitarist Peter Frampton and choreography by Toni Basil. The set, described at the time as the "largest touring set ever" was designed to look like a giant spider.
"It looks like the kind of show I really want to go and see myself. It's fast, colorful, vulgar, loud, subtle, quiet, dreamlike. I mean, it has so many different qualities to it," the singer, then 40, said before the first show.
Bowie conceived the tour as a theatrical stage show, including spoken-word introductions to songs, vignettes, videos, and props.
"I'm not really good at getting up there and singing a couple songs," he said, admitting that he was "excited and nervous" to launch the tour. "I really like to make a piece of theater out of it."
FLASHBACK: David Bowie Said Fatherhood 'Helped Me Grow Up' in 1987
Bowie died on Sunday at 69 after quietly battling cancer for 18 months. His son, Moon director Duncan Jones, confirmed the news on Twitter, posting: "Very sorry and sad to say it's true. I'll be offline for a while. Love to all."
The singer never publicly acknowledged his illness, but released his final album, Blackstar, on Friday, his 69th birthday. On Tuesday, Billboard reported that Blackstar was already on its way to becoming Bowie's first-ever No. 1 album.
Born David Robert Jones, Bowie is survived by his wife of 23 years, supermodel Iman; his 15-year-old daughter, Alexandria Jones; and his 44-year-old son, Duncan.
The Glass Spider Tour Boek part 1
The Glass Spider Tour Boek part 2
NEW YORK TIMES
Overkill reigns in David Bowie's latest stage show, the Glass Spider Tour, which played its first American date Thursday at Veterans Stadium here and goes to Giants Stadium in New Jersey on Sunday and Monday. The two-and-a-half-hour set frequently looks far different from a standard rock concert, as Mr. Bowie has been promising. But when it does, in some of its most ambitious numbers, it often looks just plain silly.
The production calls for five dancers along with Mr. Bowie and his six-man band, performing under (and at one point, atop) the canopy of a giant "spider" with eight lighted legs, moving jaws and a head lighted like a jukebox – a superbly flexible set. There are film projections, props and performance-art-style bits with spoken words, along with such standard stadium effects as giant video screens; Mr. Bowie even "flies." The show is spectacular, but too often it's spectacular for its misjudgments.
Mr. Bowie is clearly trying to do something extraordinary. The set opens with the Kronos Quartet's recording of Jimi Hendrix's "Purple Haze" – an example of the high culture-mass culture combination Mr. Bowie is after – and continues with his song "Up the Hill Backwards," which declares, "It's got nothing to do with you/If one can grasp it."
Indeed, long stretches have nothing to do with crowd-pleasing. Although the current band plays more conventional, big-beat rock than most of Mr. Bowie's touring outfits (complete with hard-rock guitar solos by Peter Frampton), the set plays down hits in favor of bleaker songs about the clash of cultures ("Loving the Alien"), totalitarianism ("Big Brother," "87 and Cry") and utter alienation ("Scary Monsters," "Sons of the Silent Age"). The set is also weighted toward Mr. Bowie's dramatic ballads ("Absolute Beginners," "Time") rather than his rockers.
Mr. Bowie probably hoped to merge his most nightmarish lyrics with dreamlike dancing for an eerie, unsettling show. The dancers run, jump and tumble around the stage (and around Mr. Bowie), enacting shoving matches and dispensing repetitive gestures – a man swinging a baseball bat, group gestures like sign language – that suggest a half-baked version of the choreographic theater of Pina Bausch. Early in the show, "Day-In, Day-Out," with dancers on three stories of scaffolding, promises a dizzying overload of visual activity.
But for all the energy the dancers bring, the choreography fails. It's by Toni Basil, whose 1970's troupe, the Lockers, brought the robotic motion and acrobatics of street dancing to television. Over the last decade, however, moves that seemed startling have become commonplace – and instead of deepening Mr. Bowie's songs, the hair-flinging, shoulder-twitching and rubber-robot routines tame them. "Dancing With the Big Boys" looked like an outtake from the movie "Flashdance"; a line from that song, "This can be embarrassing," was all too appropriate.
In "Fashion," the dancers gang up on Mr. Bowie, pushing him around and even tossing him head over heels. The number could speak for the show itself, which puts Mr. Bowie's music far too much at the mercy of its staging.

(Visited 1,105 times, 1 visits today)