David Bowie 1987-05-19-28 Rotterdam ,Sportpaleis Ahoy – Come Out To Play – (Rehearsals)
Sound Quality Rating
20th May 1987
101. Glass Spider.flac
102. Up The Hill Backwards.flac
103. Day In Day Out.flac
104. Bang Bang.flac
105. Absolute Beginners.flac
106. Loving The Alien.flac
107. China Girl.flac
108. Fashion.flac
109. Scary Monsters.flac
110. chat.flac
111. All The Madmen.flac
112. Never Let Me Down.flac
113. Big Brother.flac
114. Chant Of The Ever Circling Skeletal Family.flac
115. 87 & Cry.flac
116. "Heroes".flac
201. Chant Of The Ever Circling Skeletal Family.flac
202. 87 & Cry.flac
203. chat.flac
204. Chant Of The Ever Circling Skeletal Family.flac
205. 87 & Cry.flac
206. Modern Love #1.flac
207. Modern Love #2.flac
23rd May 1987
208. Sons Of The Silent Age.flac
209. New York's In Love.flac
210. Dancing With The Big Boys.flac
211. Time Will Crawl.flac
212. Beat Of Your Drum.flac
213. Zeroes.flac
214. Let's Dance.flac
215. Fame.flac
27th May 1987
301. Dancing With The Big Boys.flac
302. Fame.flac
303. Time.flac
304. Let's Dance.flac
305. Modern Love.flac
28th May 1987
401. Scary Monsters.flac
402. "Heroes".flac
403. Zeroes.flac
404. Glass Spider.flac
405. Big Brother.flac
406. Glass Spider.flac
Bonus Tracks 19th May 1987
407. Because You're Young.flac
408. Scream Like A Baby.flac
409. Sons Of The Silent Age.flac
Label : From The Hunky Geordie Tapes – HUG276CD
Audio Source : audience
Lineage : 20th May 2 x TDK SA90 tapes
Lineage : 23th May TDK SA90 x Ω
Lineage : 27th May TDK SA90 tape
Lineage : 28th May TDK SA90 tape
Lineage : 19th May TDK SA90 tape
Total running time : 3:56:37
Sound Quality : Bad ,excessive noise ,extremely dull : can hardley be listened to.
Attendance :
Artwork : By steve23yh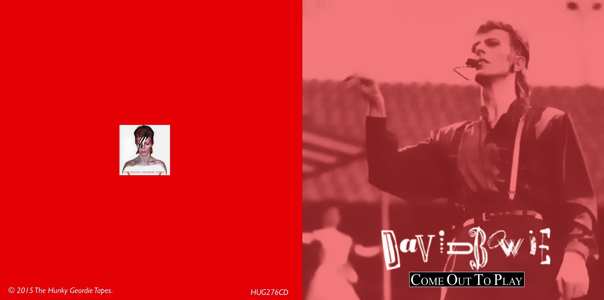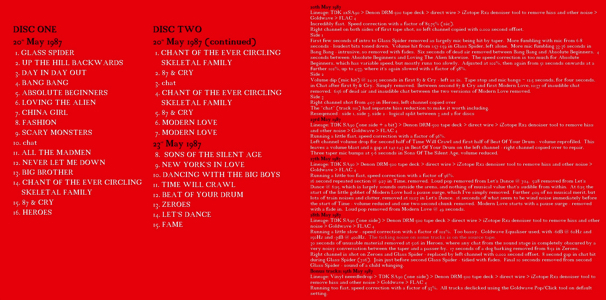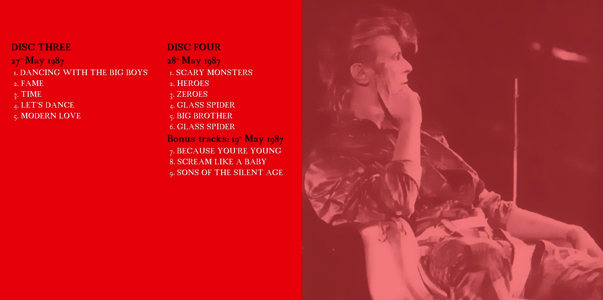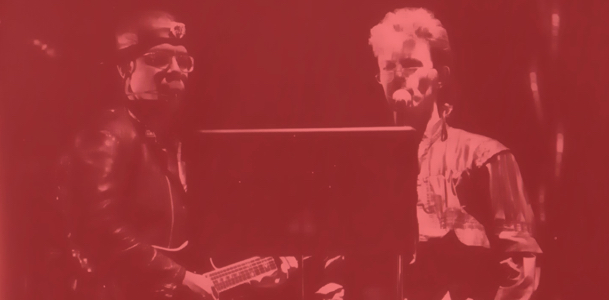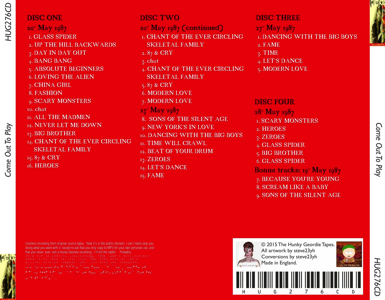 David Bowie Tour band 1987 – The Glass Spider Tour
• David Bowie – vocals, guitar
• Peter Frampton – guitar, vocals
• Carlos Alomar – guitar, backing vocals, music director
• Carmine Rojas – bass guitar
• Alan Childs – drums
• Erdal Kızılçay – keyboards, trumpet, congas, violin, backing vocals
• Richard Cottle – keyboards, saxophone, tambourine, backing vocals
Tour dancers
• Melissa Hurley
• Constance Marie
• Spazz Attack (Craig Allen Rothwell)
• Viktor Manoel
• Stephen Nichols
• Toni Basil (choreography)
Tour design
• Allen Branton – Lighting design
• Mark Ravitz – Set design
• Christine Strand – Video director
The Glass Spider Tour Boek part 1
The Glass Spider Tour Boek part 2
Running a little too fast, speed correction with a factor of 96%.
16Ω second repeated section @ 9:27 in Time, removed.
Loud pop removed from Let's Dance @ 7:14.
5:28 removed from Let's Dance @ 6:25, which is largely sounds outside the arena, and nothing of musical value that's audible from within.
At 6:25 the start of the little gobbet of Modern Love had a pause surge, which I've simply removed.
Further 4:09 of no musical merit, but lots of train noises and clatter, removed at 12:07 in Let's Dance.
16 seconds of what seem to be wind noise immediately before the start of Time – volume reduced and one two-second chunk removed.
Modern Love starts with a pause surge – removed with a fade in.
Loud pop removed from Modern Love @ 49 seconds
Disc 4
28th May 1987
1. Scary Monsters
2. Heroes
3. Zeroes
4. Glass Spider
5. Big Brother
6. Glass Spider
Bonus Tracks: 19th May 1987
7. Because You're Young
8. Scream Like A Baby
9. Sons Of The Silent Age
28th May Notes/Lineage
TDK SA90 (around æ) > Denon DRM-500 deck > direct wire > iZotope RX2 denoiser tool > Goldwave > FLAC 4
Running a little slow – speed correction with a factor of 102%.
Too bassy. Goldwave Equaliser used, with -6dB @ 60Hz and 150Hz and -3dB @ 400Hz.
The ticking noise on some tracks is on the source tape.
30 seconds of unusable material removed at 5:06 in Heroes, where any chat from the sound stage is completely obscured by a very noisy conversation between the taper and a passer-by.
17 seconds of a dog barking removed from 8:52 in Zeroes.
Right channel is shot on Zeroes and Glass Spider – replaced by left channel with 0.002 second offset.
8 second gap in chat bit during Glass Spider (7:16).
Join just before second Glass Spider – tidied with fades.
Final 10 seconds removed from second Glass Spider – sound of a child whinging.
Bonus tracks notes/lineage
Apparent needledrop > TDK SA90 > Denon DRM-500 deck > direct wire > iZotope RX2 denoiser tool > Goldwave > FLAC 4
Running too fast, speed correction with a factor of 93%.
All tracks declicked using the Goldwave Pop/Click tool on default setting.
(Visited 358 times, 1 visits today)