David Bowie 1983-06-11+12 Göteborg ,Nya Ullevi Stadium – Gothenburg 25th anniversary –
Sound Quality Rating
1983-06-11 Gothenburg
101. ANNOUCEMENT – INTRO JEAN GENIE.flac
102. STAR.flac
103. "HEROES.flac
104. WHAT IN THE WORD.flac
105. GOLDEN YEARS.flac
106. FASHION.flac
107. LETS DANCE.flac
108. BREAKING GLASS.flac
109. LIVE ON MARS.flac
110. SORROW.flac
111. CAT PEOPLE.flac
112. CHINA GIRL.flac
113. SCARY MOMSTERS.flac
114. REBEL REBEL.flac
201. WHITE LIGHT ,WHITE HEAT.flac
202. STATION TO STATION.flac
203. CRACKED ACTOR.flac
204. ASHES TO ASHES.flac
205. SPACE ODDITY.flac
206. BAND INTRODUCTION.flac
207. YOUNG AMERICANS.flac
208. HANG ON TO YOURSELF.flac
209. FAME.flac
ENCORE:
210. STAY.flac
211. REBEL REBEL.flac
212. MODERN LOVE.flac
1983-06-12 Gothenburg
301. ANNOUNCEMENT – INTRO JEAN GENIE.flac
302. STAR.flac
303. "HEROES".flac
304. WHAT IN THE WORLD.flac
305. GOLDEN YEARS.flac
306. FASION.flac
307. LETS DANCE.flac
308. RED SAIL.flac
309. BREAKING GLASS.flac
310. LIVE ON MARS.flac
311. SORROW.flac
312. CAT PEOPLE.flac
313. CHINA GIRL.flac
314. SCARY MONSTERS.flac401 REBEL REBEL.flac
402. WHITE LIGHT ,WHITE HEAT.flac
403. STATION TO STATION.flac
404. CRACKED ACTOR.flac
405. ASHES TO ASHES.flac
406. SPACE ODDITY.flac
407. BAND INTRODUCTION.flac
408. YOUNG AMERICANS.flac
409. HANG ON TO YOURSELF.flac
410. FAME.flac
ENCORE:
411. TVC15.flac
412. STAY.flac
413. THE JEAN GENIE.flac
414. MODERN LOVE.flac
Label : Zig Dust
Audio Source : audience
Lineage :
Total running time : 3:32:43
Sound Quality : very good. Equals record or radio apart from a slight noise and some dullness.
Attendance : 61.206
Artwork : Blackbeard
1983-06-11 Gothenburg:
The concert was an immense success,the audience clapping along with large parts of the show. With an attendance of 61,206 Bowie. broke even the Rolling Stones's record of the preceding year by 4,596.
This was the sale concert originally planned for the whole of Scandinavia, but the sale of 56,000 tickets in no more than two hours cal­led for the immediate insertion of an extra concert! All week thousands of people. from allover Scandinavia had been pouring into Sweden to line up for a ticket. The day the box office opened there was a queue of 20,000 people! Indeed amazing. Bowie was the artist with the greatest popularity in Sweden, which – it by nothing else – became clear by the anormous amount of attention the media paid him and his concerts.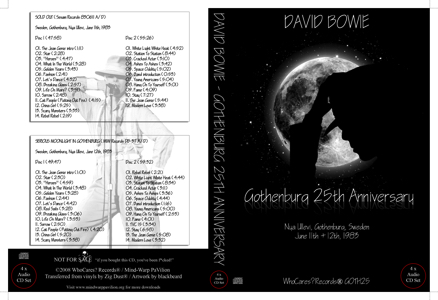 1983-06-12 Gothenburg:
A real treat,this concert; it was slightly better than last night's,and the audience are in high spirits and very keen. Neither of the concerts was disturbed by violent incidents.
During the band intro Bowie says a few words in Swedish which draw loud cheers from the audience.
David Bowie Tour band 1983 – The Serious Moonlight World Tour :
• David Bowie – lead vocals, guitar, saxophone
• Earl Slick – guitar
• Carlos Alomar – guitar, backing vocals, music director
• Carmine Rojas – bass guitar
• Tony Thompson – drums, percussion
• Dave Lebolt – keyboards, synthesizers
The Borneo Horns:
• Steve Elson – saxophones
• Stan Harrison – saxophones, woodwinds
• Lenny Pickett – saxophones, woodwinds
Backing vocals
• George Simms – backing vocals
• Frank Simms – backing vocals• Frank Simms – backing vocals
| | |
| --- | --- |
| [real3dflipbook id="86″] | [real3dflipbook id="100″] |
| FLIPBOEK > World Convention 1983 | FLIPBOEK > 1983 Souvenir Serious Moonlight Tour |
.
(Visited 1,050 times, 1 visits today)