David Bowie 1983-09-04 Toronto ,Canadian National Exhibition Grandstand (feat. Mick Ronson)
Sound Quality Rating
01 – Introduction – Look Back In Anger.flac
02 – Lavender's Blue – "Heroes".flac
03 – What In The World.flac
04 – Golden Years.flac
05 – Fashion.flac
06 – Let's Dance.flac
07 – Breaking Glass.flac
08 – Life On Mars.flac
09 – Sorrow.flac
10 – Cat People (Putting Out Fire).flac
11 – China Girl.flac
12 – Scary Monsters (And Super Creeps).flac
13 – Rebel Rebel.flac
14 – White Light White Heat.flac
15 – Station To Station.flac
16 – Cracked Actor.flac
17 – Ashes To Ashes.flac
18 – Space Oddity.flac
19 – Young Americans.flac
20 – Fame.flac
21 – TVC 15.flac
22 – Star.flac
23 – Star.flac
24 – The Jean Genie [feat. Mick Ronson].flac
25 – Modern Love.flac
Label : No label
Audio Source : audience
Lineage : ???
Total running time : 1:57:08
Sound Quality : very good. Equals record or radio apart from a slight noise and some dullness.
Attendance : 51.700
Artwork : None
A sensational announcement
,true,but a little odd all the same,for there were no more than two con­certs in Toronto,whereas the announcement made it sound as though Bowie had been there for a whole week or so.
Bowie ends Breaking Glass by calling "Oh no,no!" to the rhythm of the song over and over again,ending in prolonged "Nuoooooo!".
After Space Oddity Bowie hints that this is going to be a very special concert: "Thank you very much. Good evening! We have got a very exceptional surprise for you at the end of this evening,and I'm not going to tell anything about it",and in a child's voice "Don't have to,if I don't want to". "Steve Elson,who's not really a Russian" he says when introducing the band. "This is a song from the Young Americans album. We're having a very good time tonight by the way,we're enjoying our­ selves a lot". Indeed he sounds quite cheerful,and he laughs orten while singing.
Then During Jean Genie ,it coms,when at the beginning of the song Bowie says: "I was walking through a corridor in Toronto last night,and I ran into somebody I haven't met for eight years,and I said 'What are you doing tonight?' ,and he said 'Not much'. So I said 'Do you wanna come in play with us'. He hasn't worked with me for ten years,I'd like to introduce one of the original Spiders from Mars – MICK RONSON!".
David Bowie World Convention 1983
David Bowie – 1983 Souvenir Serious Moonlight Tour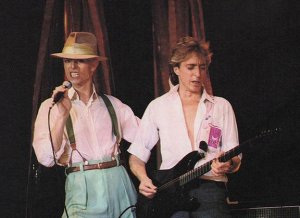 The audience are amased and give a loud cry. Ronson,Bowie's trusty guitarist in the Ziggy days.appears and plays along with Jean Genie,the song Bowie and Ronson had played together for the first time during the US Tour,October 1972,and which they had continued to bring at each concert throughout the Ziggy period. Down on his knees.overcome with emotion,Ronson plays a long solo and the audience are absolutely frantic. It is only a short visit, and without having said a single word Ronson dis­ appears from the stage. At the beginning of Modern Love Bowie says "I'd like to thank Mick Ronson for coming and joining us tonight. I'd like to thank you particularly for being here, it's been a pleasure!"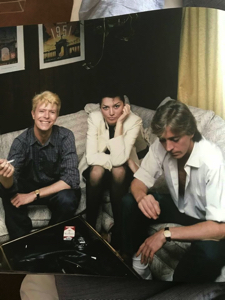 Tour band 1983 – The Serious Moonlight World Tour :
• David Bowie – lead vocals, guitar, saxophone
• Earl Slick – guitar
• Carlos Alomar – guitar, backing vocals, music director
• Carmine Rojas – bass guitar
• Tony Thompson – drums, percussion
• Dave Lebolt – keyboards, synthesizers
The Borneo Horns:
• Steve Elson – saxophones
• Stan Harrison – saxophones, woodwinds
• Lenny Pickett – saxophones, woodwinds
backing vocals
• George Simms – backing vocals
• Frank Simms – backing vocals
•
(Visited 2,266 times, 1 visits today)