David Bowie 1983-07-18 Philadelphia ,Spectrum Arena – Pull The Blinds –
Sound Quality Rating
101. Introduction.flac
102. The Jean Genie.flac
103. Star.flac
104. "Heroes".flac
105. What In The World.flac
106. Golden Years.flac
107. Fashion.flac
108. Let's Dance.flac
109. Breaking Glass.flac
110. Life On Mars.flac
111. Sorrow.flac
112. Cat People.flac
113. China Girl.flac
114. Scary Monsters.flac
115. Rebel Rebel.flac
116. White Light White Heat.flac
201. Station To Station.flac
202. Cracked Actor.flac
203. Ashes To Ashes.flac
204. Space Oddity.flac
205. band introductions.flac
206. Young Americans.flac
207. Fame.flac
208. TVC 15.flac
Encore 1:
209. Stay.flac
210. The Jean Genie.flac
Encore 2:
211. Modern Love.flac
Label : From The Hunky Geordie Tapes – HUG082CD
Audio Source : audience
Lineage : TDK SA90 tapes x 1Ω (Arcorman) > Denon DRM-500 tape deck
Total running time : 1:42:18
Sound Quality : noise ,dull ,but still good listened to
Attendance : 17.000
Artwork : by steve23yh
Bowie was in the Right mood:
The Audience is hysterical and it can be heard loud and massive,and Bowie sounds as if he is really in the right mood. Before "Heroes" he
shouts: "You, beat off! " – was someone from the audience getting onto the stage ? After Space Oddity Bowie laughs: "Thank you, good evening" and only moments thereafter a girl driven by hysteria manages to climb the stage and to grab hold of Bowie. Tony Mascia darts forward to drag her away ,but only after she has smashed her first right trough Bowie's acoustic guitar! Bowie yells some,then says: "I've learned that from my mother ,she's always crying that".
Meanwhile the girl has disappeared; Bowie looks at his brand-new now smashed Ovation guitar,saying "Oh my god man!". Then he says "I don't care": ofcourse he does,but he wants to keep up the happy atmosphere. "I'd like to introduce you to my band anyway" he says, and during the introductions he calls each member of the band by a nicknume. "OK,now you – what's your name?" he asks, and as good as everyone in the audience replies.
The Film Modern Love was This Night Filmed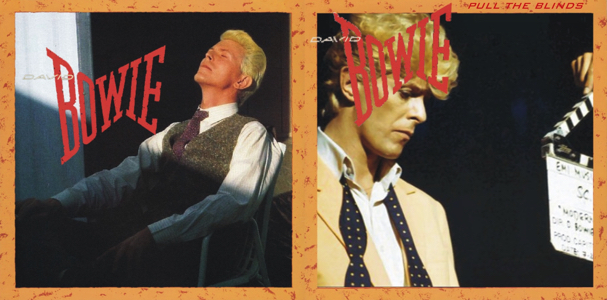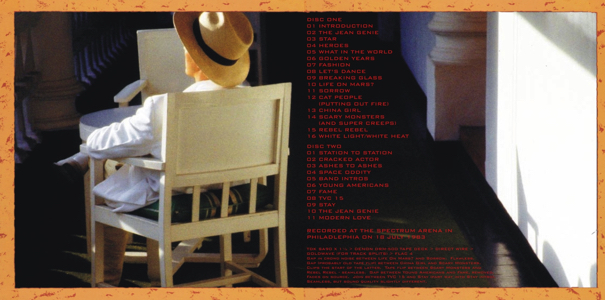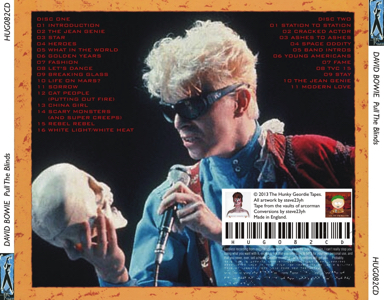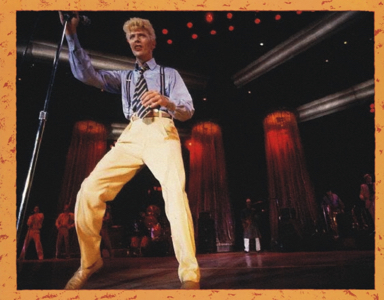 David Bowie Tour band 1983 – The Serious Moonlight World Tour :
• David Bowie – lead vocals, guitar, saxophone
• Earl Slick – guitar
• Carlos Alomar – guitar, backing vocals, music director
• Carmine Rojas – bass guitar
• Tony Thompson – drums, percussion
• Dave Lebolt – keyboards, synthesizers
The Borneo Horns:
• Steve Elson – saxophones
• Stan Harrison – saxophones, woodwinds
• Lenny Pickett – saxophones, woodwinds
Backing vocals
• George Simms – backing vocals
• Frank Simms – backing vocals• Frank Simms – backing vocals
David Bowie World Convention 1983
David Bowie – 1983 Souvenir Serious Moonlight Tour
=====================
Notes
Gap in crowd noise between Life On Mars? and Sorrow. Flawless.
Gap (probably old tape flip) between China Girl and Scary Monsters. Clips the start of the latter.
Tape flip between Scary Monsters and Rebel Rebel – seamless.
Gap between Young Americans and Fame, removed. Fades on source.
Join between TVC 15 and Stay (part way into Stay intro). Seamless, but sound quality slightly different.
(Visited 385 times, 1 visits today)