David Bowie 1983-07-20 Philadelphia ,Spectrum Arena – To The Sigma Kids – .
Sound Quality Rating
101. JEAN GENIE INTRO.flac
102. STAR.flac
103. "HEROES".flac
104. WHAT IN THE WORLD.flac
105. GOLDEN YEARS.flac
106. FASHION.flac
107. LET'S DANCE.flac
108. BREAKING GLASS.flac
109. LIFE ON MARS.flac
110. SORROW.flac
111. CAT PEOPLE.flac
112. CHINA GIRL.flac
113. SCARY MONSTERS.flac
114. REBEL REBEL.flac
115. WHITE LIGHT WHITE HEAT.flac
201. STATION TO STATION.flac
202. CRACKED ACTOR.flac
203. ASHES TO ASHES.flac
204. SPACE ODDITY.flac
205. BAND INTRODUCTION .flac
206. YOUNG AMERICANS.flac
207. FAME.flac
208. TVC15.flac
209. STAY.flac
Encore :
210. JEAN GENIE.flac
211. MODERN LOVE.flac
Label : No label
Audio Source : audience
Lineage : unknown gen
Total running time : 1:42:30
Sound Quality : Much noise ,dull ,but still good listened to
Attendance : 17.000
Artwork : By JTB Artwork
Note : same as "Live in Philadelphia"
After Space Oddity Bowie says: "Good evening,thank you very much. Oh,Philadelphia,thank you",then introduces the band . and before Young Americans he says: "I dedicate this song to the Sigma-kids"; this was no doubt meant for that group of faithful fans who,in 1974,camped for days on tue threshold of the Sigma Sound Studios in Philadelphia ,while Bowie was recording Young Americans there. They were hoping to get a glimpse of him, and were amply rewarded when Bowie invited them into the studio .let them hear the recordings and danced and playbacked to his own music. Finally he asked their opinion on the recordings and his change in style – the discussion wept on into the small hours. They left the studio overjoyed. There is no doubt that now they were all present again.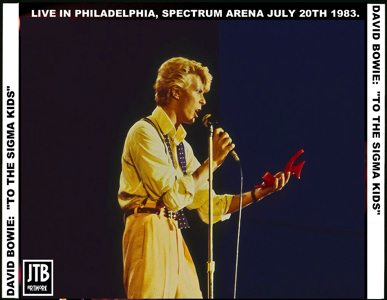 David Bowie Tour band 1983 – The Serious Moonlight World Tour :
• David Bowie – lead vocals, guitar, saxophone
• Earl Slick – guitar
• Carlos Alomar – guitar, backing vocals, music director
• Carmine Rojas – bass guitar
• Tony Thompson – drums, percussion
• Dave Lebolt – keyboards, synthesizers
The Borneo Horns:
• Steve Elson – saxophones
• Stan Harrison – saxophones, woodwinds
• Lenny Pickett – saxophones, woodwinds
Backing vocals
• George Simms – backing vocals
• Frank Simms – backing vocals• Frank Simms – backing vocals
| | |
| --- | --- |
| [real3dflipbook id="86″] | [real3dflipbook id="100″] |
| FLIPBOEK > World Convention 1983 | FLIPBOEK > 1983 Souvenir Serious Moonlight Tour |
.
(Visited 60 times, 1 visits today)