David Bowie 1983-08-07 Edmonton ,Commonwealth Stadium – Live Stands Still And Stares – .
Sound Quality Rating
101. Introduction.flac
102. The Jean Genie.flac
103. Star.flac
104. "Heroes".flac
105. What In The World.flac
106. Golden Years.flac
107. Fashion.flac
108. Let's Dance.flac
109. Red Sails.flac
110. Breaking Glass.flac
111. Life On Mars.flac
112. Sorrow.flac
113. Cat People.flac
114. China Girl.flac
115. Scary Monsters.flac
116. Rebel Rebel.flac
117. White Light White Heat.flac
201. Station To Station.flac
202. Cracked Actor.flac
203. Ashes To Ashes.flac
204. Space Oddity.flac
205. band introductions.flac
206. Young Americans.flac
207. Fame.flac
208. TVC 15.flac
Encore 1:
209. Stay.flac
Encore 2:
210. The Jean Genie.flac
xxx. Modern Love is missing 🙁 (but was played)
Label : From The Hunky Geordie Tapes – HUG050CD
Audio Source : audience
Lineage : TDK SA60 (2nd gen? – arcorman) > Denon DRM-500 tape deck
Total running time : 1:52:13
Sound Quality : very good. Equals record or radio apart from a slight noise and some dullness.
Attendance : 57.283
Artwork : By steve23yh
note : Modern Love is missing (but was played).
57.300 fans share Bowie's fantasy
Edmonton — Fantasy reigned supreme from the very first moment David Bowie walked elegantly upon the stage at Commonwealth Stadium Sunday night.
A couple of bars of the blues intro are also recorded on the tape and following these Tony Thompson can be heard trying out his drums. Much shouting of the local audience,but not an overall sound. "That was a song called Red Sails,from the Lod­ger album, this is one from the Low album,it's called Breaking Glass". Ont! can also hear people in the crowd taJking now and then,and during Ashes to AsheR someone says: "I'm filming,put me on your shoulders" and next "I got a good picture anyway".
"I wrote this one in 1975,and it's from an album called Young Americans. It's called Young Americans" Bowie says ,and, like in Chicago,Bowie turns the end of Fame into some kind of singalong: "Fame,fame ,aah,aah! Dig it,dig it!". Much echoeing and the crowds are singing along loudly.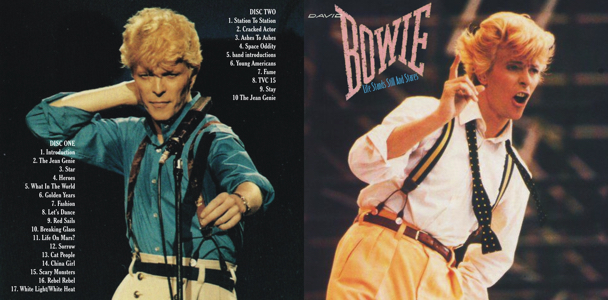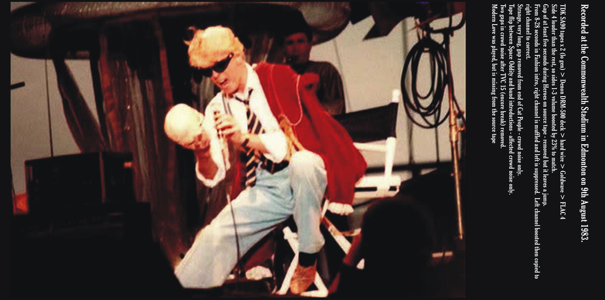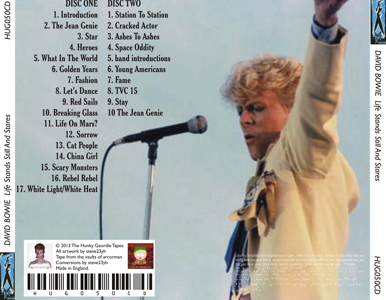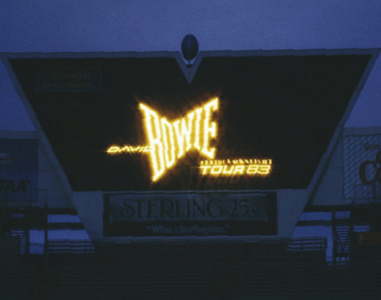 David Bowie Tour band 1983 – The Serious Moonlight World Tour :
• David Bowie – lead vocals, guitar, saxophone
• Earl Slick – guitar
• Carlos Alomar – guitar, backing vocals, music director
• Carmine Rojas – bass guitar
• Tony Thompson – drums, percussion
• Dave Lebolt – keyboards, synthesizers
The Borneo Horns:
• Steve Elson – saxophones
• Stan Harrison – saxophones, woodwinds
• Lenny Pickett – saxophones, woodwinds
Backing vocals
• George Simms – backing vocals
• Frank Simms – backing vocals• Frank Simms – backing vocals
David Bowie World Convention 1983
David Bowie – 1983 Souvenir Serious Moonlight Tour
As 60,000 fans roared their approval at this, the largest rock concert ever in Alberta, Bowie's first song was a parody on the rock-star syndrome.
"I could play the part of a rock 'n' roll star," he crooned.
And he did.
Ziggy Stardust may have made a special guest appearance briefly during Sunday's performance.
The Thin White Duke may have seemed still powerful during the song Station to Station.
And the plight of astronaut Major Tom may have drawn wild applause during Space Oddity and Ashes to Ashes.
But the night belonged to the new Bowie: The Superstar Showman.
This was obviously Bowie's latest incarnation as he glided across the stage with Bing Crosby cool, did nifty little dance steps like a tanned Fred Astaire, and even used a beach-ball globe bouncing about as did Charlie Chaplin in The Great Dictator.
What the sellout crowd received was a two-hour medley of his hits and misses (now all respectable of course), dressed up in dance steps by his two male backup singers, plus a modest back-drop of two giant sheer cylinders.
There was no time for talk, for acknowledging the massive crowd which had endured 29 degree Celsius weather (though, it seemed much hotter). Bowie only introduced his band a couple of songs.
There was no need for more. Bowie is the Superstar Showman and all are to be honored simply to be in his presence.
Bowie's set was excellent musically and smooth as the day was hot and long. Yet one thing was missing: Emotion. As brilliant as Bowie could be, he never once went over the edge into a sense of creative urgency.
Every song was executed with a crafty cleverness, but the depth and passion of his lyrics seemed ironically missing from his stage presence.
Few minded, however. To have seen Bowie was to have loved Bowie. Ziggy is dead and the Superstar Showman is King.
======================
Notes
Side 4 (band intros onwards) louder than other sides. Sides 1-3 volume boosted by 23% to match.
Gap of at least five seconds in the intro to Heroes. Removed (but leaves a jump)
During intro to Fashion, 20 second stretch (8-28′) where right channel is muffled and left suppressed.
Volume on left channel boosted, then copied to right channel to replace muffled sound.
Tape flip at end of Breaking Glass – seamless.
Strange (very long) gap removed from the end of Cat People – crowd noise only.
Tape flip between Rebel Rebel and White Light White Heat – seamless.
Tape flip between Space Oddity and the band intros. Crowd noise only lost.
Two gaps in crowd noise after TVC15 (encore break) removed.
Modern Love is missing (but was played)
(Visited 1,242 times, 1 visits today)