David Bowie 1983-08-29 Hershey ,Hershey Park Stadium (Remaster Learm)
Sound Quality Rating
01. Look Back in Anger.flac
02. "Heroes".flac
03. What In The World.flac
04. Golden Years.flac
05. Fashion.flac
06. Let's Dance.flac
07. Breaking Glass.flac
08. Life On Mars.flac
09. Sorrow.flac
10. Cat People.flac
11. China Girl.flac
12. Scary Monsters.flac
13. Rebel Rebel.flac
14. White Light White Heat.flac
15. Station To Station.flac
16. Cracked Actor.flac
17. Ashes To Ashes.flac
18. Space Oddity.flac
19. band introduction.flac
20. Young Americans.flac
21. Fame.flac
22. TVC15.flac
23. encore call 1.flac
24. Star.flac
25. Stay.flac
26. The Jean Genie.flac
27. encore call 2.flac
28. Modern Love.flac
Label : No label
Audio Source : audience
Lineage : Tape > Technics Rs-bx501
Total running time : 1:57:27
Sound Quality : noise ,dull ,but still good listened to
Attendance : 25.530
Artwork : by Mossgarden
RAW Remaster : BY Learm
"We can't keep on meeting like this.Good evening all you oil millionaires,Let's all go swimming,shall we?.Your place .Anybody got a plectrum ?.Got a pick?.OK, this is a song from an album we did in 1975."Young Americans"."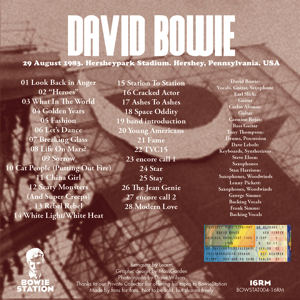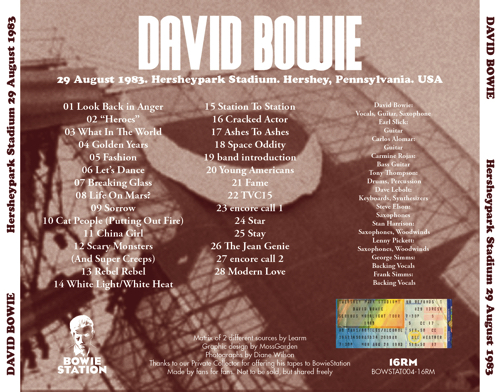 Tour band 1983 – The Serious Moonlight World Tour :
• David Bowie – lead vocals, guitar, saxophone
• Earl Slick – guitar
• Carlos Alomar – guitar, backing vocals, music director
• Carmine Rojas – bass guitar
• Tony Thompson – drums, percussion
• Dave Lebolt – keyboards, synthesizers
The Borneo Horns:
• Steve Elson – saxophones
• Stan Harrison – saxophones, woodwinds
• Lenny Pickett – saxophones, woodwinds
backing vocals
• George Simms – backing vocals
• Frank Simms – backing vocals
•
David Bowie World Convention 1983
David Bowie – 1983 Souvenir Serious Moonlight Tour
=======================
Note :
The recording was running too fast.
Original / corrected lengths:
111:59 / 117:42 ( 5,3 %)
The recording is very inconsistent in speed throughout the show.
The problem was not only to reduce the speed but also to reduce the pitch as even after speed reduction of the recordings Bowie's voice was out of tune.
This was really a challenge and it took several trials until a sactisfactory result was achieved.
(Visited 717 times, 1 visits today)