David Bowie 1983-08-31 Foxborough ,Sullivan Stadium
Sound Quality Rating
101. Stage Introduction – Look Back In Angel.flac
102. "Heroes".flac
103. What In The World.flac
104. Golden Years .flac
105. Fashion .flac
106. Let's Dance .flac
107. Breaking Glass .flac
108. Life On Mars?.flac
109. Sorrow .flac
110. Cat People (Putting Out Fire) .flac
111. China Girl (end applause spliced, tape flip) flac
212. Scary Monsters.flac
213. Rebel Rebel .flac
214. White Light, White Heat .flac
215. Station To Station.flac
216. Cracked Actor .flac
217. Ashes To Ashes .flac
218. Space Oddity .flac
219. (some) band intros, Young Americans (end applause spliced, tape flip).flac
220. Fame .flac
221. TVC15 .flac
222. Rock And Roll Star.flac
223. Stay.flac
224. Jean Genie .flac
225. Modern Love.flac
Label : No label
Audio Source : audience
Lineage : Realistic stereo mike > Sony WMD-6 cassette deck (dolby off) > Maxell XLII 90 min. master cassettes > 1st gen. copy (same, copied on Nak BX 100's)
Total running time : 1:56:25
Sound Quality : noise ,dull ,but still good listened to
Attendance : 53.359
Artwork : Yes
A fine concert for except for Carlos Alomars's playing hideous­ly out of tune at the start of Scary Monsters .
Almost immediately after Space Oddity is finished Bowie says he wants to introduce the band: usually he waits awhile to acknowledge the applause. Also,his words are restricted to the bare minimum; apparent­ly he wasn't enjoying himself during this concert.
After a rapid band intro all he says is "I'd like to continue with a number from an album we recorded in 1976 ,called Young Ameri­cans".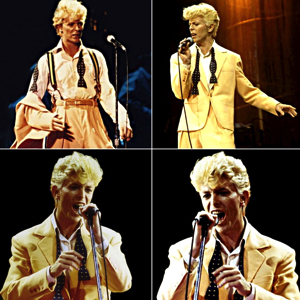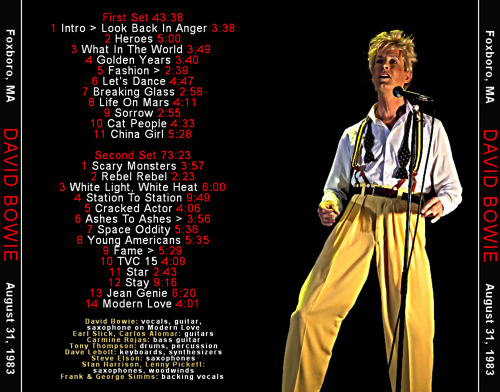 Tour band 1983 – The Serious Moonlight World Tour :
• David Bowie – lead vocals, guitar, saxophone
• Earl Slick – guitar
• Carlos Alomar – guitar, backing vocals, music director
• Carmine Rojas – bass guitar
• Tony Thompson – drums, percussion
• Dave Lebolt – keyboards, synthesizers
The Borneo Horns:
• Steve Elson – saxophones
• Stan Harrison – saxophones, woodwinds
• Lenny Pickett – saxophones, woodwinds
backing vocals
• George Simms – backing vocals
• Frank Simms – backing vocals
•
David Bowie World Convention 1983
David Bowie – 1983 Souvenir Serious Moonlight Tour
(Visited 920 times, 1 visits today)