David Bowie 1983-06-03 London ,Wembley Arena ( 4th Gen. DAVROS057) –
Sound Quality Rating
01. JEAN GENIE (INTRO).flac
02. STAR.flac
03. LAVENDER BLUE – "HEROES".flac
04. WHAT IN THE WORLD.flac
05. GOLDEN YEARS.flac
06. FASHION.flac
07. LETS DANCE.flac
08. RED SAILS.flac
09. BREAKING GLASS.flac
10. LIFE ON MARS.flac
11. SORROW.flac
12. CAT PEOPLE.flac
13. CHINA GIRL.flac
14. SCARY MONSTERS.flac
16. REBEL, REBEL.flac
17. WHITE LIGHT WHITE HEAT.flac
Label : Davros archives – DAVROS057
Audio Source : audience
Lineage : Tape Trade ( TDK-D c60 ) ( 4th Gen )
Total running time : 0:55:31
Sound Quality : noise ,dull ,but still good listened to
Attendance : 7.700
Artwork : None
Bowie was in the right mood for this night and enjoyed himself perfectly. During the band intro he says something about them having so much fun during the tour,or words to that effect,but,elas,this is not very intelligible.
During Fame Bowie was lying on the floor and let the globe roll over him,at which point on the tape One can hear the audience cheering. The atmosphere was better during this concert than during last night's; it was a good concert too. Only one false note by Carlos Alomur during Let's Dance,and the intro to Cat People he plays terribly out of tune,but he soon pulls himself together.
Bowie calls Earl Slick "a very good friend from a long time back",and when in Young Americans he sings "Ain't there one damn song that can make me …", he makes the audience reply " … break down and cry".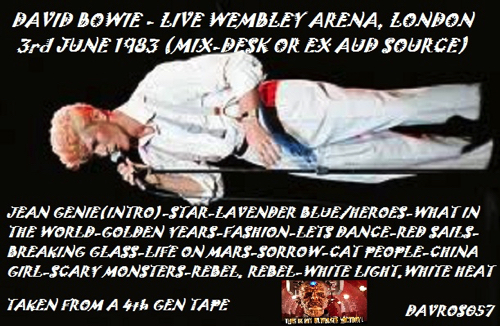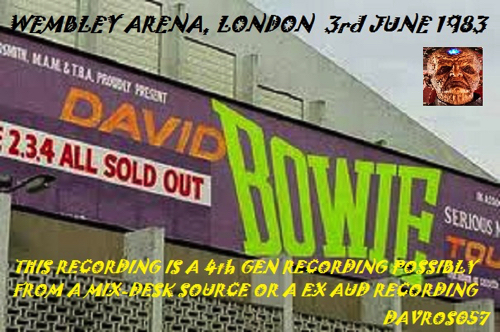 Now about this tape I got this tape a few weeks after the show at a record fair in Blackburn the tape is a c60 of the first set from the 2nd night at wembley in 1983 the cover of the tape says it is a 4th Gen from a mixing desk source.
Now lisening to it i don,t think it is a mixing dexk recording ( but i may be wrong ) i think it is a EX aud recording with very little aud sound.
If someone can comfirm if it is a mix desk or aud source that would be great and if someone as the 2nd set and encores in this quality it would be great if they could upload it or pm me about it.
David Bowie Tour band 1983 – The Serious Moonlight World Tour :
• David Bowie – lead vocals, guitar, saxophone
• Earl Slick – guitar
• Carlos Alomar – guitar, backing vocals, music director
• Carmine Rojas – bass guitar
• Tony Thompson – drums, percussion
• Dave Lebolt – keyboards, synthesizers
The Borneo Horns:
• Steve Elson – saxophones
• Stan Harrison – saxophones, woodwinds
• Lenny Pickett – saxophones, woodwinds
Backing vocals
• George Simms – backing vocals
• Frank Simms – backing vocals• Frank Simms – backing vocals
David Bowie World Convention 1983
David Bowie – 1983 Souvenir Serious Moonlight Tour
(Visited 172 times, 1 visits today)