David Bowie 1983-04-27 Dallas ,Las Colinas ,Soundstage – Dallas Moonlight –
Sound Quality Rating
101. Star.flac
102. "Heroes".flac
103. What In The World.flac
104. Look Back In Anger.flac
105. joe The Lion.flac
106. Wild Is The Wind.flac
107. Golden Years.flac
108. Fashion.flac
109. Let's Dance.flac
110. Red Sails.flac
111. Breaking Glass.flac
112. Life On Mars?.flac
113. Sorrow.flac
114. Cat People.flac
115. China Girl.flac
116. Scary Monsters.flac
117. Rebel Rebel.flac
118. Can't Explain.flac
119. White Light White Heat.flac
201. Station To Station.flac
202. Cracked Actor.flac
203. Ashes To Ashes.flac
204. Space Oddity.flac
205. Young Americans.flac
206. Soul Love.flac
207. Hang Onto Yourself.flac
208. Fame.flac
209. TVC 15.flac
210. Stay.flac
211. The Jean Genie.flac
212. Modern Love.flac
213. Life On Mars? (mess up).flac
Label : Red Devil 13-1/2
Audio Source : Soundboard
Lineage :
Total running time : 2:15:12
Sound Quality : very good. Equals record or radio apart from a slight noise and some dullness.
Artwork : Yes
Soundcheck from the rehearsals for the Serious Moonlight tour. Only known recording with Stevie Ray Vaughan before he left.
The story goes that after Bowie saw Stevie perform at the Montreuz Jazz Festival in 1982 he asked him to join his band and tour in support of his
new album "Serious Moonlight" after a few rehearsals Stevie decided to skip joining Bowies band so this is all we get to hear. It would have been amazing.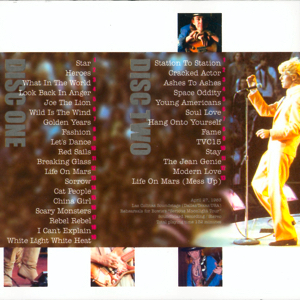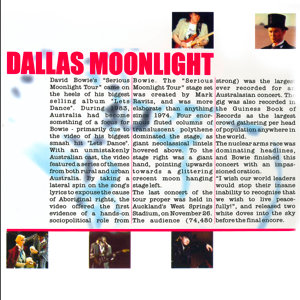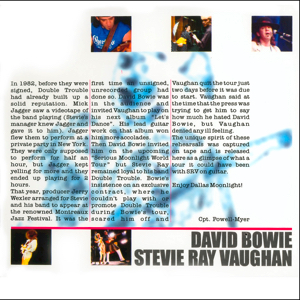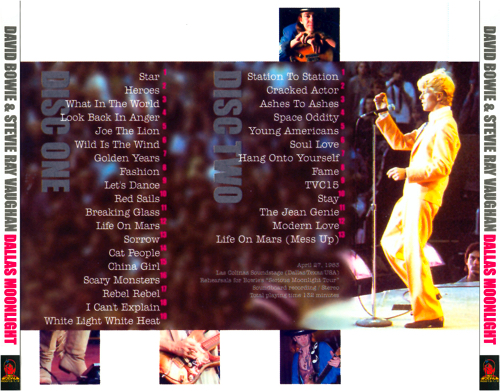 David Bowie Tour band 1983 – The Serious Moonlight World Tour :
• David Bowie – lead vocals, guitar, saxophone
• Stevie Ray Vaughan – guitar
• Carlos Alomar – guitar, backing vocals, music director
• Carmine Rojas – bass guitar
• Tony Thompson – drums, percussion
• Dave Lebolt – keyboards, synthesizers
• Steve Elson – saxophones
• Stan Harrison – saxophones, woodwinds
• Lenny Pickett – saxophones, woodwinds
• George Simms – backing vocals
• Frank Simms – backing vocals
David Bowie World Convention 1983
David Bowie – 1983 Souvenir Serious Moonlight Tour
(Visited 1,363 times, 1 visits today)