David Bowie 1983-08-29 Hershey ,Hershey Park Stadium (RAW)
Sound Quality Rating
setlist in FLAC
LOOK BACK IN ANGER
"HEROES"
WHAT IN THE WORLD
GOLDEN YEARS
FASHION
LET'S DANCE
BREAKING GLASS
LIFE ON MARS
SORROW
CAT PEOPLE
CHINA GIRL
SCARY MONSTERS
REBEL REBEL
WHITE LIGHT WHITE HEAT
STATION TO STATION
CRACKED ACTOR
ASHES TO ASHES
SPACE ODDITY
YOUNG AMERICANS
FAME
TVC15
STAR
STAY
JEAN GENIE
MODERN LOVE
Label : No label
Audio Source : audience
Lineage : unknown gen
Total running time : 1:52:04
Sound Quality : noise ,dull ,but still good listened to
Attendance : 25.530
Artwork : by JBT Artwork
There was some rain during the concert,so that the band were forced to hide under huge beach parasols to protect them from the damp. "Thank you" Bowie says during the band intro,"we can't keep on meeting like this. Good evening, … all you oil millionaires",the latter escapes me.the audience don't respond. "Let's all go swimming,shall we'? Your place. Anybody got a plectrum? OK,this is a song from an album we did in 1975". "1975" he says.
That Star is played as an extra means that Look Back in Anger was the ope­ning number. China Girl was sung beautifully,but at times the sound fades for a short while.
There is only a massive sound from the audience when Bowie lets them sing "Break down and cry" and when in the end of Fame he incites them to call "Fame fame aah aah stick it, stick it!".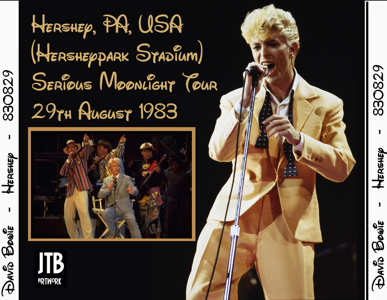 Tour band 1983 – The Serious Moonlight World Tour :
• David Bowie – lead vocals, guitar, saxophone
• Earl Slick – guitar
• Carlos Alomar – guitar, backing vocals, music director
• Carmine Rojas – bass guitar
• Tony Thompson – drums, percussion
• Dave Lebolt – keyboards, synthesizers
The Borneo Horns:
• Steve Elson – saxophones
• Stan Harrison – saxophones, woodwinds
• Lenny Pickett – saxophones, woodwinds
backing vocals
• George Simms – backing vocals
• Frank Simms – backing vocals
•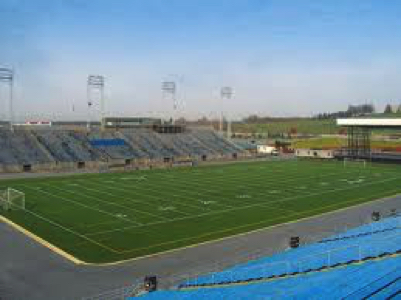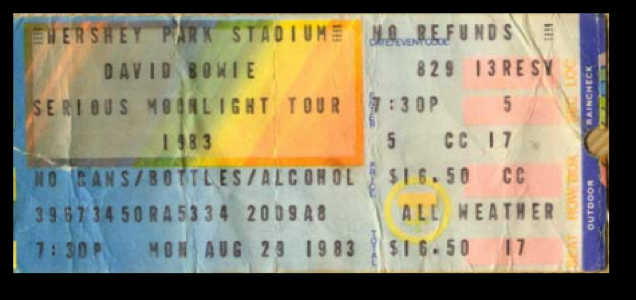 David Bowie World Convention 1983
David Bowie – 1983 Souvenir Serious Moonlight Tour
(Visited 369 times, 1 visits today)