David Bowie 1983-08-09 Vancouver ,British Columbia Place Stadium .
Sound Quality Rating
01. "Heroes".flac
02. What In The World.flac
03. Golden Years.flac
04. Fashion – Let's Dance.flac
05. Breaking Glass.flac
06. Life On Mars.flac
07. Sorrow.flac
08. Cat People.flac
09. China Girl.flac
10. Scary Monsters.flac
11. Rebel Rebel.flac
12. White Light White Heat.flac
13. Station To Station.flac
14. Cracked Actor.flac
15. Ashes To Ashes.flac
16. Space Oddity.flac
17. Young Americans.flac
18. Fame.flac
19. TVC15.flac
Encore:
20. Stay.flac
21. The Jean Genie.flac
Encore 2:
22. Modern Love.flac
Label : No label
Audio Source : Audience recording
Lineage : SONY UCX-S 90 CrO2
Taping Gear : 1982 WM-R2 Sony Walkman Cassette Recorder with Built-In Mics
Taper: Unknown
Recording Location: Floor Right Side
Total running time : 1:46:03
Sound Quality :
Attendance : Unknown
Artwork : None
Note 1: There were tape flips just after Cat People and Space Oddity.
Note 2: Fashion and Let's Dance are almost a medley so they were left as one track
This is a different source recording than the bootleg known as "Take Me To The Fridge" from the same date
For after "Heroes" Bowie says: "We don't want anybody hurt,don't push too much down there".
After Space Oddity Bowie says in a very low voice "Thank you" ,it sounds as though he is not entirely at easy,playing in this large stadium. "It's very big you know,this one" he says. "This is a very old song" Bowie says to the 53,687 headed crowd.
This was a very important show for me and my friends. David Bowie had not toured since 1978, it seemed like an eternity at the time. Finally, he was coming to Vancouver and he was the first big name at the new Stadium.
We spent the whole day waiting and meeting girls in the line, got lots of phone numbers, had a 2-4 of EOS beer delivered by some friends and finally after a long wait we were let in for the show. The show got started with The Tubes up first followed by Peter Gabriel. One of our friends had scored free tickets to the show from Peter Gabriel. Our friend was a lifeguard and had actually helped rescue Peter Gabriel after he had drifted out in the bay on a windsurfer and could not get back to shore. Gabriel was super grateful and got tickets as a thank you for our friend. After this brush with fame we were pretty excited about Peter Gabriel as well.
We only had enough tape for Bowie though and that's what we recorded. The crowd on the floor was pretty sparse at the beginning of Bowie. We scouted out a good position and got ready. When Bowie came on the crowd surged forward and we were swept up in this swirl of people. The recorder got jostled and the first two tracks were lost – The Jean Genie intro and Star – we repositioned in time for Heroes and got things going again. You can hear Bowie say to not push too hard in the front we don't want anyone hurt.
We thought that was very cool of him to see what was happening on the floor. There were tape flips just after Cat People and Space Oddity. At the end of the show during Modern Love moon shaped silver balloons dropped from the sky and the show was over too fast. Bowie returned in September to record his Serious Moonlight concert video at the Pacific Coliseum.
We went to both of those shows as well, but the BC Place show seemed to have more electricity about it – listening to this you can hear the small differences in vocals that Bowie does compared to the September shows. David Bowie would have been 74 today if he was still with us and it will be 5 years since he passed on Sunday.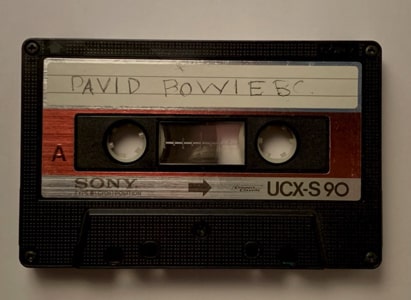 David Bowie Tour band 1983 – The Serious Moonlight World Tour :
• David Bowie – lead vocals, guitar, saxophone
• Earl Slick – guitar
• Carlos Alomar – guitar, backing vocals, music director
• Carmine Rojas – bass guitar
• Tony Thompson – drums, percussion
• Dave Lebolt – keyboards, synthesizers
The Borneo Horns:
• Steve Elson – saxophones
• Stan Harrison – saxophones, woodwinds
• Lenny Pickett – saxophones, woodwinds
Backing vocals
• George Simms – backing vocals
• Frank Simms – backing vocals• Frank Simms – backing vocals
David Bowie World Convention 1983
David Bowie – 1983 Souvenir Serious Moonlight Tour
=====================
(Visited 122 times, 1 visits today)