David Bowie 1983-06-28 Edingburgh, Murrayfield Stadium – Edinburgh June 28 – (2e gen.) .
Sound Quality Rating
101. Intro.flac
102. The Jean Genie (Intro).flac
103. Star.flac
104. "Heroes"4.flac
105. What In The World.flac
106. Golden Years.flac
107. Fashion.flac
108. Let's Dance.flac
109. Breaking Glass.flac
110. Life On Mars?.flac
111. Sorrow.flac
112. Cat People (Putting Out Fire).flac
113. China Girl.flac
214. Scary Monsters (And Supercreeps).flac
215. Rebel Rebel.flac
216. White Light/White Heat.flac
217. Station To Station.flac
218. Cracked Actor.flac
219. Ashes To Ashes.flac
220. Space Oddity.flac
221. Young Americans.flac
222. TVC 15.flac
223. Fame.flac
224. Stay.flac
225. The Jean Genie.flac
226. Modern Love.flac
Label : No label
Audio Source : audience
Lineage : 2nd Gen. HG TDK SA Cassettes
Taper : Mr David Neish
Total running time : 1:41:30
Sound Quality : very good. Equals record or radio apart from a slight noise and some dullness.
Attendance : 47.444
Artwork : Yes
A very good atmosphere:
Oddly enough one can hear by the sound of the audience that this tape is Scottish – like the Glasgow '73 tapes it contains a special kind of hysteria, typical of Scotland,which is heard nowhere else. A very good atmosphere,the audience applaude and sing along with many a song,for instance Life on Mars.
After Breaking Glass Bowie saw that in the front people were getting squashed: "Don't push too much down there, 'cause sumebody will get hurt,and I don't want anybody to get hurt,OK".
During Ashes to Ashes the globe balloon burts which is accompanied by enormous cheering. A new balloon was brought in,so there were two now,one good one burst.
After the introduction of the band Bowie says: "I've got two worlds here. This one (the burst one) – I think we'll send this one to President Reagan … and we'll keep the good one for us. This is a song about the nicer Americans in life".
A rare moment after Modern Love: gratefull and full of enthusiasm Bowie cries "Thank you for coming! Bye bye". In none of the concerts did Bowie say goodbye to the audience.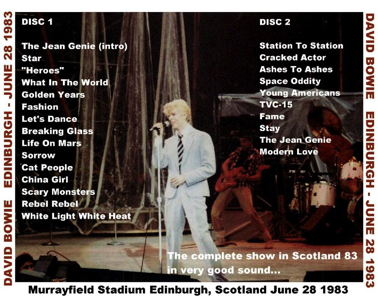 David Bowie Tour band 1983 – The Serious Moonlight World Tour :
• David Bowie – lead vocals, guitar, saxophone
• Earl Slick – guitar
• Carlos Alomar – guitar, backing vocals, music director
• Carmine Rojas – bass guitar
• Tony Thompson – drums, percussion
• Dave Lebolt – keyboards, synthesizers
The Borneo Horns:
• Steve Elson – saxophones
• Stan Harrison – saxophones, woodwinds
• Lenny Pickett – saxophones, woodwinds
Backing vocals
• George Simms – backing vocals
• Frank Simms – backing vocals• Frank Simms – backing vocals
David Bowie World Convention 1983
David Bowie – 1983 Souvenir Serious Moonlight Tour
(Visited 1,491 times, 1 visits today)