David Bowie 1983-07-30 Detroit ,Joe Louis Arena (off master JEMS ) .
Sound Quality Rating
01 – Intro.flac
02 – Star.flac
03 – "Heroes".flac
04 – What In The World.flac
05 – Golden Years.flac
06 – Fashion.flac
07 – Let's Dance.flac
08 – Breaking Glass.flac
09 – Life On Mars.flac
10 – Sorrow.flac
11 – Cat People (Putting Out Fire).flac
12 – China Girl.flac
13 – Scary Monsters (And Super Creeps).flac
14 – Rebel Rebel.flac
15 – White Light-White Heat.flac
16 – Station To Station.flac
17 – Cracked Actor.flac
18 – Ashes To Ashes.flac
19 – Space Oddity.flac
20 – Band Intro.flac
21 – Young Americans.flac
22 – Fame.flac
23 – TVC15.flac
24 – Stay.flac
Encore:
25 – The Jean Genie.flac
26 – I Can't Explain.flac
27 – Modern Love.flac
Label : JEMS archives
Audio Source : audience
Lineage : ANA(M)
Taped By: JEMS
Taping Gear: Aiwa Mic > Sony WM-D6
Total running time : 1:54:16
Sound Quality : noise ,dull ,but still good listened to
Attendance : 18.0009
Artwork : None
A Fine Concert :
As with most tapes of the Ameri­can tour one can hear a great deal of the audience,probably because those halls are so big. After the intro of the band Bowie says: "And I am Your …..(something unin­telligible – "crawl fromroage"?) … .. ,and this is your world,as it turns". The balloun bounces over the heads and hands of the enthu­siastic crowd who cheer when on and off Bowie laughs durihg Young Americans. He sounds quite cheer­ ful and lets the audience sing "Break down and cry" ,maybe to save his voice a little?
The audience loudly cheer the bright light spotlights shining into the hall during Fame and at the end of the song Bowie waits a long time before saying "What's your name" so that the band has to
repeat the last notes as often as six times. In Jean Genie Bowie sings "Detroit's a go-go" instead of "New York". A fine concert.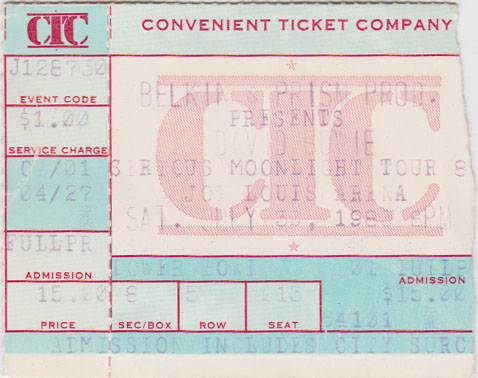 Notes:
JEMS master recording. 1st of 2 nights Bowie played at the Joe Louis Arena for his stop in Detroit for the Serious Moonlight tour.
David Bowie Tour band 1983 – The Serious Moonlight World Tour :
• David Bowie – lead vocals, guitar, saxophone
• Earl Slick – guitar
• Carlos Alomar – guitar, backing vocals, music director
• Carmine Rojas – bass guitar
• Tony Thompson – drums, percussion
• Dave Lebolt – keyboards, synthesizers
The Borneo Horns:
• Steve Elson – saxophones
• Stan Harrison – saxophones, woodwinds
• Lenny Pickett – saxophones, woodwinds
Backing vocals
• George Simms – backing vocals
• Frank Simms – backing vocals• Frank Simms – backing vocals
David Bowie World Convention 1983
David Bowie – 1983 Souvenir Serious Moonlight Tour
(Visited 405 times, 1 visits today)