David Bowie 1983-08-27 Landover ,Washington DC ,Capital Center – Washington 83 1st Night –
Sound Quality Rating
– 01. INTRO – LOOK BACK IN ANGER.flac
– 02. "HEROES".flac
– 03. WHAT IN THE WORLD.flac
– 04. GOLDEN YEARS.flac
– 05. FASHION.flac
– 06. LET'S DANCE.flac
– 07. BREAKING GLASS.flac
– 08. LIFE ON MARS.flac
– 09. SORROW.flac
– 10. CAT PEOPLE.flac
– 11. CHINA GIRL.flac
– 12. SCARY MONSTERS.flac
– 13. REBEL REBEL.flac
– 14. WHITE LIGHT WHITE HEAT.flac
– 15. STATION TO STATION.flac
– 16. CRACKED ACTOR.flac
– 17. ASHES TO ASHES.flac
– 18. SPACE ODDITY.flac
– 19. BAND INTRO – YOUNG AMERICANS.flac
– 20. FAME.flac
– 21. TVC-15.flac
– 22. STAR.flac
– 23. STAY.flac
– 24. THE JEAN GENIE.flac
– 25. MODERN LOVE.flac
Label : No label
Audio Source : audience
Lineage : ??
Total running time : 1:58:56
Sound Quality : noise ,dull ,but still good listened to
Attendance : 14.736
Artwork : Yes
This is a real fantastic concert
"Ladies and gentlemen,on stage at the Capital Center for the firsT time in over five years – David Bowie and his band !"
During the band intro there is again quite some jabbering by Bowie, the only intelligible words being; "Just a little something we have in here to screw up. By the way thank you very much for coming. In 1976 I made an album called Young Americans",which is followed by a cheerful version of the title song thereof. "1976" he says; oh well, dates have never been his forte; whenever he mentions dates he is usually one or two years off the mark. "All the way from Washington" Bowie sings,and ofcourse the audience respond to that!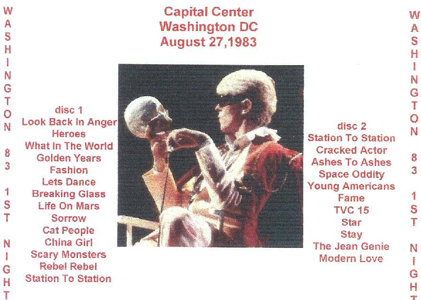 Tour band 1983 – The Serious Moonlight World Tour :
• David Bowie – lead vocals, guitar, saxophone
• Earl Slick – guitar
• Carlos Alomar – guitar, backing vocals, music director
• Carmine Rojas – bass guitar
• Tony Thompson – drums, percussion
• Dave Lebolt – keyboards, synthesizers
The Borneo Horns:
• Steve Elson – saxophones
• Stan Harrison – saxophones, woodwinds
• Lenny Pickett – saxophones, woodwinds
backing vocals
• George Simms – backing vocals
• Frank Simms – backing vocals
•
David Bowie World Convention 1983
David Bowie – 1983 Souvenir Serious Moonlight Tour
(Visited 455 times, 1 visits today)