David Bowie 1978-12-12 Tokyo ,Nihon Budokan Arena – Beast –
Sound Quality Rating
101. Warszawa.flac
102. "Heroes".flac
103. What In The World.flac
104. Be My Wife.flac
105. The Jean Genie.flac
106. Blackout.flac
107. Sense Of Doubt.flac
108. Breaking Glass.flac
109. Fame.flac
110. Beauty And The Beast.flac
201. Band Intro – Five Years.flac
202. Soul Love.flac
203. Star.flac
204. Hang onto Yourself.flac
205. Ziggy Stardust.flac
206. Suffragette City.flac
207. Art Decade.flac
208. Alabama Song.flac
209. Station to Station.flac
210. Encore 1 – TVC 15.flac
211. Encore 2 – Stay.flac
212. Encore 3 – Rebel Rebel.flac
Label : Masterport – MPBD116
Audio Source : audience
Lineage : Silver CD
Total running time : 1:55:49
Sound Quality : Much noise ,dull ,but still good listened to
Attendance : 10.000
Artwork : Yes
This concert – the very last of the '78 tour – was filmed com­pletely,but only half of it was broadcast on Japanese TV,in the programme 'The Young Music Show'. Most of the numbers are accompanied by simultaneous translations into Japanese of the words he is singing. Five Years is one of them – then Dennis Davis suddenly appears wearing some sort of gorilla mask,but after a couple of songs he takes it off again. The audience is barely heard or seen until after the speeding up in Station to Station. After Station to Station one can seen the audience shouting for an extra until Bowie comes back to release a cheerful version of TVCI5.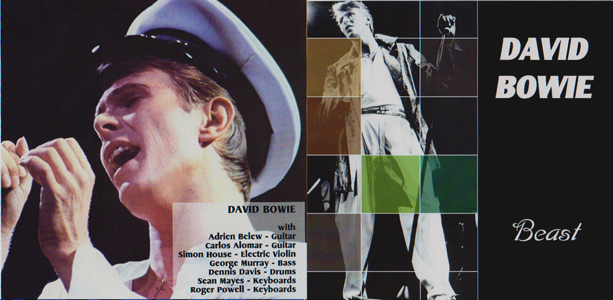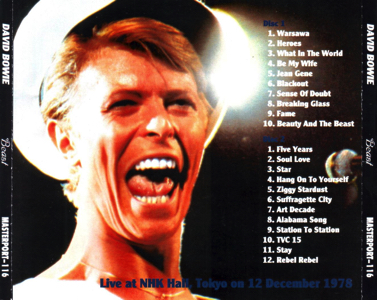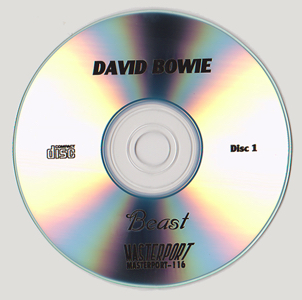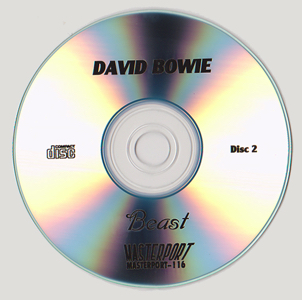 Along with countless others around the world we continue to mourn the loss of iconic musician David Bowie who died this week at age 69. Bowie was an artist like no other and constantly reinvented himself in order to present the fruits of his wildly creative mind to the world. Though renowned for his short-lived but groundbreaking Ziggy Stardust persona and controversial but no less inspiring The Thin White Duke, Bowie was actively exploring new musical terrain as a relentless collaborator and innovator throughout his eclectic career. In 1978 Bowie was at the height of his artistic expression, and below is a look at him live in action from that era.
Bowie concluded the Isolar II World Tour at NHK Hall in Tokyo, Japan on December 12, 1978. Backing Bowie that evening included guitarist Adrian Belew (who recently wrote a tribute to his fallen friend), as well as guitarist Carlos Alomar, bassist George Murray and drummer Dennis Davis, among others. The setlist focused primarily on Bowie's albums recorded in Berlin with Brian Eno, Low and "Heroes", portions of The Rise and Fall of Ziggy Stardust and the Spiders from Mars and Station To Station tracks as well.
Tour band 1978 – The Low and Heroes World Tour :
David Bowie – vocals, chamberlain
Adrian Belew – lead guitar, backing vocals
Carlos Alomar – rhythm guitar, backing vocals (music director)
George Murray – bass guitar, backing vocals
Dennis Davis – drums, percussion
Roger Powell – keyboards, synthesizer ,Moog Taurus bass pedals ,backing vocals (except 11–14 November 1978)
Dennis Garcia – keyboards, synthesizer (11–14 November 1978 only)
Sean Mayes – piano, string ensemble, backing vocals Simon House – electric violin
Simon House – electric violin.
.
(Visited 838 times, 1 visits today)