David Bowie 1978-04-28 Philadelphia ,Spectrum Arena – Staged –
Sound Quality Rating
01. Warszawa.flac
02. "Heroes".flac
03. What In The World.flac
04. Be My Wife.flac
05. The Jean Genie.flac
06. Blackout.flac
07. Sense Of Doubt.flac
08. Speed Of Life.flac
09. Breaking Glass.flac
10. band introductions.flac
11. Five Years.flac
12. Soul Love.flac
13. Star.flac
14. Hang On To Yourself.flac
15. Ziggy Stardust.flac
16. Suffragette City.flac
17. Station To Station.flac
18. Stay.flac
Label: No label The Hunky Geordie Tapes – HUG231CD
Audio Source: audience
Lineage: Sony C90 HF (MBF) > Denon DRM-500 dec
Total running time: 1:22:22
Sound Quality : Not good ,much Noise ,very dull
Attendance: 17.500
Artwork: by steve23yh.
Note : Fame,Beauty and the Beast,Art Decade,Moon of Alabama,TVC15 and Rebel Rebel are missing.
Bowie selected the two shows in the Spectrum for recording the live double of the tour Stage.
"I'm happy to be in Philadelphia tonight,it's one of our favorite cities.
Four years ago we recorded our live album David Live here and we liked the results so much we've decided to record our second live album here over the next two nights".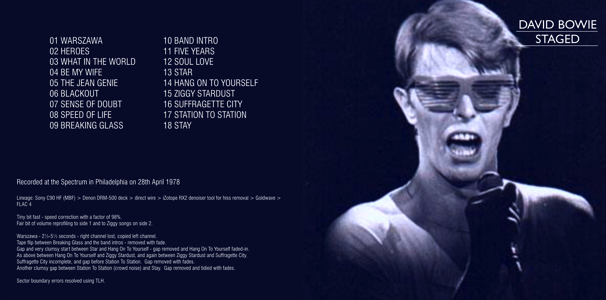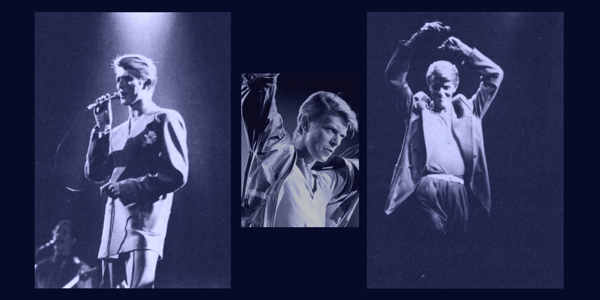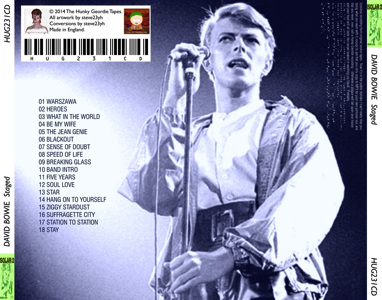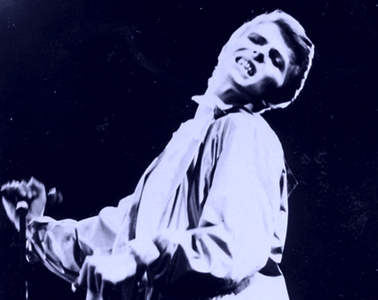 Tour band 1978 – The Low and Heroes World Tour :
David Bowie – vocals, chamberlain
Adrian Belew – lead guitar, backing vocals
Carlos Alomar – rhythm guitar, backing vocals (music director)
George Murray – bass guitar, backing vocals
Dennis Davis – drums, percussion
Roger Powell – keyboards, synthesizer ,Moog Taurus bass pedals ,backing vocals (except 11–14 November 1978)
Dennis Garcia – keyboards, synthesizer (11–14 November 1978 only)
Sean Mayes – piano, string ensemble, backing vocals Simon House – electric violin
Simon House – electric violin.
======================
Notes
Tiny bit fast – speed correction with a factor of 98%.
Fair bit of volume reprofiling to side 1 and to Ziggy songs on side 2.
Warszawa – 2Ω-5Ω seconds – right channel lost, copied left channel.
Tape flip between Breaking Glass and the band intros – removed with fade.
Gap and very clumsy start between Star and Hang On To Yourself – gap removed and Hang On To Yourself faded-in.
As above between Hang On To Yourself and Ziggy Stardust, and again between Ziggy Stardust and Suffragette City.
Suffragette City incomplete, and gap before Station To Station. Gap removed with fades.
Another clumsy gap between Station To Station (crowd noise) and Stay. Gap removed and tidied with fades.
TLH to address sector boundary errors.
(Visited 569 times, 1 visits today)