David Bowie 1978-05-16 Berlin ,Deutschlandhalle – Leave Him Along –
Sound Quality Rating
101. Warszawa.flac
102. "Heroes".flac
103. What in the World.flac
104. Be My Wife.flac
105. The Jean Genie.flac
106. Blackout.flac
107. Sense of Doubt.flac
108. Speed of Life.flac
109. Breaking Glass.flac
110. Fame.flac
111. Beauty and the Beast.flac
112. Band Introductions.flac
113. Five Years.flac
114. Soul Love.flac
115. Star.flac
116. Hang on to Yourself.flac
117. Ziggy Stardust.flac
201. Suffragette City.flac
202. Art Decade.flac
203. Alabama Song.flac
204. Station to Station.flac
205. Rebel Rebel.flac
206. Station to Station.flac
207. Stay.flac
1978-05-20 Olympiahalle, München
208. Suffragette City .flac
209. Art Decade .flac
210. Alabama Song .flac
211. Station to Station .flac
Label: Old Gold Records – OGCD 213
Audio Source: audience
Lineage:
Total running time: 2:08:21
Sound Quality : Not good ,much Noise ,very dull
Attendance: 8.000
Artwork: Yes.
During that song a boy in the first row gat sn exi­ ted that he gat onto his seat and started jumping up and down on it. This annoyed the people behind him,and instantly a secu­ rity guard showed up tn make him sit down. The man did not suc­ceed right away and gave the boy a couple of blows. Bowie saw,and taak fire at once. The band stop­ ped playing while Bowie cal led out "No,no,stop! Leave him alo­ne!". So,the bouncer left him alone and Bowie shook hands with the boy before continuing the concert. They tried to gather up the treads of Station To Station ,but couldn't ,so they played Rebel Rebel . Here Bowie Talks a lot .but on the tape/disc one can't hear to well.
The Extra's are Station To Station (All of it this time !) and Stay ; during these songs that same boy was frantically jumping up and down on his seat again but now all the rest of the audience were his companions. No trouble now! And that's how it should be.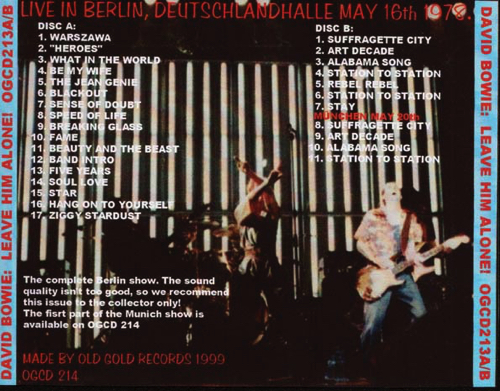 Sound samples:
Be My Wife
Star
Tour band 1978 – The Low and Heroes World Tour :
David Bowie – vocals, chamberlain
Adrian Belew – lead guitar, backing vocals
Carlos Alomar – rhythm guitar, backing vocals (music director)
George Murray – bass guitar, backing vocals
Dennis Davis – drums, percussion
Roger Powell – keyboards, synthesizer ,Moog Taurus bass pedals ,backing vocals (except 11–14 November 1978)
Dennis Garcia – keyboards, synthesizer (11–14 November 1978 only)
Sean Mayes – piano, string ensemble, backing vocals Simon House – electric violin
Simon House – electric violin.
.
(Visited 704 times, 1 visits today)