David Bowie 1978-05-19 Cologne ,Kölner Sporthalle (remaster Learm).
Sound Quality Rating
101. announcer.flac
102. Warszawa.flac
103. "Heroes".flac
104. What In The World.flac
105. Be My Wife.flac
106. Jean Genie.flac
107. Blackout.flac
108. Sense Of Doubt.flac
109. Speed Of Life.flac
110. Breaking Glass.flac
111. Fame.flac
112. Beauty And The Beast.flac
201. crowd.flac
202. band introductions.flac
203. Five Years.flac
204. Soul Love.flac
205. Star.flac
206. Hang On To Yourself.flac
207. Ziggy Stardust.flac
208. Suffragette City.flac
209. Art Decade.flac
210. Alabama Song.flac
211. Station To Station.flac
212. encore call 1.flac
213. Stay.flac
214. TVC15.flac
215. encore call 2.flac
216. Rebel Rebel.flac
Label: No label
Audio Source: audience
Lineage:
Total running time: 1:51:17
Sound Quality : very good. Equals record or radio apart from a slight noise and some dullness
Attendance: 8.000
Artwork: by Learm.
Remastered: by Learm
(as we learn from the announcer before the start of the show the concert was performed in two parts with a break of approx. 15 min. in the middle).
Especially before the start of the 2nd half there is a lot of guys shouting to others to sit down, what they obviously refuse to do. So they get insulted with at that time very fashionable cusswords. The whole thing is on one side a bit annoying and on the other side (if you understand German) quite funny as in the 70's it was an unwritten law (at least in Germany) to sit down on the floor during the whole show and listen to the music devotionally. That changed radically one or two years later caused by the Punk movement which penetrated also through "normal" rock events.
The show itself is nice even if it seems to be quite a routine for David as he is not talking anything between songs with the exception of the band introduction. The sound is nearly excellent (except for the section from Alabama Song and Station To Station)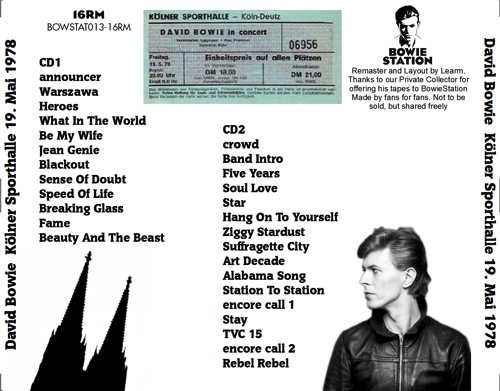 In an interview given in May 1978,
Bowie said :hat the only reason why he did the '78 tour was Money,he needed it for several projects. He also said he only enjoys doing the first fifteen to twenty shows; after that it gets boring doing the same show over and over again. That is true: one can hear that in the various band intros. In this concert,for in­ stance,Bowie doesn't say a word beyond the actual introduction of the band,not even "good evening"! Whereas in Dallas he in­ troduced the band with great vollubility. In another interview he was asked why,if he only enjoys the first few concerts,it is that he goes to England at the very end of the tour. Bowie replies that then he has something to look forward to.
Tour band 1978 – The Low and Heroes World Tour :
David Bowie – vocals, chamberlain
Adrian Belew – lead guitar, backing vocals
Carlos Alomar – rhythm guitar, backing vocals (music director)
George Murray – bass guitar, backing vocals
Dennis Davis – drums, percussion
Roger Powell – keyboards, synthesizer ,Moog Taurus bass pedals ,backing vocals (except 11–14 November 1978)
Dennis Garcia – keyboards, synthesizer (11–14 November 1978 only)
Sean Mayes – piano, string ensemble, backing vocals Simon House – electric violin
Simon House – electric violin.
.
.
(Visited 337 times, 3 visits today)