David Bowie 1978-04-21 Detroit ,Cobo Arena (Statsfax 1. gen).
Sound Quality Rating
01. Warszawa.flac
02. "Heroes".flac
03. What In The World.flac
04. Be My Wife.flac
05. Jean Genie.flac
06. Blackout.flac
07. Sense Of Doubt.flac
08. Speed Of Life.flac
09. Breaking Glass.flac
10. Beauty And The Beast.flac
11. Fame.flac
12. Band Introductions – Five Years.flac
13. Soul Love.flac
14. Star.flac
15. Hang On To Yourself.flac
16. Ziggy Stardust.flac
17. Suffragette City.flac
18. Rock 'n' Roll Suicide.flac
19. Art Decade.flac
20. Alabama Song.flac
21. Station To Station.flac
22. Stay.flac
23. Tvc 15.flac
24. Rebel Rebel.flac
Label: Statsfax
Audio Source: audience
Lineage: statsfax master audience recording (unknown tape deck, mikes, probably Maxell XLII tapes) > my copy (also Maxell XLII 90 min. cassettes)
Total running time: 1:51:52
Sound Quality : Much noise ,dull ,but still good listened to
Attendance: 11.200
Artwork: ????.
The audience are very restless,and again they are constantly showering Bowie with frisbees,flowers and streamers of toiletpaper, making it difficult for him to sing with concentration.
Du­ring Jean Genie,when a toilet roll is thrown his way,he sings "he smiles like a toilet roll" instead of "reptile". So much litter lands on the stage that the show must he stopped in the course of Beauty & the Beast in order to have the stage cleared.
Tour band 1978 – The Low and Heroes World Tour :
David Bowie – vocals, chamberlain
Adrian Belew – lead guitar, backing vocals
Carlos Alomar – rhythm guitar, backing vocals (music director)
George Murray – bass guitar, backing vocals
Dennis Davis – drums, percussion
Roger Powell – keyboards, synthesizer ,Moog Taurus bass pedals ,backing vocals (except 11–14 November 1978)
Dennis Garcia – keyboards, synthesizer (11–14 November 1978 only)
Sean Mayes – piano, string ensemble, backing vocals Simon House – electric violin
Simon House – electric violin.
.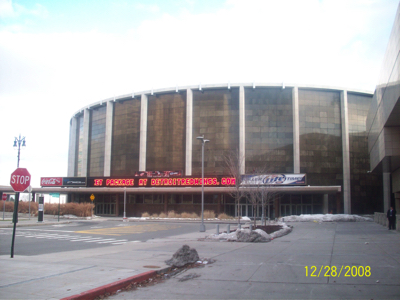 .
.
.
(Visited 230 times, 1 visits today)