David Bowie 1978-05-06 Boston ,Garden Arena – Boston 1978 – (Re-master).
Sound Quality Rating
101. "Heroes" (cuts in).flac
102. What In The World .flac
103. Be My Wife .flac
104. Jean Genie .flac
105. Blackout .flac
107. Speed Of Life.flac
108. Breaking Glass .flac
109. Beauty And The Beast.flac
110. Fame .flac
202. Soul Love .flac
203. Star.flac
204. Hang On To Yourself .flac
205. Ziggy Stardust .flac
206. Suffragette City .flac
207. Art Decade.flac
208. Alabama Song.flac
209. Station To Station.flac
210. Stay .flac
211. TVC-15 .flac
212. Rebel Rebel.flac
291. Five Years .flac
Label: No label
Audio Source: audience
Lineage: trade cassette (1st or 2nd gen.)
Total running time: 1:33:21
Sound Quality : noise ,dull ,but still good listened to
Attendance: 15.500
Artwork: by MossGarden.
Remake > Remastered
Warszawa and the first half of "Heroes" are missing, which is the reason why it lasts only 95 minutes. For the rest this is a perfect tape,loud and clear stereo sound and a fine atmosphere,due to the fact that the enthusiastic audience can be heard quite clearly.
During Jean Genie Bowie worked the crowd up to such a frenzy with his constant urging to "Let yourself go!" that two girls took off their clothes until they were topless: the Bostonian police at once removed them from the hall!
"Good evening,we'll be back in ten minutes time. Nice to be here" Bowie says after Fame,and after TVC15 he says twice "Thank you",these are all the words Bowie speaks.
Rebel Rehel gets a somewhat cumbersome ending; it sounds as thuugh there was some misunderstanding between Bowie and the band as to when to end the number. for when the band play the final tones Bowie just continues singing,so that they have to go on playing. And, conversely,when Bowie sings his final tones the band simply play on,and Bowie has to adjust,and sings some additional lines! So it is only after a while that they come to an end!
During the concert two large,inflatable beach-balloons kept bouncing around on top of the audience,and right at a climactic point during one of the songs it floated up to the titage, and Bowie hit it with his fist,lhe same time hitting a long,powerful note. A dynamic piece of improvisation which made a great impretision on the 15,500 headed audience in this brim­full Boston hall. It is quite probable that this incident inspired Bowie to use the globe balloon which he was to intro­ duce five years later in his Serious Moonlight Tour .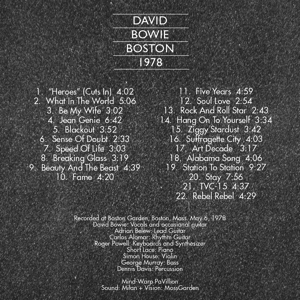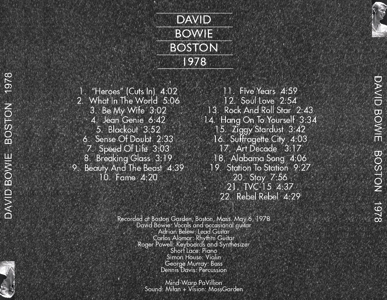 Tour band 1978 – The Low and Heroes World Tour :
David Bowie – vocals, chamberlain
Adrian Belew – lead guitar, backing vocals
Carlos Alomar – rhythm guitar, backing vocals (music director)
George Murray – bass guitar, backing vocals
Dennis Davis – drums, percussion
Roger Powell – keyboards, synthesizer ,Moog Taurus bass pedals ,backing vocals (except 11–14 November 1978)
Dennis Garcia – keyboards, synthesizer (11–14 November 1978 only)
Sean Mayes – piano, string ensemble, backing vocals Simon House – electric violin
Simon House – electric violin.
.
(Visited 896 times, 1 visits today)