David Bowie 1978-04-09 Houston ,The Summit (blackout).
Sound Quality Rating
01. WARAZAWA.flac
02. "HEROES".flac
03. WHAT IN THE WORLD.flac
04. BE MY WIFE.flac
05. THE JEAN GENIE.flac
06. BLACKOUT.flac
07. SENCE OF DOUBT.flac
08. SPEED OF LIFE.flac
09. BREAKING GLASS.flac
10. BEAUTY AND THE BEAST.flac
11. FAME.flac
12. BAND INTRODUCTIONS.flac
13. FIVE YEARS.flac
14. SOUL LOVE.flac
15. STAR.flac
16. HANG ON TO YOURSELF.flac
17. ZIGGY STARDUST.flac
18. SUFFRAGETTE CITY.flac
19. ROCK 'N' ROLL SUICIDE.flac
20. ART DECADE.flac
21. STATION TO STATION.flac
22. STAY.flac
23. TVC 15.flac
Label: Blackout
Audio Source: audience
Lineage: 3rd generation.
Total running time: 1:41:26
Sound Quality : noise ,dull ,but still good listened to
Attendance: 16.000
Artwork: Yes.
Great show, well circulated, this copy is low generation, reputed to be from the master to the person I got it from, so posted as 3rd generation.
This is one of my favorite shows from the 1978 tour along with Nashville.
Great versions of Rock N'Roll Suicide and "Heroes".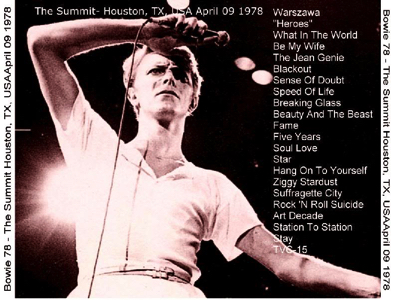 note by Pim Jal de la Parra:
Great tape,
for its quality is so good that Bowie's singing as well as all the instruments can be heard with great clarity. The numbers are played to perfection,apart from a minor mistake by Adrian Belew in Be My Wife. The audience in this arena are exultant, and after Jean Genie a man calls out encouragingly "Allright baby, allright!".
"I'd like to introduce you to the members of my band. On piano Sean Mayes. On electric violin Simon House. On rhythm guitar Carlos Alomar. On percussion Dennis Davis". Upon his introduction,Dennis strikes a cymbal. "What's that again?" asks Bowie,and Dennis replies by another sroke on that cymbal. Laughing,Bowie continues: "Haha,on bass guitar George Murray, on hundreds of synthesizers,haha,Roger Powell. And on several guitars,Adrian Belew". Then he tells the audience that he is going to play songs from the Ziggy Stardust LP. For many people Ziggy Stardust remains the best LP,so the,audience's response is overwhelmine. When Bowie sings "Pushing through the market square" the audience go absolutely out of their senses! A man – totally overwhelmed – says "Oh.no!" ,evidently unable to believe what is happening to him.
Just before Stay starts , a man calls "Eno ,hey Eno!"; probably like the other man in San Diego,he thought Eno was on stage. Then starts an excellent version of Stay ,played with vigour, slightly faster than usual.
Tour band 1978 – The Low and Heroes World Tour :
David Bowie – vocals, chamberlain
Adrian Belew – lead guitar, backing vocals
Carlos Alomar – rhythm guitar, backing vocals (music director)
George Murray – bass guitar, backing vocals
Dennis Davis – drums, percussion
Roger Powell – keyboards, synthesizer ,Moog Taurus bass pedals ,backing vocals (except 11–14 November 1978)
Dennis Garcia – keyboards, synthesizer (11–14 November 1978 only)
Sean Mayes – piano, string ensemble, backing vocals Simon House – electric violin
Simon House – electric violin.
.
.
.
(Visited 299 times, 1 visits today)