David Bowie 1978-06-04 Gothenburg ,Scandinavium (blackout).
Sound Quality Rating
101. WARSZAWA.flac
102. "HEROES".flac
103. WHAT IN THE WORLD.flac
104. BE MY WIFE.flac
105. THE JEAN GENIE.flac
106. BLACKOUT.flac
107. SENSE OF DOUBT.flac
108. SPEED OF LIFE.flac
109. BREAKING GLASS.flac
110. FAME.flac
111. BEAUTY AND THE BEAST.flac
212. INTRODUCTIONS.flac
213. FIVE YEARS.flac
214. SOUL LOVE.flac
215. STAR.flac
216. HANG ON TO YOURSELF.flac
217. ZIGGY STARDUST.flac
218. SUFFRAGETTE CITTY.flac
219. ART DECADE.flac
220. MOON OF ALABAMA.flac
221. STATION TO STATION.flac
222. STAY.flac
223. TVC-15.flac
224. REBEL REBEL.flac
Label: From the Blackout archives
Audio Source: audience
Lineage: TDKSA90 2nd Gen Tapes –> Sony Home Minidisc Unit HDJ320
Total running time: 1:48:54
Sound Quality : very good. Equals record or radio apart from a slight noise and some dullness.
Attendance: 7.000
Artwork: by Nathan Adler.
Background: So here's the story on this one. Years ago, a friend I traded with mentioned he received this tape of Gothenburg and it was supposedly "from the master." This would make this copy 2nd generation…..we talked about it, kicked it around, and decided it was a possibility.
At the time, Another Stage was out, and I was told this was a different recording because Station To Station breaks in the middle (tape flip?) on this recording.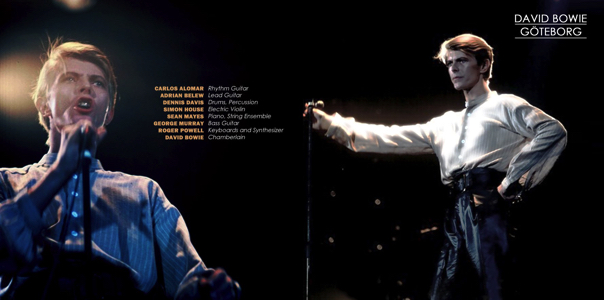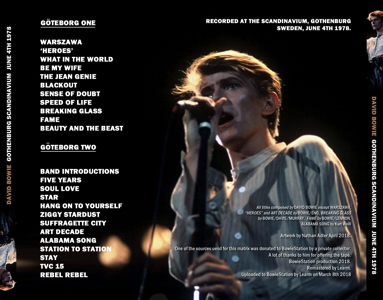 In listening to Another Stage a bit last night I noticed a couple of things. First Another Stage is a bit quicker than this recording, by that I mean a bit. Second is on my recording the first few seconds (very few) of Fame are garbled ("tape wobble") and on Another Stage, the wobbling portion is instead removed in favor of a fade in. So, eureka? Was Another Stage made from this tape? In any event, the quality of this is superb as is Another Stage. I'm sure you already heard the samples.
I'd love to know who recorded this, and on what equipment. Old Bowie fans know that this originally appeared as a vinyl boot called "Scandinavium '79" or something like that, but that was a far inferior quality recording. So, let the comparing begin, the remastering, the stories behind this tape and its origins, and most of all the listening. From the Blackout archives and my favorite tour, although I was far too young to see it personally.
(Visited 714 times, 1 visits today)