David Bowie 1976-03-23 New York ,Nassau Coliseum – The Thin White Duke – (version 3) –
Sound Quality Rating
01. Station to Station.flac
02. Suffragette City.flac
03. Fame.flac
04. Word on a Wing.flac
05. Stay.flac
06. Panic in Detroit.flac
07. Changes.flac
08. TVC 15.flac
09. Diamond Dogs.flac
10. Rebel Rebel.flac
11. Jean Genie.flac
12. Can you here me (With Cher Show).flac
13. Young Americans Medley (With Cher).flac
14. Life On Mars (Part).flac
15. Queen Bitch.flac
16. Waiting for the Man.flac
Label: IDLE MIND PRODUCTIONS IMP 1114 A/D
Audio Source: Broadcast on US Radio's The King Biscuit Flower Hour
Lineage: LP
Total running time: 1:23:27
Sound Quality: very good. Equals record or radio apart from a slight noise and some dullness.
Attendance: 16.500
Artwork: yes.
The second double album of this concert, and the first one with the songs in the correct running order.
CAN YOU HEAR ME and YOUNG AMERICANS – MEDLEY are from Cher TV show.
The MEDLEY in the middle of YOUNG AMERICANS is a whole bunch of hits from the 60's.
The cover comes in two versions, one with and one without a printed back side. The printed back side has the same picture as on the THE THIN WHITE DUKE (1978). The cover with the plain white back side is the original one!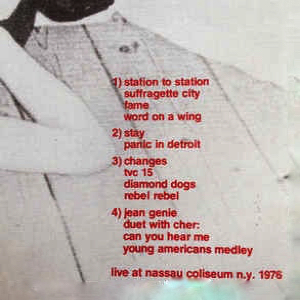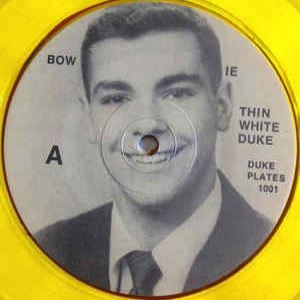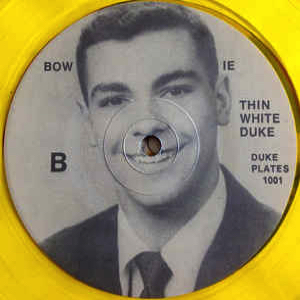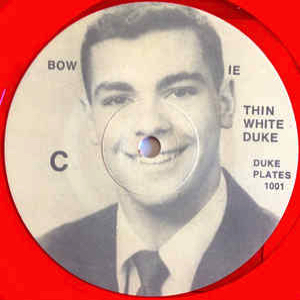 .
The Tour Band – The Station To Station Tour
• David Bowie – Vocals, saxophone
• Carlos Alomar – Rhythm guitar, music director,backing vocals
• Stacy Heydon – Lead guitar, backing vocals
• George Murray – Bass guitar, backing vocals
• Dennis Davis – Drums, percussion
• Tony Kaye – Keyboards
The band became known as "Raw Moon"
Crew
• Vern Moose Constan, Rob Joyce – Band technicians/personnel
• Lonnie McKenzie, Leroy Kerr, Lester Burton, Buddy Prewitt, Larry Sizemore – Lighting technicians/personnel
• Buford Jones, Scott Wadsworth – Sound technicians/personnel
.
(Visited 624 times, 1 visits today)