David Bowie 1976-04-10 Berlin ,Deutschlandhalle – Berlin 1976 – (Matrix Learm) –
Sound Quality Rating
01. Station To Station.flac
02. Suffragette City.flac
03. Fame.flac
04. Word On A Wing.flac
05. Stay.flac
06. Waiting For The Man.flac
07. Queen Bitch.flac
08. Life On Mars.flac
09. Five Years.flac
10. Panic In Detroit.flac
11. Band Introductions.flac
12. Changes.flac
13. TVC 15.flac
14. Diamond Dogs.flac
15. Rebel Rebel.flac
Label: No label
Audio Source: audience
Lineage:
Total running time: 1:18:16
Sound Quality : noise ,dull ,but still good listened to
Attendance: 8.000
Artwork: by Learm.
Matrix : by Learm > Matrix of 2 different audience recordings from the same show.
Source 1: length 62:41 min., in 14 flac files (96 kHz/24 bit), vg- quality by our private collector(BOWSTAT008-24RAW)
Source 2: length 78:06 min., in 15 flac files (48 kHz/16 bit), vg+/Ex- quality, Mit einem M‰dchen vom Bahnhof Zoo-Bootleg
There is an interesting moment in Station to Station . Bowie comes on and the moment arrives when the band expect he will start to sing,but Bowie lingers for a while,causing a short spell of confusion in the band,a blind spot in the numher. But the band soon recover and Bowie starts singing. "Here – you – ean stay" he sings in Stay and then "You-you-you-you-you", speeding up the tempo,like a starting train. Bowie introduces TVC15 with the words: "This is a very romantic love song between a girl and a television seL,it's called TVC15,haha".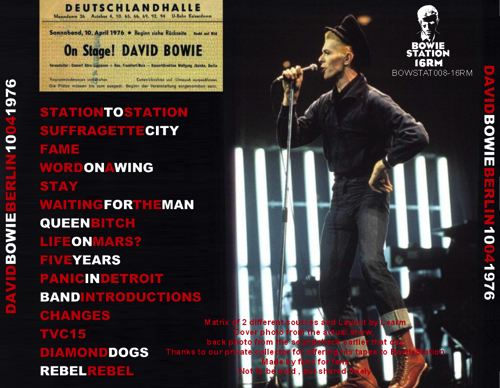 The Tour Band – The Station To Station Tour
• David Bowie – Vocals, saxophone
• Carlos Alomar – Rhythm guitar, music director,backing vocals
• Stacy Heydon – Lead guitar, backing vocals
• George Murray – Bass guitar, backing vocals
• Dennis Davis – Drums, percussion
• Tony Kaye – Keyboards
The band became known as "Raw Moon"
Crew
• Vern Moose Constan, Rob Joyce – Band technicians/personnel
• Lonnie McKenzie, Leroy Kerr, Lester Burton, Buddy Prewitt, Larry Sizemore – Lighting technicians/personnel
• Buford Jones, Scott Wadsworth – Sound technicians/personnel
.
•
Matrix of 2 different audience recordings from the same show.
Source 1: length 62:41 min., in 14 flac files (96 kHz/24 bit), vg- quality by our private collector(BOWSTAT008-24RAW)
Source 2: length 78:06 min., in 15 flac files (48 kHz/16 bit), vg+/Ex- quality, Mit einem M‰dchen vom Bahnhof Zoo-Bootleg
History: Uploaded to Mind-Warp PaVilion by XAVeRY on 21 September 2008. Uploaded to HungerCity by jallaweb on March 13th 2012
Processing:
Flac files of 2 recordings > Foobar2000 (source 1) convert to 48/24 > Magix Music Cleaning Lab (Matrix/Remaster 44,1/16 – 48/24) > Foobar 2000 convert to 44/16 > Fixed SBEs with TLH > BowieStation
Comments:
Source 1:
The recording is missing the last track (Rebel Rebel) and Panic In Detroit, TVC 15 and Diamod Dogs are cut before the end.
Also Changes has a cut in the middle.
Compared to source 2 the speed was approx. 4 % slower. I decided to adjust the speed to source 2 as this tape seems to be a lower gen.
The sound of the tape is quite inferior (middle frequencies dominating) to the well balanced sound of source 2.
Source 2:
The original recording is missing the first 3 songs and the first half of Word On A wing. This first part of the concert on the bootleg is obviously taken from the source 1 tape and then continued with the second half of Word On A Wing. There are 2 cuts in Panic In Detroit which could not be patched completely by source 1. So this track is stil incomplete (missing approx. 2 minutes of drum solo). There are some small cuts between tracks. The recording has some hiss at lower sound levels which I tried to remove as much as possible.
The sound of this is much better than that of source 1, especially a nice bass is present.
The last track of the concert, Jean Genie, is missing on both sources.
To achieve a better sound matching of both sources the first tracks only consisting of source 1 were lifted in bass substantially. The parts only consisting of source 2 were lifted in treble a bit. Otherwise no EQ was done.
Some level adjustments were made at the separate sources.
Total time: 78:22 min.
.
(Visited 1,888 times, 1 visits today)