David Bowie 1976-05-18 Paris ,Pavillion de Paris (Low gen).
Sound Quality Rating
101. STATION TO STATION.wav
102. SUFFRAGETTE CITY.wav
103. FAME.wav
104. WORD ON A WING.wav
105. STAY.wav
106. WAITING FOR THE MAN.wav
107. QUEEN BITCH.wav
108. LIFE ON MARS.wav
201. FIVE YEARS.wav
202. PANIC IN DETROIT.wav
203. BAND INTRODUCTION.wav
204. CHANGES.wav
205. TVC15.wav
206. DIAMOND DOGS.wav
207. ENCORE – REBEL REBEL.wav
Label: No label
Audio Source: audience
Lineage:
Total running time: 1:26:37
Sound Quality : noise ,dull ,but still good listened to
Attendance: 7.000
Artwork: None.
A good show and the very last one of the tour

The Tour Band – The Station To Station Tour
• David Bowie – Vocals, saxophone
• Carlos Alomar – Rhythm guitar, music director,backing vocals
• Stacy Heydon – Lead guitar, backing vocals
• George Murray – Bass guitar, backing vocals
• Dennis Davis – Drums, percussion
• Tony Kaye – Keyboards
The band became known as "Raw Moon"
Crew
• Vern Moose Constan, Rob Joyce – Band technicians/personnel
• Lonnie McKenzie, Leroy Kerr, Lester Burton, Buddy Prewitt, Larry Sizemore – Lighting technicians/personnel
• Buford Jones, Scott Wadsworth – Sound technicians / personnel
.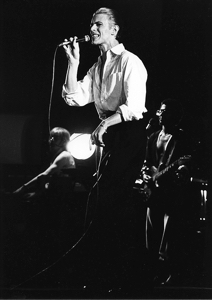 .
(Visited 579 times, 1 visits today)