David Bowie 1974-09-02 Los Angeles ,Universal Amphitheater (2nd gen – VC – RAW).
Sound Quality Rating
– 01. 1984.flac
– 02. REBEL REBEL.flac
– 03. MOONAGE DAYDREAM.flac
– 04. SWEET THING.flac
– 05. CHANGES.flac
– 06. SUFFRAGETTE CITY.flac
– 07. ALADDIN SANE.flac
– 08. ALL THE YOUNG DUDES.flac
– 09. CRACKED ACTOR.flac
– 10. ROCK 'N' ROLL WITH ME.flac
– 11. KNOCK ON WOOD.flac
– 12. YOUNG AMERICANS,flac (This is the very first live version of Young Americans)
– 13. IT'S GONNA BE ME,flac (This was the first time that this song was song live)
– 14. SPACE ODDITY.flac
– 15. FUTURE LEGEND.flac
– 16. DIAMOND DOGS.flac
– 17. BIG BROTHER.flac
– 18. TIME.flac
– 19. THE JEAN GENIE.flac
– 20. ROCK AND ROLL SUICIDE.flac
– 21. JOHN I'M ONLY DANCING.flac
Label: No label
Audio Source: audience
Lineage:
Total running time: 1:29:44
Sound Quality : Much noise ,dull ,but still good listened to
Attendance: 6.250
Artwork: Yes.
The opening show of the West Coast dates which now began to feature new songs recorded during the six week break: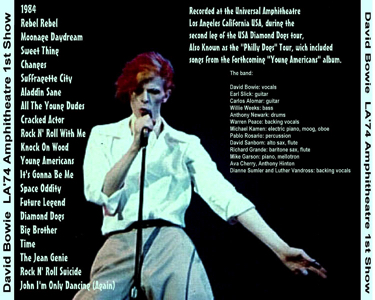 Only very little of the audience can be heard on this quite unique tape,but what audience one does hear is absolutely hys­terical. This tape has a very clear sound,although not all the instruments – Slick's guitar for instance – can be heard to full advantage.
Bowie fixed his camp here for as much as a week; lhis was the first concert of the series as well as of this short Sep­tember tour. "Good evening Los Angeles" is welcomed with a great deal of screaming. "I'd like to introduce you to some of the band" Bowie says before All the Young Dudes. "Andy on drums,Earl Slick on guitar, … bass guitar,and that is Warren, and that is Gui. l've got some other people to … hello babies, how are you! This one's a … I might as well dedicate this one to you … Billy rapped all night about his suicide … " After this number Cracked Actor,and for the first line Bowie sings: "I've seen the best and the worst of my Hollywood highs".
"Well I said that we had some new people to introduce you to" Bowie – exhausted – says after Knock on Wood. "I'd like to bring some people that will gonna be joining us about into this week – Pablo and Carlos … and,well,over there – and they are coming to join us on Friday. And I brought some more people – I got Luther,and Dianne,and Anthony. And you've heard some saxophones in the background. Well that's Dave Sanborn. I'll tell you what we're gonna do is playa couple of things from a new album that we've done". "Allricht!" is the enthu­siastic response from the audience. "This is called The Young American"; This is the very first live version of Young Americans,which,as you will have remarked,he still called The Younq American. The number starts with a guitar intro,instead of drums as in the final version. "Well,yeah,shit!" is the happy reaction of someone in the audience to this song. Someone else calls for Width of a Circle ,and at the mean time a small plane can be heard flying over this open-air theatre: maybe the BBC
filming the show from the air!
Actually It's Gonna be Me should have featured on Young Americans, but it was replaced by Across the Universe. A lovely song which Bowie sings beautifully. Instead of "Stuck in my mind" as on the studio version,he sings "When that angel caught my eye". This was the first time that this song was song live.
After a lovely version of Rock & Roll Suicide Bowie says: "Thank you. I thank you,we thank you. This is something to dance to anyway. It's an old song,it's called John)I'm Only Dancing". He doesn't tell the audience that this is a new ver­sion of the song,but the beginnings of soul influences are clearly discernable. Half way the song the tape suddenly start starts to run very fast,then the sound fades and it finally is broken off altogether.
Tour band 1974 (September)
• David Bowie – vocals
• Michael Kamen – electric piano, Moog synthesizer, oboe
• Mike Garson – piano, mellotron
• Earl Slick – guitar
• Carlos Alomar – rhythm guitar
• David Sanborn – alto saxophone, flute
• Richard Grando – baritone saxophone, flute
• Doug Rauch – bass
• Greg Errico – drums
• Pablo Rosario – percussion
• Gui Andrisano – backing vocals
• Warren Peace – backing vocals
• Ava Cherry – backing vocals
• Robin Clark – backing vocals
• Anthony Hinton – backing vocals
• Diane Sumler – backing vocals
• Luther Vandross – backing vocals
Audio Sample: Young Americans
(Visited 779 times, 1 visits today)