David Bowie 1974-11-15 Boston ,Music Hall – Soul In Boston – (Diedrich).
Sound Quality Rating
01. Annoucement – Rebel Rebel.flac
02. John I'm Only Dancing (Again).flac
03. Sorrow.flac
04. Panic In Detroit.flac
05. Changes.flac
06. Young Americans.flac
07. 1984.flac
08. Footstompin'.flac
09. Rock'n'Roll With Me.flac
10. Moonage Daydream.flac
Label: Old Gold Records – OGCD 546
Audio Source : audience Recording
Lineage : TDK60 (lo Gen)
Total running time : 0:44:07
Sound Quality : Not good ,much Noise ,very dull
Attendance : 4.225
Artwork : Yes.
Note : Only half of the concert;
Note : Same as 1974-11-15 Boston ,Music Hall – I'm Only Dancing
Bowie starts playing Changes ,but then suddenly stops: "Still don't know what I was waiting for,and my time was run­ ning wild … I wanna do a fast one … Panic in Detroit". He gives the band a sign and Earl Slick starts. Then Changes af­ter all; lots of hysterical screaming of the audience during this song. They are wildly enthusiastic and clap along with many a song,which lends the tape a fine atmosphere. Al­ though this is the last part of the tour,Bowie's voice is still powerful. Rock & Roll With Me he sings beauti­fully,and halfway the song he explains to the audience what it is about: "This is called When You Rock & Roll With Me, it's about me,and singing and why people would do – getting on stage and sing. I wouldn't he able to … you start off thinking one thing,and you would end up thinking another – the music sings for you, and kind of makes it work that way. I suppose that's what it's about".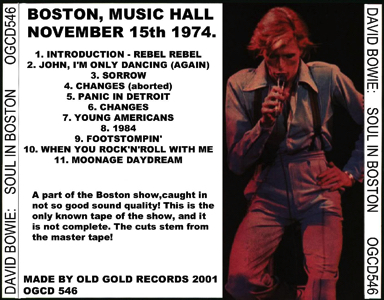 The Tour Band – The Soul / Philly Dogs Tour (October–December)
• David Bowie – vocals
• Mike Garson – piano, mellotron, music director
• Earl Slick – lead guitar
• Carlos Alomar – rhythm guitar
• David Sanborn – alto saxophone, flute
• Willie Weeks – bass
• Dennis Davis – drums
• Pablo Rosario – percussion
• Warren Peace – backing vocals
• Ava Cherry – backing vocals
• Robin Clark – backing vocals
• Anthony Hinton – backing vocals
• Diane Sumler – backing vocals
• Luther Vandross – backing vocals
.
(Visited 363 times, 1 visits today)