David Bowie 1974-10-19 Detroit ,Michigan Palace – Detroit 19 October 1974 –
Sound Quality Rating
01 – Space Oddity (cuts out).flac
02 – Rebel Rebel.flac
03 – John I'm Only Dancing.flac
04 – Sorrow.flac
05 – Changes.flac
06 – 1984.flac
07 – Moonage Daydream.flac
08 – Rock 'N' Roll With Me (cuts out).flac
Label: master tapes courtesy of JEMS archives
Source : Audience
Lineage : ANA(M)>WAV [96kHz/24bit]>WAV [44.1kHz/16bit]>FLAC [Level 8]
Taping Gear : Radioshack dictation style cassette recorder w/builtin mic
Taped By : Friend of JEMS
Transferred By : Mike Ziegler
Total running time: 0:29:49
Sound Quality : Much noise ,dull ,but still good listened to
Attendance: ???
Artwork: Yes.
This recording captures Bowie on the soul/philly dogs tour. He played 5 nights at the Michigan Palace for this stop with this recording coming from the 4th night.
This one is a partial recording capturing only the 1st half hour of the show.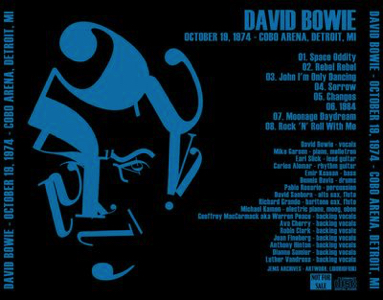 The Tour Band – The Soul / Philly Dogs Tour (October–December)
• David Bowie – vocals
• Mike Garson – piano, mellotron, music director
• Earl Slick – lead guitar
• Carlos Alomar – rhythm guitar
• David Sanborn – alto saxophone, flute
• Willie Weeks – bass
• Dennis Davis – drums
• Pablo Rosario – percussion
• Warren Peace – backing vocals
• Ava Cherry – backing vocals
• Robin Clark – backing vocals
• Anthony Hinton – backing vocals
• Diane Sumler – backing vocals
• Luther Vandross – backing vocals
(Visited 361 times, 1 visits today)