David Bowie 1974-10-18 Detroit ,Michigan Palace – Detroit 18 October 1974 –
Sound Quality Rating
01 – Memory Of A Free Festival.flac
02 – Rebel Rebel.flac
03 – John I'm Only Dancing.flac
04 – Sorrow.flac
05 – Changes.flac
06 – 1984.flac
07 – Moonage Daydream.flac
08 – Rock 'N' Roll With Me.flac
09 – Love Me Do.flac
10 – The Jean Genie.flac
11 – Diamond Dogs.flac
12 – Young Americans.flac
13 – Can You Hear Me.flac
14 – It's Gonna Be Me.flac
15 – Somebody Up There Likes Me.flac
16 – Suffragette City.flac
17 – Rock 'N' Roll Suicide.flac
Label: JEMS archives
Source : Audience
Lineage : ANA(M)>WAV [96kHz/24bit]>WAV [44.1kHz/16bit]>FLAC [Level 8]
Taping Gear : Radioshack dictation style cassette recorder w/builtin mic
Taped By : Friend of JEMS
Transferred By : Mike Ziegler
Total running time: 1:19:29
Sound Quality : Much noise ,dull ,but still good listened to
Attendance: ???
Artwork: Yes.
This recording captures Bowie on the soul/philly dogs tour. He played 5 nights at the Michigan Palace for this stop with this recording coming from the 3rd night. It is mostly complete but the vocals are rough on this one with phasing problems throughout the recording.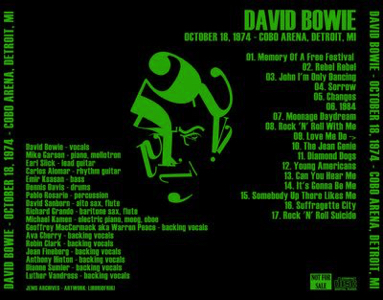 The Tour Band – The Soul / Philly Dogs Tour (October–December)
• David Bowie – vocals
• Mike Garson – piano, mellotron, music director
• Earl Slick – lead guitar
• Carlos Alomar – rhythm guitar
• David Sanborn – alto saxophone, flute
• Willie Weeks – bass
• Dennis Davis – drums
• Pablo Rosario – percussion
• Warren Peace – backing vocals
• Ava Cherry – backing vocals
• Robin Clark – backing vocals
• Anthony Hinton – backing vocals
• Diane Sumler – backing vocals
• Luther Vandross – backing vocals
(Visited 358 times, 1 visits today)