David Bowie 1974-07-16 Boston ,Music Hall (Joe Maloney master).
Sound Quality Rating
101. INTRO – 1984.wav
102. REBEL REBEL.wav
103. MOONAGE DAYDREAM.wav
104. SWEET THING.wav
105. CHANGES.wav
106. SUFFRAGETTE CITY.wav
107. ALADDIN SANE.wav
108. ALL THE YOUNG DUDES.wav
109. CRACKED ACTOR.wav
110. ROCK 'N' ROLL WITH ME.wav
201. WATCH THAT MAN.wav
202. KNOCK ON WOOD.wav
203. SPACE ODDITY.wav
204. FUTURE LEGEND.wav
205. DIAMOND DOGS.wav
206. PANICK IN DETROIT.wav
207. BIG BROTHER I.wav
207. BIG BROTHER II.wav
208. TIME.wav
210. THE WIDTH OF A CIRCLE I.wav
211. THE WIDTH OF A CIRCLE II.wav
212. THE JEAN GENIE.wav
213. ROCK 'N' ROL SUICIDE.wav
Closing announcement (No encores performed)
Label: No label
Audio Source: audience
Lineage: Joe Maloney audience analog Master
Total running time: 1:43:56
Sound Quality : noise ,dull ,but still good listened to
Attendance: 4.225
Artwork: Yes.
An Exceptionally hight quality recording
made at the MusicHall ,Boston ,Massachusetts ,on 16j july 1974 – the same as Subway 1974 ,but this recording is direct from a Joe Maloney master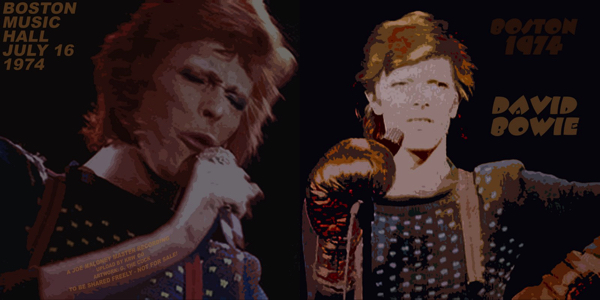 Tour band 1974 (June – July)
• David Bowie – vocals
• Michael Kamen – electric piano, Moog synthesizer, oboe, music director
• Earl Slick – guitar
• Mike Garson – piano, mellotron
• David Sanborn – alto saxophone, flute
• Richard Grando – baritone saxophone, flute
• Herbie Flowers – bass
• Tony Newman – drums
• Pablo Rosario – percussion
• Gui Andrisano – backing vocals
• Warren Peace – backing vocals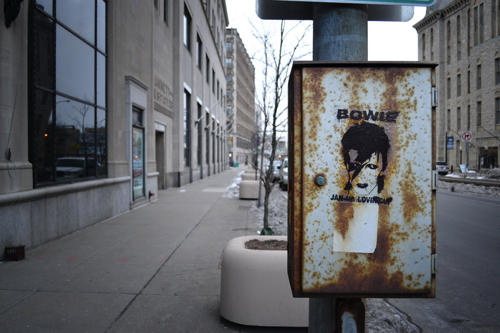 'Young Americans' includes Bowies first dialogue during the intro, '1984' sounds completely out of place amongst the soul 'vibe' and the set list generally seems quite disjointed. Jean Genie opens with the chorus lines from 'Love Me Do', so it's not a full medley or anything but 'Jean Genie' is a pretty good rendition, and the best track of the album so far. 'Moonage Daydream' is surprisingly good too, despite Sanborns alto sax replacing the guitar solo. During the band intro, you can sense how tired Bowie is, his voice sounds weak and frigile whilst talking. 'Can You Hear Me' is quite a good version and features a great vocal breakdown towards the end.
'Somebody Up There Likes Me' is played a bit faster than on the YA album and sounds quite jaunty and is really a pretty good rendition featuring some great sax playing but Suffragette City is very poor, with very weak vocals from Bowie. The guitar and backing vocals go up and down throughout the song and seems like the sound engineers are correcting the levels on the mixing desk. There's a weird tape jump towards the end of the song too, but not too distracting from the song.
The sound mix has been fixed for 'Rock N Roll Suicide' which is again is quite a good version although Bowie sounds as if he's not quite sure what he's doing there! 'Diamond Dogs' comes next and is another example of the disjointed set list. It's a great version though and a good way to end the show and the audience leave the show on a high. Bowie announces 'See you tomorrow' and shortly after, a voice announces 'Ladies And Gentlemen, Mr Bowie has left the theatre'.
(Visited 1,361 times, 1 visits today)