David Bowie 1974-06-16 Toronto ,O'Keefe Auditorium – Halloween Jack Spooks 'Em In Toronto –
Sound Quality Rating
– 01. INTRO – 1984.flac
– 02. MOONAGE DAYDREAM.flac
– 03. SWEET THING.flac
– 04. CHANGES.flac
– 05. SUFFRAGETTE CITY.flac
– 06. ALADDIN SANE.flac
– 07. ALL THE YOUNG DUDES.flac
– 08. CRACKED ACTOR.flac
– 09. ROCK 'N' ROLL SUICIDE.flac
– 10. WATCH THAT MAN.flac
– 11. DRIVE IN SATURDAY.flac
– 12. SPACE ODDITY.flac
– 13. FUTURE LEGEND.flac
– 14. DIAMOND DOGS.flac
– 15. PANIC IN DETROIT.flac
– 16. BIG BROTHER – CHANT OF THE EVER CIRCLE SKELETAL FAMILY.flac
– 17. TIME.flac
– 18. WIDTH OF A CIRCLE.flac
– 19. THE JEAN GENIE.flac
– 20. DRIVE IN SATURDAY.lac
Label: No label
Audio Source: audience
Total running time: 1:25:57
Sound Quality : Much noise ,dull ,but still good listened to
Attendance: 1.750
Artwork: By Nathan Adler.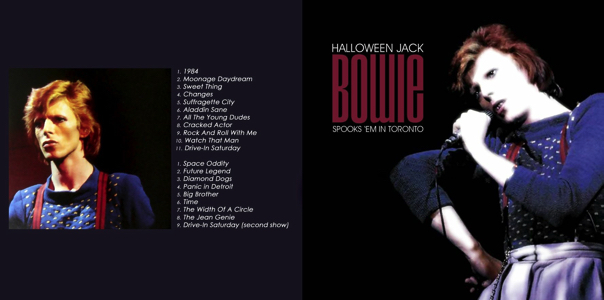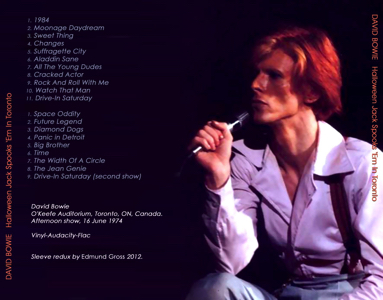 The third concert of this tour. All those of the audience who were dressed as Ziggy felt fooled. "Where is Ziggy? We want Ziggy!" they shouted. They were disappointed and would not make acquaintance with Halloween Jack. The other part of the audience,those who had come to see Bowie,and not Ziggy in particular,thought Halloween Jack smashing. It is mainly these keen ,people that one hears on the tape.
Much yelling during Sweet Thing when Bowie appears in a trenchcoat high above the stage on a movable catwalk. For Suffragette City Bowie had invented some dance-steps performed sitting on chairs,by himself and the two backup singers,Gui Andrisano and Warren Peace. For Aladdin Sane there was mime with a Japanese mask with the Aladdin Sane lightning bolt on it. For Cracked Actor Bowie wears a red cape and goggles. Sitting on a stool he sings to a skull while the two 'dogs' are taking shots of him and are powdering his face as if he were a filmstar. Drive in Saturday is done in an acoustic version with only Bowie playing the guitar and David Sanborn the saxo­phone. During Space Oddity he sits in a chair and is raised over the heads of the audience by the lever of a kind of lift truck. Singing through a red telephone micro "For here am I sitting in a tin can",Bowie is sitting in his chair while the audience are looking up in amasement. After Space Oddity a tape is played with Future Legend,which develops in Diamond Dogs. Gui Andrisano and Warren Peace tie Bowie up with ropes and the same ropes are used to form a boxing ring for Panic in Detroit.
At the beginning and the end of the song a tape is run which con­tains hysterical,panicky screaming. Bowie puts on boxing Gloves ,steps into the ring and fights his way trough the panic. For Time a large box covered with mirrors ,a a glass asylum. The box sprang open and a huge black hand covered with diamond glitter appeared. The hand moved down and there was Bowie, singing, sitting in the palm of the hand. In Width of a Circle Bowie performs his well-known act from the Ziggy days.
This is what the Diamond Dogs show looked like; a terrific show which left all the spectators – excepting the disappoin­ted Ziggy Lookalikes – full of amasement and admiration.
There is some beautiful playing on this – listen to the piano on Sweet Thing and Changes!…and the organ on Changes, and Rock and Roll With Me is amazing too!
Drive in Saturday, as previously alluded, is amazing, but unfortunately cut in the middle part. And what an enchanting intro Width of a Circle has! One of the best on the whole tour…?
Tour band 1974 (June – July)
• David Bowie – vocals
• Michael Kamen – electric piano, Moog synthesizer, oboe, music director
• Earl Slick – guitar
• Mike Garson – piano, mellotron
• David Sanborn – alto saxophone, flute
• Richard Grando – baritone saxophone, flute
• Herbie Flowers – bass
• Tony Newman – drums
• Pablo Rosario – percussion
• Gui Andrisano – backing vocals
• Warren Peace – backing vocals
(Visited 773 times, 1 visits today)