David Bowie 1974-06-16 Toronto ,O'Keefe Auditorium – Toronto '74 – (late show).
Sound Quality Rating
101. Intro
102. 1984
103. Rebel Rebel
104. Moonage Daydream
105. Sweet Thing
106. Changes
107. Suffragette City
108. Aladdin Sane
109. All the Young Dudes
110. Cracked Actor
111. Rock 'n' Roll with Me
201. Watch That Man
202. Drive-In Saturday
203. Space Oddity
204. Future Legend
205. Diamond Dogs
206. Panic in Detroit
207. Big Brother
208. Time
209. The Width of a Circle
210. The Jean Genie (incomplete)
Label: A Bewley Muzak Production
Audio Source: audience
Lineage:
Total running time: 1:30:47
Sound Quality : Much noise ,dull ,but still good listened to
Attendance: 1.750
Artwork: Yes.
This is nearly the complete late show from 16 June 1974.
As far as I've ever heard, the master tape lacks the end of "Jean Genie" and the following number, "Rock 'n' Roll Suicide," which concluded the show.
This is an average audience recording for the time — very rough but listenable. Bowie had laryngitis that evening, but there are few indications of this in his performance. (Note that during "Aladdin Sane," he tries to avoid the high notes
that gave him some problems during the early show.)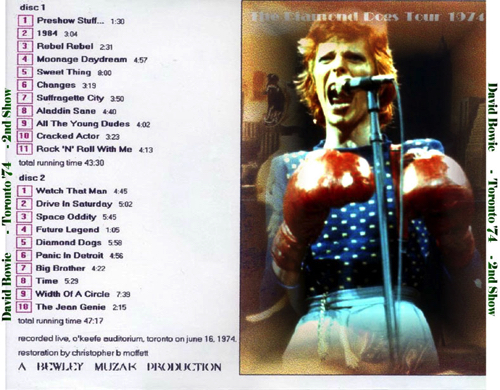 I'd love it if someone would seed the COMPLETE tape of the early show from this same night. The commonly circulating CDs
all seem to lack "Drive-In Saturday," which appears on the 2-LP vinyl bootleg, "Halloween Jack Spooks 'em in Toronto."
That boot features the complete first show except for "Rock 'n' Roll Suicide" and a large cut in the middle of "Watch That Man." According to "David Bowie:
The Concert Tapes" by Pimm Jal de la Parra, "Rock 'n' Roll Suicide" was recorded at the first show, but it is not part of any bootleg I've ever come across. (The cut in "Watch That Man" presumably appears in the master tape, although P. J. de la Parra does not mention it.)

Audio Sample – Drive in Saturday
Tour band 1974 (June – July)
• David Bowie – vocals
• Michael Kamen – electric piano, Moog synthesizer, oboe, music director
• Earl Slick – guitar
• Mike Garson – piano, mellotron
• David Sanborn – alto saxophone, flute
• Richard Grando – baritone saxophone, flute
• Herbie Flowers – bass
• Tony Newman – drums
• Pablo Rosario – percussion
• Gui Andrisano – backing vocals
• Warren Peace – backing vocals
(Visited 788 times, 1 visits today)