David Bowie 1973-07-03 London ,Hammersmith Odeon – London Bye Ta-Ta – (JimmyShelter) .
Sound Quality Rating
102. Introduction.flac
101. Piano Tuner.flac
103. Mike Garson Medley.flac
104. Beethoven's Ninth Symphony.flac
105. Hang Onto Yourself.flac
106. Ziggy Stardust.flac
107. Watch That Man.flac
108. Wild Eyed Boy From Freecloud.flac
109. All The Young Dudes.flac
110. Oh! You Pretty Things.flac
111. Moonage Daydream.flac
112. Changes.flac
113. Space Oddity.flac
114. My Death.flac
Interval
201. Interval.flac
202. Cracked Actor.flac
203. Time.flac
204. The Width Of A Circle.flac
205. Band Introduction.flac
206. Let's Spend The Night Together.flac
207. Suffragette City.flac
208. White Light-White Heat.flac
209. Jean Genie-Love Me Do.flac
210. Round and Round.flac
211. Farewell Speech.flac
212. Rock 'n' Roll Suicide.flac
213. Pomp And Circumstance.flac
Label: No label (a JimmyShelter Production, 2014)
Audio Source:
[VIDEO#1] Ziggy Stardust And The Spiders From Mars: The Motion Picture DVD [2003]
[VIDEO#2] David Bowie with Jeff Beck 1973 pro-shot DVD
[VIDEO#3] Watch That Man: Volume 3 DVD
[VIDEO#4] Ziggy Meets Jeff Beck '73 DVD
[AUDIO#1] Ziggy Stardust And The Spiders From Mars [Soundtrack, 2003]
[AUDIO#2] Session Man, Vol. 4 (from a torrent uploaded by roryglzep)
[AUDIO#3] Hammersmith Odeon 73 (mp3s from some web site that I cannot remember or find)
[AUDIO#4] His Master's Voice (CD Version, Living Legend LRCD 116)
Lineage: This is my reworking of The Motion Picture DVD & CD.
Total running time: 1:46:05
Sound Quality : Excellent quality! Equals record or radio
Attendance: 3.000
Artwork: Yes.
The original video [VIDEO#1] was used as the main source, but this lacked the introduction, Mike Garson warm-up, Jeff Beck section, and a few other bits and pieces.
It was also split by the back stage sections. Another thing that became very apparent as soon as I started working on it was the speed. The DVD runs at slightly more than 4% faster than the CD, all but Suffragette City that is, which runs at the same speed. I wanted to use the CD audio and it made no sense to change the speed of the audio to match the video when it seemed to me that it was the video soundtrack that was wrong. So I changed the speed of the video.
The aim of this project was to create a video that followed a continous soundtrack of the evening. I was at the Bridlington Spa show 5 days earlier and this is as near as I'm probably going to get to reliving that night.
I started with the piano tuner, because I quite liked that bit and it obviously had to be the earliest part, and I also thought it made a good opener for the video.
The rest is as best as I could get to a recreation of that evening in July 1973.
The Ziggy Stardust Companion (5years.com) places Beethoven's Ninth Symphony at the beginning before the introduction and Mike Garson warm up, but that just didn't seem to work for me. The companion itself says that Bowie left the dressing room for the stage as it could be heard playing in the background, he would have been at least 10 minutes early if it had been played before the introduction. The band can also be heard coming on stage in the background and I can't imagine them all standing around watching Mike Garson and then launching straight into Hang Onto Yourself. So I have put it where it is on the CD, directly before Hang Onto Yourself.
[VIDEO#2] was used for the Jeff Beck section and the other gaps in the video have been filled with bits from the various video sources.
The main audio track I have used is the CD [AUDIO#1], the rest is patched with the various audio sources. A certain amount of processing has been done to try to match up the sound of the different sources, but we have a saying, "you can't polish a turd". Hope you enjoy the last stand of The Spiders.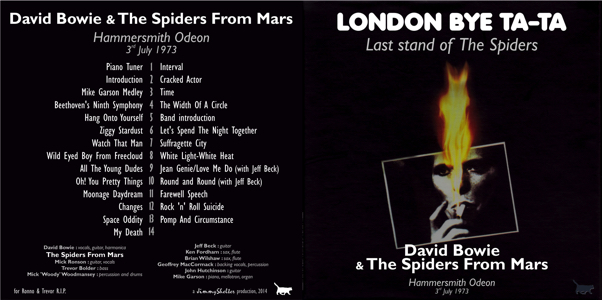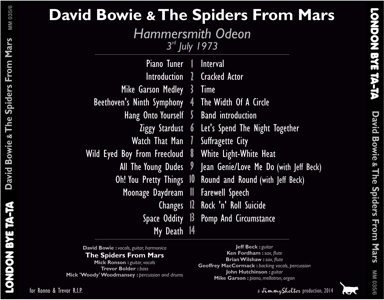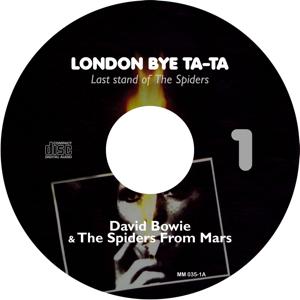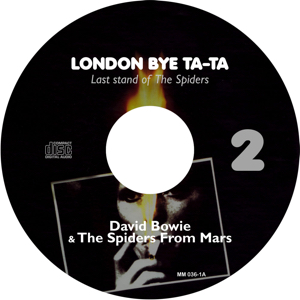 The concert is filmed by D.A Pennebaker and recorded by RCA Mobile with the intention of releasing a live double album in February 1974 provisionally tilted BOWIE-ING OUT. This eventually becomes the 1983 soundtrack album, film and video ZIGGY STARDUST – THE MOTION PICTURE minus the live performances of "Jean Genie/Love Me Do" and "Round and Round." Just prior to the last encore number Bowie steps up to the mike and announces:
"Everybody…this has been one of the greatest tours of our lives. I would like to thank the band. I would like to thank our road crew. I would like to thank our lighting people. Of all of the shows on this tour, this particular show will remain with us the longest (cheers from the audience) because not only is it…not only is it the last show of the tour, but its the last show that we'll ever do. Thank you"
Illustration by Mike Allred (Red Rocket 7 #4 November 1997)
This shocks Ziggy fans who scream "No!" Bowie then launches into "Rock n Roll Suicide" and at the finish of the song concludes:
"Thank-you very much. Bye-bye. We love you."
Bowie's announcement is also a major shock for The Spiders From Mars who were unaware that Bowie had also decided to retire them from ever touring again. Only Tony DeFries and Mick Rock were aware of the announcement. That night Bowie and a handful of friends hold a small party at the Inn On the Park..
REVIEW
First impression, I find great you put a lot of soul in it, it's a very fine work : the cd artwork I find great with your own photographs from the tape, the console and the PA system.
I didn't have any problem of any sort with it, it's perfect in any way, thanks a lot !
At last… The famous Ziggy show, in its full entirety and in its original sound ! Greater than great, I must say !
It seems, listening to it now, that I'm listening to a completely different show from what I' ve been used to over the last 30 years, from what I call the 'now infamous original double-vinyl LP' in 1983 to the last 30 years edition on cd.
I have many different versions of that show as any fan I presume, and I've never been satisfied with them (though I must admit the last version was by far the best, with Mick's guitar more forefront).
I began to doubt whether I could listen to this show one day as it really was back then in 1973 !
I had never heard of the Mike Garson medley before, though I saw this afternoon that you already mentioned it in the interview you gave on the 'Ziggy Stardust Companion' site, I missed it though I had visited the site many times…
I personnaly find it great he played it as first part, and that David allowed him to play it. Quite amazing this was decided during the rehearsals !
Thank you for including it in the cds, it's the first surprise of the package.
I was amazed listening at the 'Wild-Eyed Boy' medley with those flutes and saxophones more forefront. I loved the saxophones throughout the entire show as in
'Suffragette City' and 'White Light White Heat', some I had never paid attention on the official issue because of being lost under the backing vocals added parts…
I can understand some of the backing vocals needed to be reworken sometimes on studio but I always thought as many fans that it had been done too often when most of times it wasn't needed.
I was moved to hear at last 'Space Oddity' and 'My Death' without the organ parts, the latter particularly moved me, it was so beautifuly sung…
I'm sure David should maybe have called the album 'Ziggy Stardust-My Death' instead of 'The Motion Picture' (strange title for such an emblematic show) , and we can understand now why David requested silence with so much insistance
before the song,as he was really to kill Ziggy minutes later !
The William Tell Overture as, indeed, overture for the second part is quite surprising and funny, not really announcing the rough guitar intro played by Mick Ronson, ouch !
During 'Time', I was quite surprised as I was used to all these backing vocals all through the song in the official, it feels now as it's a completely different version we can hear, as if it was almost taken from another show !
I love this 'White Light' version without the added guitar parts : now we can hear in place some great and sometimes amazing saxophones ! Fantastic !!!
I wonder why the saxophones were often subdued or simply erased from the official mixes, I personnaly love them, and so especially in that song.
That version of 'Jean Genie' is, I think, the best live version David ever played (as far as I know) and it's not easy to write that as he has always played great versions of that song since, in any tour !
I wonder why it has not been finally released in the 30th anniversary official… Total mystery…
As well as 'Round And Round' : listening to the entire show now shows that removing these two tracks from any future release of this show is now unthinkable, and I bet, with your cds now available,
that the forthcoming version (if there is indeed one, maybe for the 50 years !!!) will add these tracks…
All in all a great, great package you're offering to us, Bowie fans, a long and long awaited gift which brings to us in real light how magical the Ziggy days were…
It also makes us understand now why all those fans we can see in the famous Dvd of that particular show were so moved by that character David had carefully and slowly built from the end of 1971 to that 3rd of July 1973.
Christian:
============================================================
Robin Mayhew is selling selfmade CDRs for £12 (UK) and £15 (International) at his website.
You can buy the 2 CDR-set from:
http://www.robinmayhew.co.uk/pages/rmshop.htm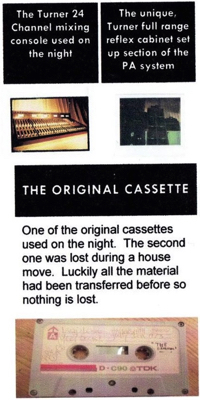 Thanks Robin Mayhew
Songwriter/Composer/Producer,
Barnham, West Sussex
www.robinmayhew.co.uk
Note Robin
Please – if you ever visit You Tube have a listen to one of my songs which will be a bonus track on my forthcoming album Shallow and Deeper. The song is called Together (A Song for Isobel) sung by Charlotte Howard. If you are a parent or perhaps a grandparent you may enjoy the sentiment. Please spread the word. Simply search with my name in YouTube and you will find it.
[sliderpro id="3″]
.
(Visited 111 times, 1 visits today)